Lanesboro Ballyleague notes
Lights shining brightly
On Saturday night last the Christmas lights were turned on in Lanesboro and Ballyleague. With the excitement the lights brings ensure the community is a brighter and cheerier place with a great dollop of excitement thrown in created by anticipation of Christmas and for the younger people the expectation of Santa.
Christmas Run Returns
I have just learned that the Christmas Day Walk/Run in aid of Multiple Sclerosis will return this Christmas Day following a Covid inflicted break for its 32nd year.
The event will start as usual with the walkers hitting off at 11.30am and the runners at 12 noon.
Sponsorship cards are available from any member of the Flood family, Lehery, Newtowncashel or in O'Brien's Corner Shop.
Birth
Congratulations to Tara Leigh Lulham and Ryan Guinan, Knock Manor on the recent birth of a baby girl
Christmas Fair
The Christmas Fair is taking place on Sunday next 11th December in Lanesborough's Parish Hall from 11.30 am until 1.30pm. Santa and Mrs. Claus will be arriving at the hall by pony and trap (weather permitting) at approximately 11.30am. They will be in their grotto with a little treat for children who call to see them until 1.30pm. There are also numerous stalls with lots of fabulous wares which should be of interest to young and old. Looking forward to seeing you there with your Christmas jumpers or Santa hats or both!
New book on Roscommon's Republican Dead
A new book documenting all the people who died as a result of the Troubles between the years 1917 and 1923 in County Roscommon was launched on Sunday night last December 4th in the Percy French Hotel Strokestown. The book is produced by the Roscommon Republican Graves and Monuments Committee and is the result of research and photography carried out over the last number of years by Henry Owens, Strokestown and Thomas Flynn, Ballymoe.
The timing of the launch this year co-insided with the centenary of the events that led to the deaths of over forty people in county Roscommon during those years. The book is an excellent production and is attractively illustrated with photographs. Each victim of the troubled period is documented with a brief biography detailing their life from birth to final resting place and the circumstances of how they met their deaths.
The book was launched by Tommy McKearney, Monaghan. Tommy is a native of Moy Co Tyrone, but now lives in Monaghan. Tommy himself is a writer and free-lance journalist and has spoken at numerous events organised by the National Graves Association.
The book is on sale in O'Brien's.
Solstice Choir on Friday
Cloontuskert National School hosts Roscommon Solstice Choir along with Cloontuskert National School pupils in a concert in Ballagh Church on Friday night next 9th December at 8pm. Doors will open at 7.30pm and tickets cost €15. Tickets can be booked by phoning 087 9185446, 086 3426537 or from any parent of the school children.
Your help is needed with Primary School Project
With the imminent taking down of Lanesboro Power Station, the pupils of Lanesboro National School who existed in the shadow of the station for the lifetime of the different stages of the stations are undertaking a project and they need your assistance.
Lanesboro NS in association with Creative Schools, the Arts Council Dublin, and Shuttermaniac Productions Lanesboro are looking for ESB-related anecdotes in order to produce an engaging short film as part of a Creative Schools Film Project. Perhaps there's an endearing or funny story that you or a relative or neighbour remember at their time in and around the ESB.
The kids at Lanesboro will be presenting this story on film so please keep it short and entertaining if possible.
If you think you do have a wee anecdotal nugget, please get in touch with Lee Williamson, school principal Claire Murphy or teacher Niamh Rowan in Lanesborough NS.
Not only will this be a school project but also a part of the history of what stood in Lanesboro and gave so much employment since the mid 50s.
All Ireland Final
It is very rarely we get the opportunity to support a team from our county of Longford in an All Ireland Final.
On Saturday next in Croke Park at 3pm the Longford Slashers Ladies will represent not only Longford but Leinster in the All Ireland Final where they will take on Munster champions Mullianhone from Tipperary.
Captain of the team is Aisling Cosgrove from Derryadd, Killashee a former pupil of Lanesboro Community College.
We wish the ladies the very best of luck and assure them of our fullest support. The game will be shown live on TG4.
Lanesboro in the War of Independence and after – Book still available
As the decades of centenaries come to a close, it is good to know that copies of the book, Longford's Republican Story 1900 – 2000, are still available. As a Christmas present for anyone from Longford, or with Longford connections, it is an ideal gift. The Lanesboro/Cashel area was a hotbed of activity in both War of Independence and Civil War and this book has recorded for ever more the bravery and courage of the men and women of Longford in the fight for freedom. It lists all of the men and women from this area who took part in those conflicts. Longford's Republican Story is a unique and exceptional book that will never be equalled and will be in great demand while it remains in print. We understand the author, Seán Ó Súilleabháin, may give a talk in Lanesboro in the New Year on the republican history of the area. Copies of Longford's Republican Story 1900- 2000, with almost 600 pages, and costing €35, are available in O'Brien's, Lanesboro.
Fermoyle National School
Fermoyle National School is now open for enrolment for the year 2023/2024.
Please contact the office at 043-3321959 or email the school at fermoylens@gmail.com for enrolment forms.
Proposed new Mass Times
As the Parishes of Rathcline, Killashee and Newtowncashel now only share 2 priests between them a restructuring process is currently taking place with each parish losing one of its weekend masses. The proposed Mass times for Lanesboro is that Saturday evening Mass time will change to 6.30pm and on Sunday one Mass will be lost and the Mass time has yet to be decided at to either 10.30am or 11am.
Former resident Passes Away
We were shocked and saddened to hear on Tuesday last 29th November of the death at University Hospital, Galway of Mary Tully, Hawthorn Drive Roscommon, formerly Mary Kelly who was daughter of the late Johnny (Jack) and Nancy Kelly, Ballyleague. Mary was always was a lady who was so giving of herself and her time to her husband, sons, daughters, Kilbride GAA, St. Coman's and Roxboro National School. Her great deeds and support will live long on the memory of those that knew her. Mary was a very popular lady and her untimely death will leave a great emptiness in everyone. To her husband Michael, children Fergal, Siobhán, Niall, Micheál, Aoife and Fiona, sister Freda Kilbride (Ballyleague), brothers Eamon (Dublin), Liam (Ballyleague), relatives and friends we extend our deepest sympathy.
Mary's remains reposed at her residence on Thursday before being removed to Our Lady of Lourdes Church, Derrane for Mass of the Resurrection. Burial took place afterwards in the adjoining cemetery,
Train how to use the Defibrillator
It is hoped that the Defibrillator training will take place before Christmas. A suitable venue and time is being sought and if this is not available pre Christmas the training will take place early in the New Year.
If you are interested, please leave your name and phone number with Martina O'Brien personally in the shop or by phoning 086 3858934 or email to clynemartina53@gmail.com
Roscommon Group of Parishes
The December schedule for the Roscommon group of Parishes is; Thursday 8th December in St. Coman's Roscommon there will be a Festival of Lessons and Carols. There will be a cup of tea afterwards. Sunday 11th December in St. John's Lanesboro there will be (1) Morning Prayer with Interactive 'Rainbow Nativity' story (2) "Advent-ure" afternoon together in the Rectory at 3pm. Sunday 18th December Morning Prayer in St. Coman's Roscommon at 11.30am. Friday 23rd Festival of Lessons and Carols in St. John's Lanesboro at 8pm. Sunday 25th December Holy Communion in St. Coman's Roscommon with Reverend Ed Smyth and in St. John Lanesboro Holy Communion with Dean Gerald Field. Both services will take place at 11.30am. Sunday 1st January Morning Prayer in St. Coman's Roscommon.
Rathcline Club Lotto
The Rathcline club have just come with a new fundraising lotto. The Rathcline GAA Euro Millions Syndicate will commence with the first draw on Tuesday 3rd January 2023 and finishing with the final draw 29th December 2023. The syndicate will be limited to 400 people. Each member will pay €40 for the year.
Each month there will be a €100 draw for the members of the syndicate.
If the winnings at the end of the year is between €400 and €1,999.99 there will be a draw for one winner within the syndicate. Between €2,000 and €9,999.99 there will be five separate draws each winning an equal amount, between €10,000 and €19,999.99 there will be a raffle and ten members drawn each receiving an equal amount. Any amount greater than €20,000 will see the money shared evenly amongst all members.
Tickets are available from members of the club executive.
St. Vincent de Paul
The annual appeal will takes place over the next few weeks. There will be no church gate collection this year. Envelopes for your donations are now available in the church or in O'Brien's. You are asked to return your sealed envelopes to the Presbytery or put it in the Sunday offerings basket during Mass. Alternatively you can put your contribution in a plain envelope marked SVP for basket or presbytery.
Boat Trips
Lough Ree Access for all boat is a boat built for you is offering three sailing trips a day 10am, 12 noon and 2.30pm. This is a great trip of fascination onto Lough Ree and its famous islands.
Ballyleague Bingo
Ballyleague Bingo continues in Ballyleague Hall every Thursday night. The first numbers will be called at 8.30pm.
Volunteers required
Ballyleague Bingo urgently needs more volunteers to join them in the Bingo/Hall Committee. If you are interested in being involved you are asked to contact Patricia Manning for more details.
Old Days, Old Ways
Prolific writer Paddy Egan has just launched his new book Old Day, Old Ways. The book is a nostalgic look back at a way of life in Ireland over a century ago. The book is true nostalgia for the older generations that remember the days he writes about and for the younger generations an essential read telling the stories of traditional farming ways, old cures, tradition and sayings. It is a book that is very well worth the nominal charge of €10. The book can be bought locally in O'Brien's.
Sunday night cards
The results of the Sunday night Card Game in the Parish Hall are: 1st Johnno & Tom Mulvihill. 2nd was a three way tie between Jim & Kitty, Frank & Peggy and Kay & Anne. Last game winners were Peter & Mary Gregg. Raffle winners were Annie, P.J. Glennon, Jack Bannon & Freda Connaughton. The game continues every Sunday night at 8. 30pm. Light refreshments served.
50/50
The 50/50 draw took place in Clarke's bar on Monday night 28th November and the winning envelope for a prize of €609 had the name of Mary Rice from the Abbey on it. Congratulations Mary.
The club is extremely grateful for your continued tremendous support.
Tidy Towns Lottery
On Tuesday 29th November the jackpot for the Lanesboro Tidy Towns lottery stood at €11,000 and as it was not won the jackpot rose to €11,100 for the draw on Tuesday 6th December. The winning numbers drawn on the 29th November were 10, 17, 19 and 24. The winner of the €50 prize was Grace Rhatigan, c/o Yacht Bar, and the three €20 winners were Joan Matthews, c/o Yacht Bar, Mike Kavanagh, Rathcline Road and Daithí Kelly, Athenry, Co. Galway, c/o Yacht Bar.
Thank you for your generous and continued support and as you can clearly see through the appearance of the town your support is continuing to make our town beautiful.
CD restocked
Frank Nelson newly released a new CD called 'I'll Put the Kettle On' has proven to be a great success with a restocking of the CD's necessary to keep up with demand and the new stock of CD's have just arrived. It is a must for followers of Frank and lovers of country music. CDs are available in O'Brien's costing just €15. It is an ideal Christmas gift or stocking filler.
Healthy Communities
Free Stop Smoking Service available in Ballymahon. Get the help you need to stop smoking for good. Free Nicotine Replacement Therapy will be provided for non-medical card holders.
Ballyboro FC
Last week Carol Donlon on behalf of the club received the prestigious FAI Club Mark award from Grahan Kane FAI Development Officer. The Club Mark is an award based on best practise in the governance, management and administration of a football club.
On the field of play Ballyboro defeated Colmcille 5-2 in the Combined Counties League. The team gave their best performance of the season inspired by the two members of the over 40s brigade, Derek Murray and David Harrison. Indeed Derek's son Jack scored one of the Ballyboro with Jordan Donlon helping himself to the other four. Team: Mark Tarmey, Patrick Kenny, Greg Cassidy, Stephen Ormsby, Mark Cox. David Harrison, Derek Murray, Alan Kenny, Jack Murray, Jordan Donlon, Ryan Guinan. Subs: Max Webb, Chris Tindell, Jack McGloin, Bryan Mullooly, Ryan Byrne.
The under 14 team gave a committed, gritty and skilful performance against Stonepark and were a tad unfortunate to go down on a 3-2 scoreline. Ballyboro went two goals up with well taken goals from Rian Hogan and Patrick Gilmore but Stonepark battled back and secured the points with a late winner. Ballyboro: Mikie Sorohan, Sean O'Dowd, Eoin Beattie, Leon Malkowski, Ciaran McGloin, Eoghan Mullooly, Dan Casey, Patrick Gilmore, Sean Collins, Harry Brogan, Rian Hogan. Subs: Evan Rooney, James Cullen, Cillian Carberry.
The under 13 team were in fine fettle as they accounted for Abbey Rovers by a 4-2 margin. The Ballinamore boys put it up to the home team for long periods but the extra bit of quality of the Ballyboro boys proved decisive. Ballyboro: Stephen Farrell, Darragh Donlon, Jack Cassidy, Cathal Hanley, Josh Curran, Tim Kenny, Alfie Murphy, Kyle Rice(1),Shane Farrell(1), Oisín Dillon(2). Subs Ethan Carberry, James Carroll, Hayden Smyth. Ferat Pulcu.
Both under 11 teams had productive weekends. The Tigers played UCL Lakers while Abbey Rovers provided the opposition for the Cougars. Tigers: Matthew Murphy, Tyler Murray, David Kenny, Donncha Farrell, Cian Shea, Tom Hession, Darragh Shanley. Cougars: Lee Carberry, Mark Feeney, Patrick Casey, Niall Morgan, Kyran Horohoe, Jay Flynn, Caden Donlon.
The under 9s had an enjoyable joust with Newtown with lots of good football and endeavour on display from both teams. Ballyboro were ably represented by James Murray, Sean Casey, Áine Casey, Thom Cullen Finn Cullen, Paudi Murray, Dean Nolan, Jake Nolan, Ronan Kelly, Ben O'Rourke, Kate Hession, Mark Hession, and Cian Feeney.
Fixtures. A quiet weekend with just four games to be played all on Saturday: the under 8s will be involved in a Blitz at home with Stonepark and Kenagh United, and the action gets underway at 10am, the under 10 Tigers are at home to Kenagh United at 12.30pm while the under 10 Lions play Ardagh at The Mall, 12 noon start. The under 16s are at home to Kenagh United, 2pm kick off.
Support line for older people
ALONE manage a national support line and additional support for older people who have concerns or are facing difficulties relating to Covid-19. Professional staff is available to answer queries and give advice and reassurance where necessary. The support line is open seven days a week from 8am until 8pm. Text TALK to 50808 to begin.
Alcohol Anon Meetings
Relatives and friends of alcoholics are welcome to attend meetings in the Family Centre building at the back of St. Mel's Cathedral on St. Mel's Road, any Tuesday evening at 7pm.
Smart Recovery
SMART recovery is an evidence based addiction recovery support group where participants learn self-empowering techniques to aid their recovery by overcoming addictive behaviour.
There is a meeting every Friday evening from 7pm to 8.30pm in Vita House, Roscommon. For information you should phone Conor 086 1702912 or info@smartrecovery.ie
GROW
Grow is a Community Mental Health Movement which meets every Monday at 11am in the Community Mental Health Centre, Dublin Rd., Longford. If you are feeling lonely, isolated or suffering from stress, please feel free to attend. You can call Assumpta for any further information on 086 8114135.
Shannon Gaels Minor Club
Our Annual U-13 Parish league took place on Saturday 19th November and was once again an outstanding success. With 52 players split across 4 teams, we had an exhibition of individual skills and quality team play. After 3 group games per team, the large crowd of supporting attendees were treated to a hugely exciting final between Longford and Galway. At the end of a tight and tense affair, Longford came out on top to claim the parish league title for 2022. After a trojan performance in the final, Dan Casey was selected as player of the match – congrats Dan. Tim Kenny & Evan Rooney collected the cup on behalf of their gallant team mates. The winning Longford Team consisted of: Tim Kenny; Dan Casey; Evan Rooney; Josh Curran; Hannah Farrell; Donncha Farrell; Matthew Murphy; Faye Hogan; Patrick Casey; Finn Fallon; Laoise Farrell & Katie Sorohan.
Thanks to all team managers for their invaluable experience & encouragement for all the players involved.
Our fun blitzes for 2nd class down saw up to 40 talented girls and boys play some thrilling matches where goal celebrations were the highlight of the morning. It was hugely encouraging to see so many young boys and girls out enjoying themselves with their friends.
The club would like to sincerely thank all those who helped out on the day to run such an exciting and memorable event for all the children. Thanks to our senior and minor club players who assisted with all games from umpiring and refereeing to management; to all parents and supporters who provided such a large variety of baked goods and refreshments to keep everyone in high spirits; Seadna Ryan and all his Rathcline GAA club committee for having our Clonbonny playing facilities in such pristine condition; our photographers for capturing such great snaps of the day, and all our club coaches at each age level. Special thanks to Stephen and Tina Dowd for laying on a fantastic BBQ for all to enjoy and wrap up a great days activity.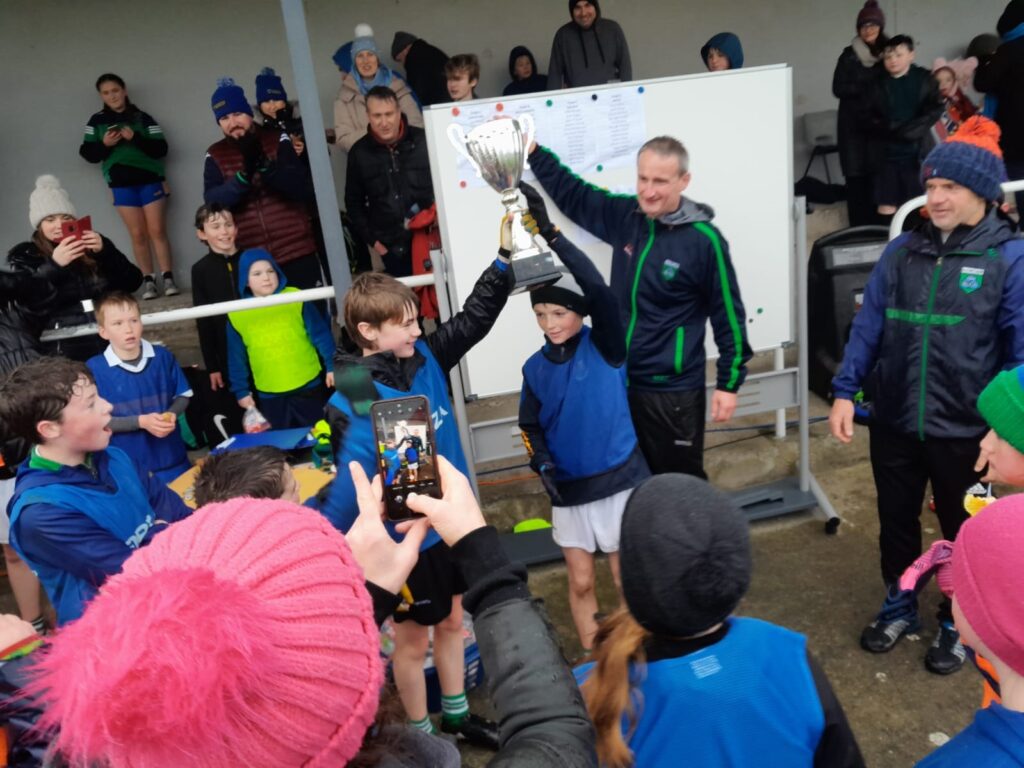 Kilgefin Parish
Offertory collection: The offertory collection baskets have returned at Mass in Ballyleague and if you are interested in volunteering please contact Josephine Kenny.
Christmas Trees; The parish is looking for parishioners to sponsor a Christmas tree for all the churches and to help with the cost to decorate the trees. All donations should be put in an envelopes and indicated accordingly with donors name or anonymously. Thank you in anticipation of your generosity.
Church Cleaning; There will be a Christmas clean up of Ballyleague church on Tuesday 20th December at 6pm. If you can spare an hour or two please come along and have the church sparkling for the celebration of Christmas.
Indoor Crib; The crib will be put up on Tuesday 13th December at 6pm. If anyone is available can they come along and help please.
Deadline; The deadline for any notices for the newsletter is Wednesday – email to kilgefinparish21@gmail.com
Lanesboro Library
The opening hours of Lanesboro are: Monday 2pm-8pm, Tuesday 2pm-6pm, Wednesday 10am-1pm & 2pm-5pm. The library will be closed all day on a Thursday. Friday 10am-1pm & 2pm-5pm and Saturday 10am-1pm
Photocopying, printing and scanning services are available at the library. Enquiries: www.lanesborolibrary@longfordcoco.ie
St. Mary's Church
Feast of Immaculate Conception: Next Thursday 8th December will be the Feast of the Immaculate Conception and the Masses will take place at 10am and 7pm.
Parish Office: Maireád Rooney, Rathcline the Parish Secretary will be in her office in the Parish House each week on Tuesday, Wednesday and Thursday from 10.15am until 2.30pm. As the office gets established Maireád will be able to assist you with any enquiries.
Rosary Group meet in the church on Monday to Friday at 9.30am and on Saturday and Sunday at 3pm.
Eucharistic Adoration on Tuesdays in the church after 10am Mass in the Prayer Room and will conclude at 4pm to take account of energy costs during the winter months.
Parish contacts
Fr. Merlyn Kenny, Newtowncashel 0860603433 and Fr. Turlough Baxter, Killashee 0879972259 who as you know are assisting in our parish.
St. Vincent de Paul
The annual appeal takes place over the next few weeks. Envelopes for your donations are now available in the church or in O'Brien's. You are asked to return your sealed envelopes to the Presbytery or put it in the Sunday offerings basket during Mass.
Rathcline GAA
St. Faithleach's GAA – Click here
Tesco Community Fund
If you are shopping in Tesco Roscommon please pop a blue token into the St. Faithleach's bucket. Funding will go towards training and team equipment that is needed. Thank you.