Lanesboro Ballyleague notes
Death
The death occurred of Edward (Eddie) Moran at his home in Gardentown, Ballyleague on Saturday 26th November at his home surrounded by his family.
He is predeceased by his beloved son Edward. Sadly missed by his wife Patsy, son Christopher and his brothers and sisters and extended family in Scotland and Drogheda.
Eddie loved Ireland and himself and Patsy decided to make their home down by the Shannon in the very special townland of Gardentown, Ballyleague, a decision that was never regretted.
Eddie pursued his passion for restoring vintage motor bikes, something he continued until his illness no longer allowed him the dexterity skills that were needed. Patsy would like to thank all those neighbours and friends who offered and gave support to Eddie and herself, and those who came to visit him in the later stages of his life.
Eddie was laid to rest after Requiem Mass in the cemetery at The Church of the Immaculate Conception in Tubberclaire, County Westmeath, to the sound of the bagpipes playing some of his favourite music. May he rest in peace.
Former Resident Passes Away
A man that created a multitude of memories during his time in Lanesboro passed away suddenly on Friday 9th December. Frank Toner a native of Tipperary came to work with Bord na Mona. Frank left an indelible mark on the community especially with the huge number of youngsters that learned the art and craft of hurling from him. He was ably assisted by the late Tom McGrath. Frank along with his late wife Mary reared five children in their home on the Green. Frank and Mary were predeceased by their son Francis. Frank was a very affable man with a gentle nature and warm inimitable smile. He worked diligently with Bord na Mona until his promotion that took him to Clonsilla, Co. Dublin. Frank love of his adopted town of Lanesboro was clear to be seen by the frequency of his visits where he loved to meet and chat familiar faces from his days living here. Frank left us all with great memories and his passing leaves us with a very sad heart.
Frank was laid to rest in Clonsilla churchyard following his Requiem Mass on The Church of St. Philip the Apostle, Mountview. To his daughters Shirley, Patricia, Gillian and son Alan, relatives and many friends we extend our deepest sympathy.
Christmas Wishes
Sunday next we will celebrate Christmas and the arrival of Santa Claus and one week later we will welcome the arrival of the New Year of 2023. Whether you are home or away you will be in our thoughts during the Christmas and we look forward to seeing you all in the year to come. I would like to wish every one of the readers of my weekly notes a very Happy Christmas and I hope that 2023 will see the fulfilment of all your dreams.
This time of year we always tend to look back on the past year and there have been many ups and downs in our community and with my readers. To those that suffered bereavements and sickness over the year you are in our thoughts and prayers and I hope that the New Year will bring a new and bright beginning for you. To everyone that encountered joyous occasions I congratulate you and share in your delight and hope that 2023 brings further happiness.
To all my readers I would like to thank every one of you for all your support, comment and encouragement.
Death
A genial giant of our community left us at what is the saddest time of the year for a family member to die. The quietly spoken and highly respected Tom Donlon, Moher passed away following a brief illness borne with great strength, dignity and bravery surrounded by his loving family on Tuesday 13th December. Tom was predeceased by his wife Theresa, parents and brothers Pete, Noel, and E.J. He had worked on Bord na Mona until his retirement where he was a respected member of the work force. He was a man of great qualities and as could be seen by his gentle nature, his heart of gold and wherever he could assist a neighbour or stranger alike he was never found wanting. Tom left an indelible mark on the hearts and minds of everyone that knew him. He was a great community man and for a long time he was the caretaker and an active member Ballyleague Hall committee where he was the most obliging to everyone that came to use the hall and he was renowned for treating everyone with great regard. Tom indeed was a regular feature for many years at the weekly bingo where he called out the numbers. In his earlier days he was a renowned dart player of the highest quality and his fame was known far and wide. The attendance at his reposing in Farrell's Funeral Home on Thursday and again at his Requiem Mass in the Church of the Holy Rosary, Ballyleague and at his burial in Cloontuskert Cemetery bore ample testimony to the esteem in which Tom was held.
To his daughters Carol, Susan and Pamela, son James, brothers and sisters Joe (Moher), Betty, (USA), Patsy (England), Jim (Dublin), Kathleen (Dublin), Mary (Roscommon), Kevin (England), Teresa (England), Marty (England), Gerry (England), Carmel (Dublin) and Rita (England), relatives and many friends we extend our deepest sympathy.
In our thoughts
Our community has a long and proud history of involvement in the Defence Forces with many residents currently serving and also many retirees from the force. On Wednesday last news broke of the killing of Private Sean Rooney when his convoy was attacked. Private Rooney who was on a UN peacekeeping mission suffered fatal injuries while another in the vehicle Trooper Shane Kearney from Killeagh, Co Cork was seriously injured.
Our prayers and thoughts are with the Rooney and Kearney families as well as with all the members of the Defence Forces serving and retired on the shock of last week's attack.
Meals on Wheels Thank You
The organisers of the Meals on Wheels church gate collection would like to thank everyone for their generous donations on Saturday and Sunday last.
If by chance did not make it to Mass and would like to contribute please drop you donation into O'Brien's Shop. Thank you again.
Santa Claus comes on Friday
Lough Ree Access for All will welcome Santa Claus to its centre on the banks of the Shannon on Friday next 23rd December. This will be your last chance to meet the great man before his return to Lapland to prepare for his trip to deliver surprises and presents for all the young boys and girls. Santa will be in attendance from 11am until 1pm.
Christmas Masses at St. Mary's
The Christmas Mass schedule for St. Mary's Church is as follows. The first Mass will take place on Saturday, Christmas Eve, and it will take place at 6pm. This will be a children and family Mass. The second Mass and third Mass on Saturday, Christmas Eve, will take place at 8pm and 10pm. On Christmas Day the Masses will be at 9.30am and 11.30am.
Christmas Day Walk/Run
The Christmas Day Walk/Run in aid of Multiple Sclerosis will return this Christmas Day following its Covid inflicted break. This will be the 32nd year of this great Christmas Day Run/Walk and it is hoped that great numbers will again be out in force.
The event will start as usual with the walkers hitting off at 11.00am and the runners at 12 noon.
Refreshments will be available for participants and their families in the St Mary's Hall in Lanesborough after the race. Thank you for your continued support
Sponsorship cards are available from any member of the Flood family, Lehery, Newtowncashel or in O'Brien's Corner Shop.
Sympathy
We would like to extend our deepest sympathy to the extended Farrell family, Lisnacusha, on the death of the late Patsy Farrell's brother Tommy Doris, Newtownforbes on Thursday 15th December.
Ballyleague Lights Appeal
In the coming days Ballyleague lights committee will be adding additional features between the Credit Union and the Sliabh Bawn. This will further enhance the lighting initiative in the village.
Whilst all the volunteers give freely of their time and effort in ensuring this annual lighting initiative, however; in order to continue this work and to cover all costs such as insurance, upgrading and maintenance of lights etc the committee really need the support of the public/residents of Ballyleague and its hinterland.
The committee is extremely grateful to those who have donated thus far and for those wishing to support our efforts, you can do so by following the go fund me link https://gofund.me/74ef4ded or in person to Noel Moran, Gerry Trimble or John Loughlin or indeed in one of the collection boxes in local Businesses.
Every donation counts and is very much appreciated!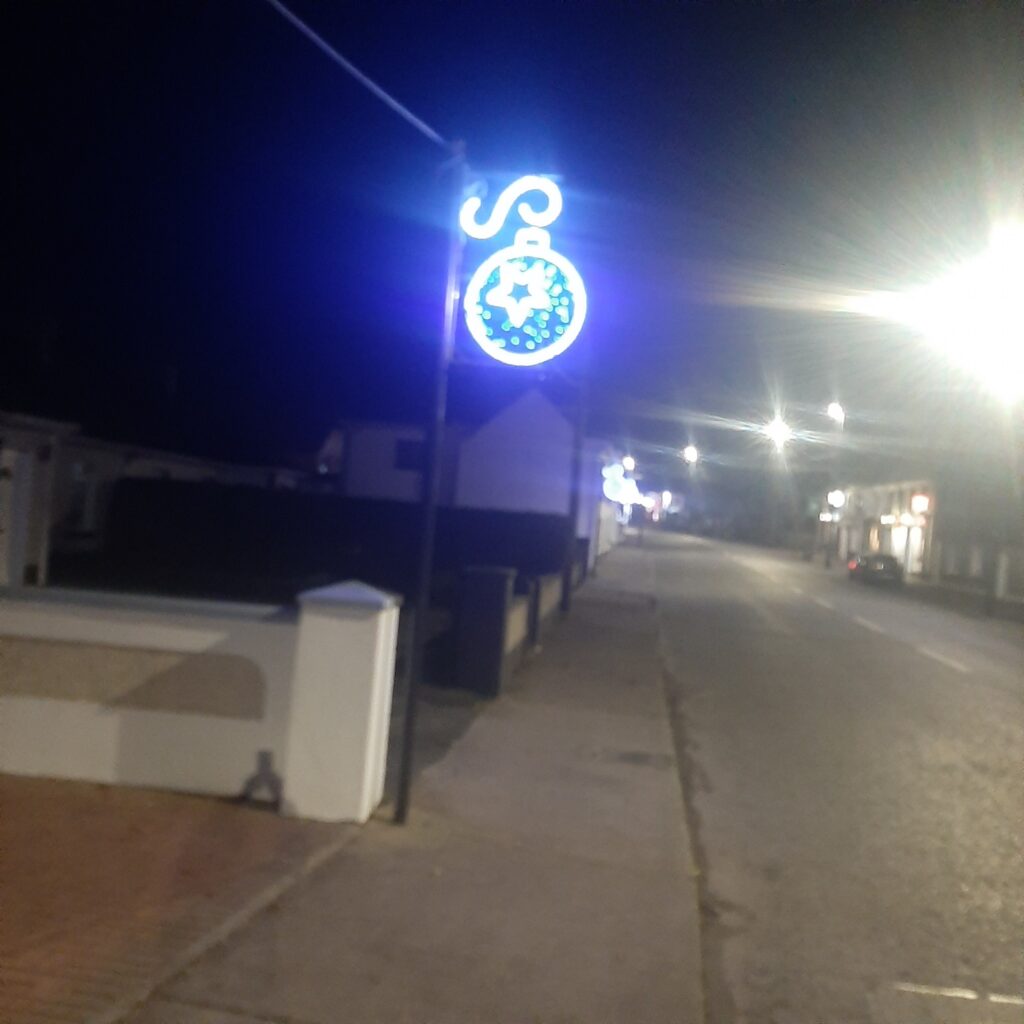 Christmas Lights Appeal
Once again the Christmas Lights committee has done a wonderful job in lighting up the town for the Christmas season and for that they deserve great credit. To aid in the paying for this privilege, insurance and the replacing of a big number of bulbs that this year were hard to come by the committee is asking for a contribution from locals and businesses alike. You can make your contribution to Margaret Gillen, Brigid Mullooly, Mark Casey or leave it into O'Brien's for collection.
New book on Roscommon's Republican Dead
We now have another successful book by Henry Owens following the incredible successful sales of 'Sliabh Bán'. The new book documenting all the people who died as a result of the Troubles between the years 1917 and 1923 in County Roscommon is selling very fast.
The excellent book with excellent photography is the result of research and photography carried out over the last number of years by Henry Owens, Strokestown and Thomas Flynn, Ballymoe.
The timing of the launch this year coincided with the centenary of the events that led to the deaths of over forty people in county Roscommon during those years.
Each victim of this troubled period is documented with a brief biography detailing their life from birth to final resting place and the circumstances of how they met their deaths.
The book is on sale in O'Brien's at €16 and can be posted with the additional p&p. A limited number of Sliabh Bán books are still available.
Power Station Memories
Permission has now been granted for the taking down of Lanesboro Power Station. The pupils of Lanesboro National School, a school that has existed in the shadow of the station for the lifetime of the different stages of the stations are undertaking a project and they need any help you can give them.
In association with Creative Schools, the Arts Council Dublin, and Shuttermaniac Productions Lanesboro they are looking for ESB-related stories and memories in order to produce an engaging short film as part of a Creative Schools Film Project. Perhaps there's an endearing or funny story that you or a relative or neighbour remember at their time in and around the ESB.
The kids at Lanesboro will be presenting this story on film so please keep it short and entertaining if possible.
If you think you do have a wee anecdotal nugget, please get in touch with Lee Williamson, school principal Claire Murphy or teacher Niamh Rowan in Lanesborough NS.
Not only will this be a school project but also a part of the history of what stood in Lanesboro and gave so much employment since the mid 50s.
Lanesboro in the War of Independence and after – Book still available
As the decades of centenaries come to a close, it is good to know that copies of the book, Longford's Republican Story 1900 – 2000, are still available. As a Christmas present for anyone from Longford, or with Longford connections, it is an ideal gift. The Lanesboro/Cashel area was a hotbed of activity in both War of Independence and Civil War and this book has recorded for ever more the bravery and courage of the men and women of Longford in the fight for freedom. It lists all of the men and women from this area who took part in those conflicts. Longford's Republican Story is a unique and exceptional book that will never be equalled and will be in great demand while it remains in print. We understand the author, Seán Ó Súilleabháin, may give a talk in Lanesboro in the New Year on the republican history of the area. Copies of Longford's Republican Story 1900- 2000, with almost 600 pages, and costing €35, are available in O'Brien's, Lanesboro.
Fermoyle National School
Fermoyle National School is now open for enrolment for the year 2023/2024.
Please contact the office at 043-3321959 or email the school at fermoylens@gmail.com for enrolment forms.
Proposed new Mass Times
As the Parishes of Rathcline, Killashee and Newtowncashel now only share 2 priests between them a restructuring process is currently taking place with each parish losing one of its weekend masses. The proposed Mass times for Lanesboro is that Saturday evening Mass time will change to 6.30pm and on Sunday one Mass will be lost and the Mass time has yet to be decided at to either 10.30am or 11am.
Christmas Reconciliation Service will take place in St. Mary's church on Friday 23rd December at 6pm.
Train how to use the Defibrillator
The Defibrillator training will take place in the New Year. If you are interested, please leave your name and phone number with Martina O'Brien in the shop or by phoning 086 3858934 or email to clynemartina53@gmail.com
Christmas Carol Service
A joint Christmas Carol Service will take place on Friday 23rd December in St. John's Church at 8pm. Everyone is welcome.
Roscommon Group of Parishes
The December schedule for the Roscommon group of Parishes is; Friday 23rd Festival of Lessons and Carols in St. John's Lanesboro at 8pm. Sunday 25th December Holy Communion in St. Coman's Roscommon with Reverend Ed Smyth and in St. John Lanesboro Holy Communion with Dean Gerald Field. Both services will take place at 11.30am. Sunday 1st January Morning Prayer in St. Coman's Roscommon.
New Rathcline Club Lotto
The Rathcline club have just come with a new fundraising lotto. The Rathcline GAA Euro Millions Syndicate will commence with the first draw on Tuesday 3rd January 2023 and finishing with the final draw 29th December 2023. The syndicate will be limited to 400 people. Each member will pay €40 for the year. As we are now well into December it is time to get your ticket before the closing deadline.
Each month there will be a €100 draw for the members of the syndicate.
The distribution of what is hoped will be substantial winnings is at the end of the year is between €400 and €1,999.99 there will be a draw for one winner within the syndicate. Between €2,000 and €9,999.99 there will be five separate draws each winning an equal amount, between €10,000 and €19,999.99 there will be a raffle and ten members drawn each receiving an equal amount. Any amount greater than €20,000 will see the money shared evenly amongst all members.
Tickets are available from members of the club executive.
St. Vincent de Paul
The annual appeal will takes place over the next few weeks. There will be no church gate collection this year. Envelopes for your donations are now available in the church or in O'Brien's. Please return your sealed envelopes to the Presbytery or put them in the Sunday offerings basket during Mass. Alternatively you can put your contribution in a plain envelope marked SVP for basket or presbytery.
Boat Trips
Lough Ree Access for All boat is a boat built for you is offering three sailing trips a day 10am, 12 noon and 2.30pm. This is a great trip of fascination onto Lough Ree and its famous islands.
Ballyleague Bingo
Ballyleague Bingo continues in Ballyleague Hall every Thursday night. The first numbers will be called at 8.30pm. The committee would like to extend their deepest sympathy to the Donlon family on the death of Tom.
Volunteers required
Ballyleague Bingo urgently needs more volunteers to join them in the Bingo/Hall Committee. If you are interested in being involved you are asked to contact Patricia Manning for more details.
Old Days, Old Ways
Paddy Egan's new book Old Day, Old Ways is proving to be a runaway success. The book is a nostalgic look back at a way of life in Ireland over a century ago. The book is true nostalgia for the older generations that remember the days he writes about and for the younger generations an essential read telling the stories of traditional farming ways, old cures, tradition and sayings. It is a book that is very well worth the very reasonable price of €10. The book can be bought locally in O'Brien's.
Sunday night cards
The results of the Sunday night Card Game in the Parish Hall are: There was a four way tie for 1st with Kay & Anne, Frank & Pat, Jack & Tom and Brendan & Joe. Last game winners were Jonno & Tom. Raffle winners were Kathleen, Brendan Casey, Brendan Hanley, Annie, Mary Gregg, Martin McDermott, Tom Rooney, Tom Mulvihill, Jonno, Bridie Glennon, Peter Gregg, Noel McDermott and Tommy Fox. The card game committee and players would like to extend their sympathy to the Donlon family, Moher on the recent death of Tom. Next game is New Year's night at 8.30pm.
50/50
The 50/50 draw took place in Adie's bar on Monday night 12th December and the winning envelope for a prize of €619 was in the name of Shane Moran, Colehill. Congratulations Shane on this great win.
The club is extremely grateful for your continued tremendous support and wishes everybody a very Happy Christmas and wonderful 2023.
Tidy Towns Lottery
On Tuesday 13th December the jackpot for the Lanesboro Tidy Towns lottery stood at €11,200 and as it was not won the jackpot rose to €11,300 for the draw on Tuesday 20th December. The winning numbers drawn on the 13th December were 6, 11, 22 and 30. The winner of the €50 prize was Chris Moran, Colehill and the three €20 winners were Mike Greene c/o FÁS, Brendan Smyth c/o Yacht Bar and Mary Rhatigan c/o Yacht Bar.
The committee are extremely grateful to everyone that bought and continues to buy tickets over the past year and they would like to wish everyone a very Happy Christmas and a safe and prosperous 2023.
Frank Nelson
Frank Nelson would like to thank everyone that has bought his newly released CD making it one of his most successful CDs. I'll Put the Kettle On is continuing to sell extremely well. It is a must for all his followers and lovers of country music – why not give it as a Christmas present or as a Christmas Sock filler to someone who loves county music.
Frank would like to wish everybody a very Happy Christmas and a Prosperous 2023.
CDs are available in O'Brien's costing just €15.
Healthy Communities
Free Stop Smoking Service available in Ballymahon. Get the help you need to stop smoking for good. Free Nicotine Replacement Therapy will be provided for non-medical card holders.
Ballyboro FC
Ballyboro FC extends its deepest sympathy to club secretary Carol Donlon and extended family on the passing of Carol's father Tom. Tom was a great community person and will be greatly missed by all who knew him.
The FAI has issued a directive that there will be no competitive football until 7th January. Teams can continue to train over the holiday period
The club extends Seasons Greetings to all its players, mentors, officials and supporters. The past year has been a momentous one in the history of the club and 2023 promised to be just as eventful.
Support line for older people
ALONE manage a national support line and additional support for older people who have concerns or are facing difficulties relating to Covid-19. Professional staff is available to answer queries and give advice and reassurance where necessary. The support line is open seven days a week from 8am until 8pm. Text TALK to 50808 to begin.
Alcohol Anon Meetings
Relatives and friends of alcoholics are welcome to attend meetings in the Family Centre building at the back of St. Mel's Cathedral on St. Mel's Road, any Tuesday evening at 7pm.
Smart Recovery
SMART recovery is an evidence based addiction recovery support group where participants learn self-empowering techniques to aid their recovery by overcoming addictive behaviour.
There is a meeting every Friday evening from 7pm to 8.30pm in Vita House, Roscommon. For information you should phone Conor 086 1702912 or info@smartrecovery.ie
GROW
Grow is a Community Mental Health Movement which meets every Monday at 11am in the Community Mental Health Centre, Dublin Rd., Longford. If you are feeling lonely, isolated or suffering from stress, please feel free to attend. You can call Assumpta for any further information on 086 8114135.
Kilgefin Parish
Mass times for Christmas Eve and Day
Ballyleague: Mass on Christmas Eve at 7pm and on Christmas Day at 11.30am.
Ballagh: Christmas Eve Mass at 8.30pm
Curraghroe: Mass at 10am
Christmas Trees; The parish is looking for parishioners to sponsor a Christmas tree for all the churches and to help with the cost to decorate the trees. All donations should be put in an envelopes and indicated accordingly with donors name or anonymously. Thank you in anticipation of your generosity.
Ballyleague Christmas Lights committee
The Ballyleague Christmas Lights committee wish to thank all those that turned out for the turning on of the lights. The committee extend a special word of thanks to the members of the Ukrainian community for performing the switching on of the lights. If you wish to support our efforts you can do so via http://gofund.me/f6560000 or in person to Noel Moran, John Loughlin, or Gerry Trimble or through the donation boxes in SuperValu or Inver. All support will be greatly appreciated.
Thank you: The organisers of the St. Vincent De Paul church gate collection wish to thank all who supported their collection. The total collected amounted to €725.60. Any further donations can be given to Fr. Dan
Deadline; The deadline for any notices for the newsletter is Wednesday – email to kilgefinparish21@gmail.comm
St. Mary's Church
Reconciliation Service:
The Christmas Reconciliation Service will take place in the church on Friday next 23rd at 6pm
Parish Office:
Maireád Rooney, Rathcline the Parish Secretary will be in her office in the Parish House each week on Tuesday, Wednesday and Thursday from 10.15am until 2.30pm. As the office gets established Maireád will be able to assist you with any enquiries.
Rosary Group meet in the church on Monday to Friday at 9.30am and on Saturday and Sunday at 3pm.
Eucharistic Adoration
is cancelled for Tuesday 27th December and Tuesday 3rd January and it will resume on Tuesday 10th in the Prayer Room following 10am Mass and will conclude at 4pm to take account of energy costs during the winter months.
Christmas Carol Service
A joint Christmas Carol Service will take place on Friday 23rd December in St. John's Church at 8pm. Everyone is welcome.
Remembrance Candles
Remembrance Candles and name of those that died during the year are available at the back of the church and a family member is asked to bring them home.
Parish contacts
Fr. Merlyn Kenny, Newtowncashel 0860603433 and Fr. Turlough Baxter, Killashee 0879972259 who as you know are assisting in our parish.
St. Vincent de Paul
The annual appeal takes place over the next few weeks. Envelopes for your donations are now available in the church or in O'Brien's. You are asked to return your sealed envelopes to the Presbytery or put it in the Sunday offerings basket during Mass.
Christmas Blessing
Fr. Turlough and Fr. Merlyn would like to wish everyone a very Blessed Christmas and a peaceful and Holy New Year.