Lanesboro Ballyleague notes
Car Winner
Many congratulations to Jack Rooney, Rathcline who won the North Midlands Credit Union February draw of a new Hyundai i20 Deluxe Plus. We wish you many happy miles of safe driving Jack.
Remember you must sign up at our local Credit Union to be in the next draw takes place on Saturday 4th March.
Sigerson Cup Final
The final of Sigerson Cup, the most coveted Football Cup amongst third level colleges, will take place at the W.I.T. sports campus on this Wednesday 15th February between last year's runners up University of Limerick (U.L.) and University College Cork at 7.30pm. Featuring on the U.L. panel is local Cloonadra lad Cian Glennon son of Ronan and Claire. We wish Cian and his teammates the very best of luck.
St. Patrick's Day Parade
Word is that there is a great deal of endeavour taking place in many places planning their floats for the return of St. Patrick's Day Parade to Lanesboro and Ballyleague. Great credit is really due to everyone for their efforts and the committee for their work in preparing for the Parade.
For further information or application forms please contact Teresa Costello or Freda Connaughton.
Rathcline Ladies Church Gate
The Rathcline Ladies club since its inception has been made up of Ladies from both Rathcline and Cashel. The club will hold its annual Church Gate collection at all Masses in both parishes on Saturday next 18th and Sunday next 19th February. Your usual generous support will be very welcome.
Your support for the Parade
In an effort to defray costs for the upcoming St. Patrick's Day parade the committee is holding a raffle and the support of our entire community is encouraged. This year the draw will take place in Adie's bar on St. Patrick's night. Tickets are priced at €2 each or 3 for €5. There will be five prizes of €100 and you may be one of the lucky five.
Tickets can be bought in the local bars, supermarkets, O'Brien's and from committee members.
Thank You
The organising group of the Lourdes Collection 2023 taken at all Masses last weekend would like to thank everyone for their very generous donations. The amount you contributed was a wonderful €594.35. If you missed the collection you put your donation in an envelope and leave your donation into O'Brien's.
Local notes inclusion
Anybody that wants items included in the local notes is advised that they have their note with me on a Sunday night at the very latest. This is to ensure inclusion in the coming weeks notes.
Death
It is with deep regret we learned of the death at the Midlands Regional Hospital, Mullingar of Mrs Mary McCormack, The Green, on Friday 3rd February. Mary was predeceased 6 years ago by her husband Barney and she had been in failing health in recent times. Mary, a native of Templemichael (Longford Town), parish worked in Dublin before returning home to marry Barney; they then moved to the Green with Barney working on Bord na Mona. She was a woman with a great faith, teetotaller, a homemaker, a quiet spoken lady who loved gardening and going for nights out at bingo. She had a great love of Irish Country Music and especially her favourite singer Declan Nerney. Mary was a wonderful neighbour and formed close bonds with many of her neighbours on the Green. She loved nothing better than availing of the bus service to Longford where she could meet up with parishioners from her youth and enjoy a few hours shopping and catching up with recent styles. Mary will always be fondly remembered as a woman with great loyalty to Lanesboro and her simple way of life endeared her to everyone. Mary left us with lasting and happy memories.
Mary's remains reposed at Farrell's Funeral Home on Sunday 5th February before being removed to St. Mary's Church. On Monday following her Funeral Mass she was laid to rest alongside Barney in Clonbonny Cemetery. To her daughter Rosemary, Rosemary's partner Richard and her two grandchildren John and Daniel, relatives and many friends we extend our deepest sympathy.
Young Rostrum Auctioneer
Huge congratulations to Clonfower man and Rathcline Senior Footballer Bryn Peters, who won the Young Rostrum Auctioneer of Ireland competition in the iconic Tattersalls Sales Complex on Friday last. Bryn conducted 4 live auctions on the day and despite stiff competition from 9 other competitors from around the country, Bryn emerged victorious. It is indeed a remarkable achievement for the 21 year old to win this prestigious competition, which as part of his winning prize will get to spend a week in the world renowned American Auction Academy in Texas. Bryn works as an Estate Agent with Sherry Fitzgerald Brady O'Flaherty in Maynooth. Congratulations to Bryn and of course very proud parents Marie & Steve.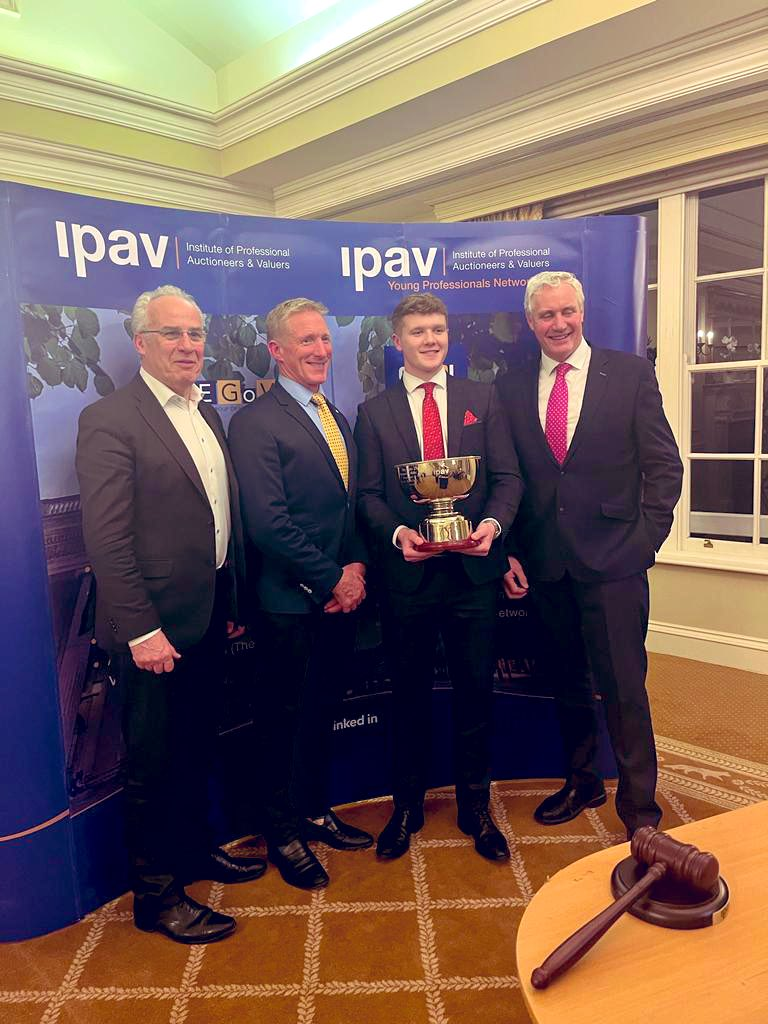 It's all happening in and around us
Over the next 12 weeks there is a huge amount of activities happening all around us. Events we can participate in or be part of the audience enjoying the spectacles that is happening on our doorstep. They are all events that we should actively support and bask in the glory of the wonderful talent we have and what has been brought to us.
I will start with the furthest one out because it is our local celebration and it is already creating a lot of interest.
The Gathering
On May Bank Holiday weekend a 'Gathering' of boats will happen in Ballyleague and as part of this weekend celebration the old Lough Ree Summer School will be revived to add adventure to the Gathering.
From Friday 28th April to Monday 1st May we expect the Shannon banks and marina to be filled to overflowing with the arrival of the boats.
There will be a Free guided walk with Éanna Ní Lamhna, Environmentalist biologist, broadcaster, author
There will be a "BAT Walk & Talk from Bat expert Dr. Tina Aughney. Tina has a keen interested in all wildlife matters and has been very fortunate to work in the area of bat recording since the mid-1990s. She has greatly contributed to the knowledge and conservation needs of Irish bat species. For the last 11 years she has been surveying for bats across the island and has gathered extensive records on this mammal group, all of which have been entered onto the BCIreland database, which she manages for Bat Conservation Ireland.
Others to speak over the weekend will be Dr. Harman Murtagh is a retired senior lecturer in law and Irish studies at AIT. A noted historian, he has written in many scholarly publications, especially on military history, biography, and settlement studies and is an authority on Quaker Island.
Nuala Madigan Chief Executive Officer Irish Peatland Conservation Council – (PEATLANDS). Billy Flynn MCIEEM MIBiolI MIEnvSc CEnv Ecologist -Chartered Environmental Scientist (ECOLOGY & WATER QUALITY)
Sue Moles NPWS – Wildlife Ranger. Niall Fallon, Ecologist. Les Saunders CSIG/ESIG IWAI and Denis Baker NAVWATCH / IWAI
Talks and Walks including Bog Walks, Seminars on boat mechanics and safety, Talks on CSIG & ESIG as well as a run through on IWAI Nav-Watch as well as a boat Jumble sale. There will be an opportunity to visit the Ancient Bog Roadway at the Corlea Interpretative Centre. The "May Pole" will be unveiled at the marina with accompanying Traditional Music. There will be a Powerboat Level 1 course available.
From the incredible work already done by Liam Kelly this promises to be an astonishing weekend in the Ballyleague/Lanesboro community and on the water.
St. Patrick's Day Parade
We welcome the return of the St. Patrick's Day Parade to Ballyleague and Lanesboro. Teresa Costello and Freda Connaughton are once again holding the reins and from early indications it promises to be another fantastic day in Ballyleague and Lanesboro celebrating our National Saint.
Festival of Lights
The weekend after next 24th to 26th February will see the Festival of Lights taking place at the former Connolly Barracks in Longford Town. As the Longford Leader featured "Following on from the success of last year's arts event – The Light Brigade, Artistic Director, Tom Meskell in partnership with County Longford Arts Services is developing a new and ambitious Festival – Longford Lights." This will all come to fruition in spectacular fashion for the weekend 24th to 26th February.
"Tom Meskell, the Artistic Director brought together a team of artists from all over Ireland and England including the Liverpool Lantern Co, Macnas of Galway and Black Powder Monkeys to work with ten community and school groups in the Longford town area."
Roscommon Drama Festival
This year the Roscommon Drama Festival will take place from Friday 3rd to Saturday 11th March. The festival is recognised as one of the finest in the country and all locals should avail of at least one night of the festival.
This year the festival will include Dalkey Players with By the Bog of Cats; Ballyduff Drama Group with The Welkin; Glenamaddy Players with Proof; Corofin Dramatic Society with Stolen Child; Ray Leonard Players with The Kings of the Kilburn High Road; Harvest Moon Theatre Company with God of Carnage; Bunclody/Kilmyshall Drama Group with The Night Alive; and Kilmuckridge Drama Group with SIVE.
Bookings can be made by phoning 09066 25825 or online www.roscommonartscentre.ie Tickets cost €15/13; 5 night ticket €60 or season ticket €95.
€12,000 to be won
The Lanesboro Tidy Towns Lottery on St. Valentine's Day, Tuesday 7th February stood at €12,000. This is a wonderful amount of money to be won with tickets just costing €2 or 3 tickets for €5.
The numbers drawn on Tuesday 7th February for a jackpot of €11,900 were 10, 13, 21 and 28 but there was no winner of the jackpot. The winner of the €50 prize was Jean Fallon, and the three €20 winners were Jay, Leah and Becky Hanley, Corrigeen, Seamus Reilly Lanesboro Tourism and B. McDermott.
The Lanesboro Tidy Towns committee would like to thank you for your continued generosity and your support is ensuring that Lanesboro continues to look beautiful.
Divine Mercy Conference
The Divine Mercy Conference 2023 will take place in the RDS Dublin on this coming Saturday 18th February. A bus will leave from St. Mel's Cathedral car park for the conference at 8pm
If you would like to book a seat or get further information you should phone Liz 087 6378619 or Dolores 086 2211336
Power Station Memories
Have you given your memories of the Power Station yet? The production team is still looking for people who have not come forward with stories to tell and memories of the power station
If you think you do have a wee anecdotal nugget, please get in touch with Lee Williamson, school principal Claire Murphy or teacher Niamh Rowan in Lanesborough NS.
Not only will this be a school project but also a part of the history of what stood in Lanesboro and gave so much employment since the mid 50s.
Weekly Card Game
The results from last Sunday night's weekly card game held in Lanesboro Parish Hall game held on Sunday night last 12th February are: 1st Niall & Liz Hughes. Joint 2nd were Kathleen & Annie and Frank & Kevin. The last game winners were Tom Skelly & Jack Bannon. The raffle winners were Mary Gregg, Peggy Moran, Owen Casey and P.J. Glennon.
The game continues every Sunday night at 8.30 pm with light refreshments served.
Leitrim's Republican History
The recently enlarged Leitrim Republican History 1900-2000 has just become available in Lanesboro. Leitrim people have a renowned history in the involvement of its people in the Republican History of its county and Ireland and this book make for excellent reading. Cormac Ó Súilleabháin is the author of this fine book.
The book is for sale in O'Brien's priced €35.
Living Well Programme Dates Announced
HSE, Living Well is a free online group programme delivered over six workshops (2.5 hrs x 6). It is delivered by trained leaders, most of whom are also living with a long-term health condition. You will develop self-management skills and confidence to live well with your health conditions.
Monday next 20th Feb-Online from 10.30am-1pm
To Book Your Place please contact Olga Maguire on 086 0142688 or email omaguire@southmayo.com
You can find more details about the programme on www.hse.ie/LivingWell
Train how to use the Defibrillator
The Defibrillator training will be taking place very soon. If you have not yet expressed your interest in taking part, please leave your name and phone number with Martina O'Brien in the shop or by phoning 086 3858934 or email to clynemartina53@gmail.com
Ballyleague Bingo
Ballyleague Bingo continues in Ballyleague Hall every Thursday night. The first numbers will be called at 8.30pm.
50/50
The 50/50 draw took place in the Yacht Bar on Monday night 6th February and the winning envelope for the great prize of €618 was in the name of Desmond O'Reilly, The Green.. Congratulations Niall on your wonderful win.
The club is extremely grateful for your continued tremendous support.
Ballyboro FC
Some stars of the future were on display when the under 9s were involved in blitz action along with Mostrim Albion and Melview on Saturday. Jake Nolan, Ronan Kelly, James Murray, Rory Curran, Karol, Kian O'Shea, Fionn Curran, Dean Nolan, Ben O'Rourke, Tunyr, Mark Hession, and Paudi Murray all performed very well. Ballyboro got the better of Longford Cruisers by one goal to nil in a vital Combined Counties game with Jack Murray's eye for goal proving decisive at the end. Team: Mark Tarmey, Alan Kenny, Michael Kavanagh, Greg Cassidy, Patrick Kenny, Aidan Dooney, Derek Murray, David Rooney, Keith Murphy, Jack Murray, Ciaran Regan. Sub: Dean O'Reilly.
The under 16s recent run of good form came to an end on Saturday when they went down 3-2 to Stonepark. Ballyboro went in front courtesy of a Billy Murray goal but Stonepark availed of some Ballyboro defensive frailties to lead 3-1 halfway through the second period. An opportunist Wesley Hughes goal gave renewed hope to the Ballyboro boys but a couple of scoring opportunities were squandered in the closing stages as Stonepark emerged with the spoils. Ballyboro: Euan Cullen, Jack Brogan, Anthony Cox, Jack Casey, Jack Beattie, Cody Phelan, Luke Johnston, David Cox, Billy Murray, Wesley Hughes, Ben Murphy. Subs: Conn Maxwell, Eoin Connell.
Both under 11 teams preformed creditably in their respective leagues. The Tigers were in cracking form against Melview. Squad: Andriannes Erinc, Ben Smith (1),Tyler Murray, Tom Hession (4),Cian Shea, Darragh Shanley (6),Donncha Farrell (2),Matthew Murphy, Andrew Nolan. The Cougars gave one of their best displays against Ardagh. Panel: Jay Flynn, Lorcan Vesey, Lee Carberry (1), Kyran Horohoe (2), Malachy Martin, Patrick Casey, Niall Morgan, Caolan McGann, Dylan Fitzmaurice, Luke O'Neill.
The under 12 girls dominated much of the first half in their game with Melview, but the Longford town girls got two quick goals on the restart. Ballyboro piled on the pressure to get back in the game and despite some excellent saves from Ava Donohoe Melview scored again. It was a good sporting, even contest with the girls unlucky to come away empty handed. Squad: Saoirse Feeney, Saoirse Dillon, Hannah Farrell, Faye Hogan, Chloe Kilcoyne, Kallie Herbert, Ava Donohoe, Sinead Murray, Ellen Cox(c),Penelope Kennedy, Millie Cassidy, Katie Sweeney, Laoise Farrell, Niamh Casey, Pippa O'Shea, Emma Hopkins, Sadhbh Neilon.
The under 14 girls were highly impressive when they got the better of Killoe Celtic by a 7-3 margin. Team and scorers: Clodagh Martin, Anna Cox, Mariana Donlon, Amy Burke, Katie Hoey, Emma Feeney (1),Emma Dowd (2),Kate Malone, Sophie Byrne (1),Sarah Healy(3),Kate Ferguson(1). Subs: Siun McElgunn, Sophie Cox, Emma Hoey, Erin Roughneen, Laura Rhatigan, Katie Smith, Leah Mimnagh, Emily McDermott, Evie Malone, Lillie Dowd.
Fixtures: Saturday 18th; The under 8s have a home blitz with Newtown starting at 10am, the under 10 Lions play Abbey Rovers at home at 12.30pm while the under 10 Tigers play Stonepark at the Mall 12 noon kick off, the under 13s play UCL Harps at Dernafest Lough Gowna at 11.15am. Sunday 19th; The under 12s play Gaels United in Drumlish at 1pm, the under 14s are at home to Kenagh United 11.30am kick off, the under 16s are at home to Renmore in the third round of the Connacht Shield, while the under 14 girls play Newtown at home 10am start.
ALONE
ALONE provides many services to older people. It recruits, trains and supports volunteers for two services of Visitation/Befriending and Phone /Befriending. Would you be prepared to provide companionship once a week? Full training and support will be provided. For more information contact Francis 086-1085965 or volunteer@alone.ie
Support line for older people
ALONE manage a national support line and additional support for older people who have concerns or are facing difficulties relating to Covid-19. Professional staff is available to answer queries and give advice and reassurance where necessary. The support line is open seven days a week from 8am until 8pm. Text TALK to 50808 to begin.
Alcohol Anon Meetings
Relatives and friends of alcoholics are welcome to attend meetings in the Family Centre building at the back of St. Mel's Cathedral on St. Mel's Road, any Tuesday evening at 7pm.
Local Health Service
The health service is here for us all, from routine to urgent calls. HSELive is here 7 days a week to answer questions. Freephone 1800 700700.
Roscommon University Hospital Injury Unit is available from 8am to 8pm seven days, a week and the contact number is 09066 32212.
Emergency Department deals with serious injuries and life-threatening emergencies if you need urgent medical help. They are open 24 hours a day and can be contacted by phoning 999 or 112.
Smart Recovery
SMART recovery is an evidence based addiction recovery support group where participants learn self-empowering techniques to aid their recovery by overcoming addictive behaviour.
There is a meeting every Friday evening from 7pm to 8.30pm in Vita House, Roscommon. For information you should phone Conor 086 1702912 or info@smartrecovery.ie
GROW
Grow is a Community Mental Health Movement which meets every Monday at 11am in the Community Mental Health Centre, Dublin Rd., Longford. If you are feeling lonely, isolated or suffering from stress, please feel free to attend. You can call Assumpta for any further information on 086 8114135.
Roscommon Community Challenge
There are just 3 weeks to go to the 2023 Roscommon Community Challenge, This very
popular and well supported Moonlight walk/run around Roscommon Town takes place on
Friday March 3 rd at 8pm. This year, Roscommon Special Olympics and Roscommon Sports
Park are the chosen Charities. This community event is for everyone walkers, runners,
joggers, individuals, teams, and families, those looking to set a time for 2023 and those that
would like to improve on previous timings. As in previous years this challenge has proven
extremely popular with a great response from people who signed up to be part of the training
programme. There has been huge progression since training started in early January and
participants are really looking forward to getting to the starting line. This year, we are
looking forward to revealing our new 10k route which will be revealed in the next few weeks.
Roscommon Special Olympics are a remarkable bunch of athletes, and the club are delighted
to be the beneficiaries of this year's Community Challenge. There is a thriving club within
the town with bowlers and swimmers meeting every week and the Club are looking forward
to resuming on the Astro pitch at Roscommon Community Sports Park shortly. Roscommon
Special Olympics are incredibly grateful to the Community Sports Park, for the use of their
facilities throughout the year. This event is especially important to the Club and proceeds will
enable the continued provision of sports to a most wonderful bunch of fantastic athletes. The
second charity is Roscommon Community Sports Park (RCSP), This is a wonderful facility
and a great example of true community spirit. The building is a busy spot and is used by a
variety of community groups.
Without doubt, none of this would be possible without the encouragement and
professionalism received from Roscommon Sports Partnership and organisers are extremely
grateful to Co-ordinator Noel Feeley and his staff David Brady, Michael O' Donnell, and
Martin Hannon for all their support. Extending a word of thanks to all who help with the
running of the event on the night, organisers are currently recruiting volunteers to help
Marshall the route and as usual businesses are offered an opportunity to promote their
business with an attractive sponsorship option. For further details on both please contact
Jacqueline McCormack 0861721181
Participants can register on this link and as you register, please know that your contribution is
helping to bring joy and happiness to athletes that so deserve the opportunities that Special
Olympics brings into their lives.
https://www.eventbrite.com/e/479142848157. Check out our Social Media sites
Roscommon Community Challenge for further information.
Kilgefin Parish
Station Masses: Kilgefin Station Masses will commence on Wednesday 22nd February – the beginning of Lent. Station Masses were a great success before Christmas and a lot of parishioners showed interest in holding a Station Mass in their homes. Could anyone wishing to hold the Station Mass in their home please contact Fr. Dan to arrange a date.
Support for the Missions
At the request of Bishop Kevin Doran, we request for your generous donations in support of the religious order of Fr Dan – Missionary Society of St Paul (MSP) for their missionary activities in countries ravaged by famine, wars, hunger, diseases and lack of basic human infrastructures like Chad, South Sudan, Central African Republic, Kenya, Malawi, Gambia etc and many others countries in the world. For more information visit http://www.mspfathers.org Please bear in mind that "Some give to the mission by going; some go to the mission by giving". Envelopes will be available to all. Please kindly return the envelopes on or before the weekend of 25th and 26th February, 2023. Thank you for your generosity. Fr Dan Udofia, MSP
Accord: Accord is currently taking bookings for Pre-Marriage courses. Those intending to get married are asked to contact the Sligo Accord Centre (071 9145641) or go online at www.accord.ie . The Pre-Marriage course should be booked at least 6 to 8 months prior to the wedding. Also, Marriage Counselling services are available by contacting the Accord telephone number.
For more information you are invited to contact Helena at Helena.madden@aloone.ie or phone 086 0145 829.
Alone Volunteers: Would you be willing to provide companionship or make calls to older people once a week? Alone is seeking volunteers in the area. Full training and support will be provided. If you are interest you are asked to sign up at the following address https://alone.ie/volunteers.
Ballagh National School: Ballagh N.S. is now open for enrolment and is accepting applications for the 2023/2024 school year. Application forms can be obtained by emailing ballaghns1@gmail.com to request a form or alternatively by downloading the application form from the website www.ballaghns.ie
Cloontuskert NS: The school is holding a used clothing collection on Friday 24th February. If you are having a clear out in the next few weeks, the school would be grateful to accept your donation. Bags can be dropped to the school any day up to Friday 24th February. Your support is great appreciated.
St. Mary's Church
The Parish Hub: Over the past few months Parish House has been developed as a resource centre with the establishment of the new Parish Office, Meeting Rooms, Resource Library and Oratory. There have been a number of local gatherings and the plan is to make the house available as a resource centre for the entire community to avail of. You are invited to call in to Maireád, the Parish Secretary during her office hours: Tuesday to Thursday, 10.30am to 2.30pm. She will be delighted to show you around the new facility. If you want to contact her by phone you can do so during the aforementioned working hours at 3321166
Speak with a Priest: if you wish to talk with any of the priests you can call into the sacristy after any Mass.
Talk to the Samaritans: Are you struggling to cope with life? Do you think it would help to talk about your problem in confidence? It does not matter who you are, how you feel or what happened to you. If things are getting you down you can turn to the Samaritans for help. The Samaritans are available on Freephone 116123, 24 hours a day and 365 days a year.
Alone Volunteers: Would you be willing to provide companionship or make calls to older people once a week? Alone is seeking volunteers in the area. Full training and support will be provided. If you are interest you are asked to sign up at the following address https://alone.ie/volunteers/
For more information you are invited to contact Helena at Helena.madden@aloone.ie or phone 086 0145 829
Adoration: takes place every Tuesday.
Rosary Group meets in the church on Monday to Friday at 9.30am and on Saturday and Sunday at 3pm.
Parish contacts
Fr. Merlyn Kenny, Newtowncashel 0860603433 and Fr. Turlough Baxter, Killashee 0879972259 who as you know are assisting in our parish.
St. Faithleach's GAA
Lotto
Jackpot standing at €3200. No winner this week. Numbers drawn 8 19 26 and 29. €40 winners Violet O'Loughlin, Molly O'Grady and Mary Connaughton. Next draw is 23rd February. Tickets for sale at all usual local outlets. Thank you for your continued support.
Ireland Lights Up
The Ireland lights up walk continues this week. Meeting at the St. Faithleach's GAA complex on Thursday at 7:30pm. Come along and bring a friend. Thank you to the fantastic crowds that have been turning up. All welcome.
Volunteers
As the new season approaches for our underage teams, volunteers are being asked to give a helping hand at trainings and managing teams. If you wish to help out you can contact Tanya O'Rourke or Katie Carberry.
Ladies Night
Ladies, mark your calendars. A ladies night at St. Faithleach's GAA Clubhouse on March 3rd! A wonderful night is in store. Full details in next week's notes.
Best of Luck
Best wishes to Cian Glennon, Gardentown and his UL teammates as they take on UCC in the Sigerson Cup Final on Wednesday night in Waterford.
Best of Luck
Best of luck to club representatives on the county stage, Cian, Ciaráin and Diarmuid on Sunday as Roscommon take on Armagh in the Allianz League Division One. Also, best of luck to Ellen Irwin and the Roscommon ladies as they take on Westmeath on Sunday in the Lidl National Ladies League.