Lanesboro Ballyleague notes
Tidy Towns Summer Draw
We always appreciate the fantastic work that continues to be done by Lanesboro Tidy Town's committee. Through all seasons they draw huge comment and praise for the manner they maintain the town. The committee is not just about the competition every summer but it is about the progression of the beauty of our town all year around.
This year they have great plans for the town's enhanced beauty and to achieve their plans they need a boost in their funds. To that end the committee is asking everyone home and away to support their very first summer draw. The first prize will be €1,000 and the next four prizes will be €100 vouchers sponsored by Johnston's Pharmacy, Fergus Hanley LTD, Keane's SuperValu and Casserly's Spar. Tickets are priced at €20.
Tickets are on sale throughout the town from the committee or available from Martina at the shop or from me at joeaobrien@outlook.com
The draw will take place on Sunday 21st May at 12.30pm where the committee is making the draw into a community event inviting everyone to come along, have a cup of tea/coffee as part of the refreshments that will be on offer all free of charge.
Birth
Many congratulations to Marie and Padraig Hanly, Lehery on the recent birth of a baby girl.
And Marie's double celebration
Marie Hanly, Lehery had reason for a double celebration when on Monday night last 17th April Marie was the lucky winner of the Rathcline 50/50 weekly draw. She received the wonderful sum of €782.
The Rathcline 50/50 draw takes place every Monday night at 7.30pm and your generous support is greatly appreciated.
Death
The entire community was very saddened to learn of the death on Thursday 20th April at Galway Clinic of Tom Corcoran, Strokestown Road, Ballyleague. Tom along with his wife Mary moved to Ballyleague many years ago and they raised their family. His ailment was of a moderately short duration and he bore the cross of his illness with a great strength and sense of dignity. He was a great family man and took a proactive interest in the development of his children. Tom was a native of Kenagh where in his younger days was a formidable Gaelic footballer with St. Dominick's Kenagh with whom he won a county title. He was a man of great belief whose religion meant everything to him. He was also renowned for his great sense of humour. Tom was of a quiet disposition, friendly and welcoming making everyone feel comfortable and at ease in his company. He was an excellent neighbour and friend, always ready to help anyone in their time of need. Tom had other sporting interests in badminton, Pitch n Putt and horse racing where he always liked to have a little flutter. From his childhood he has an innate love of the bog where he really felt at home working with the turf. The attendances at both the reposing of his remains at his home on Saturday and again on Sunday at his Mass of the Resurrection bore ample testimony to esteem in which he was held. Burial took place afterwards in Cloontuskert cemetery.
To his wife Mary, his daughters Michelle and Gillian, his son Mark, his brothers Jack, Michael, Paddy and Gerry, his sisters Marie, Bríd and Pauline, relatives and many friends we extend our sincere sympathy.
Tractor, Truck & Car Run
On Sunday next 30th April a Tractor, Truck and Car Run will take place from St. Faithleach's GAA grounds to remember the late Ronan McDermott.
This running of this event is to help raise awareness of suicide and to raise funds for Pieta House.
Pieta House supports people and communities in crisis by providing freely accessible professional services to all and this was a service Ronan reached out to in the past.
As part of the event a raffle will be held and if you are in a position it is hoped that you may be able to donate a raffle prize. The family organising the event would greatly appreciate any donation you can make.
If you have any questions, want to donate a prize please contact mcdmike@live.com or phone 087 210 4383.
Ronan's partner, daughter and family would like to thank you for your consideration.
Access for All boat
The Access for All boat is for everybody. The boat can cater for three large wheelchairs but you don't be to be a wheelchair user to avail of the excellent trips. Guided fishing excursions can also be organised. Advanced booking is recommended. You can contact by email www.loughreeboattrips.com or phone 089 2625505 or 043 33 84175.
The summer sailings are 10am, 12 noon and 2.30pm. The winter schedule is still in place and sailings are at 11am and 1pm.
Sympathy
We would like to extend our deepest sympathy to Edel Fallon and family, Main Street and her brother and sisters on the death of their father P.J. Fallon, Caltramore, Newtowncashel. P.J. was also brother of Geraldine Skelly, Aughamore, Longford Road and Celine Hester to whom we also extended our deepest sympathy. P.J. was laid to rest in Cashel Cemetery following his Requiem Mass in The Church of the Blessed Virgin, Newtowncashel.
World Games Silver
Born and raised in Thureen son of Jimmy and Anne Gavigan, Tony Gavigan represented Ireland in the World Transplant Games in Perth, Australia over the past two weeks. Tony, a retired Garda, lives in Navan who along with his playing Dubliner Ron Grainger claimed the silver medal in the pairs golf tournament. Tony is continually promoting Organ Donor awareness and always asks of people to seriously consider organ donation. He regularly gives talks for the Irish Kidney Association. Tony dedicated his win to his kidney donor and also to the memory of his 12 year old son Kyle who died in 1996.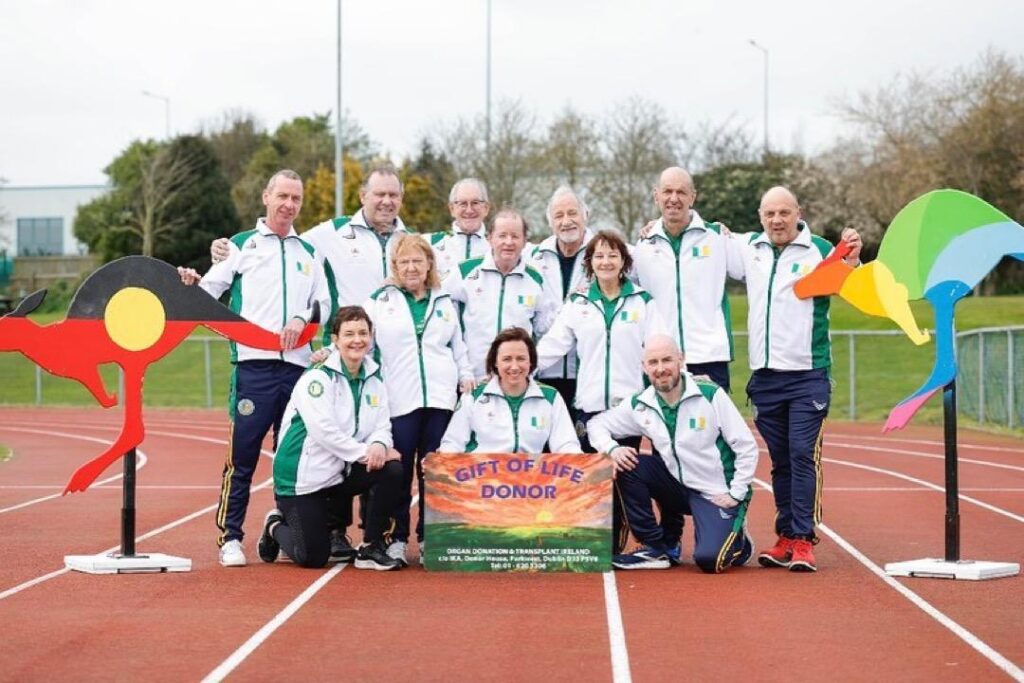 Congratulations Tony on a wonderful achievement.
Tractor, Truck & Car Run
On Sunday next 30th April a Tractor, Truck and Car Run will take place from St. Faithleach's GAA grounds to remember the late Ronan McDermott.
This running of this event is to help raise awareness of suicide and to raise funds for Pieta House.
Pieta House supports people and communities in crisis by providing freely accessible professional services to all and this was a service Ronan reached out to in the past.
As part of the event a raffle will be held and if you are in a position it is hoped that you may be able to donate a raffle prize. The family organising the event would greatly appreciate any donation you can make.
If you have any questions, want to donate a prize please contact mcdmike@live.com or phone 087 210 4383.
Ronan's partner, daughter and family would like to thank you for your consideration.
Good Luck Olivia
The very best of luck to Michelle Lisle, Rathcline, daughter of Sean and Michelle Lisle who has taken over the running of the Local Bar in Newtowncashel. Olivia will officially open Livs Bar @ the Local on Saturday evening next 29th April.
Sympathy
We would like to extend our deepest sympathy to Bridie Donlon her family and her extended family, Thureen on the death of her brother P.J. O'Reilly, Templemichael Terrace, Longford and formerly of Rathcronan, Granard, who died on Tuesday 18th April. P.J. was laid to rest on Saturday last in Granardkill cemetery following hid Funeral Mass in St. Mary's Church, Granard.
Poetry Launch
A collection of poems 'The Overlap of Things' by Margaret Nohilly will be launched by Arlen House Publishers during the Strokestown Poetry Festival on Friday next, 28th April at 1pm, in Strokestown Park House. This will be the official launch, and local launches in Lanesboro and Longford Libraries will take place on 26th and 27th May. There will be more details at a later date.
4-Day Bus Tour in Cork
West Cork calling! Anyone interested in a 4-day bus tour of beautiful West Cork, June 22nd-26th 2023, call Seamus on 0863901060 for hotel booking and bus seats. Taking in the sights of Béal na Bláth, Gougane Barra, Michael Collins' Homestead and lots more!
Boat Gathering and Summer School
Next weekend we will welcome boats to the inaugural Boat Gathering and Environmental Summer School in Lanesboro and Ballyleague. There is a wide range of events with some renowned and expert commentators coming to speak and lead events over the weekend. It should be a massive weekend, again, in our community and as I said before major credit is due to Liam Kelly for his fantastic work in organising the event. Below is a list of the events scheduled for the weekend.
Friday 28th April
Visiting Boats gather at the Waterways Ireland Mariana Ballyleague.
Inaugural Dick Warner Memorial lecture at 8.30pm with Roscommon native Kathryn Hannon, (Ecologist and past consultant and participant of the original Lough Ree Environmental Summer School), on the theme of Lough Ree and its Birdlife in the Lough Ree Access for All Centre in Ballyleague.
Saturday 29th April
Dr. Harman Murtagh will be giving a lecture on Inchcleraun (Quaker Island) in the Lough Ree for All Centre at 10.30am which will be followed by boat trips to Quaker Island on board the Wheelchair friendly Access for All boat. Book a seat on the boat 089-262 5505.
At 12 noon Billy Flynn MCIEEM MIBioll MIEenvSc CEnv, Chartered Environmental Scientist & Ecologist who has extensive experience in consulting on planning and design for Greenway Trails (walking & cycling) and in preparing Biodiversity Action Plans will be giving a talk followed by a guided walk through different areas around Ballyleague and Lanesboro.
2pm sees the return of Éanna Ní Lamhna where she will give her talk in the Lough Ree Access for All Centre and this will be followed by a walk through Commons North Wood in Lanesboro to view and examine many different types of flora and fauna as well hopefully catching sight of the native Red Squirrels that have made a welcome comeback to this unique woodland.
3pm will see Nuala Madigan, Chief Executive Officer Irish Peatland Conservation Council, Bog of Allen Nature Centre; give a 45 minute talk followed by an outdoor field trip on some of our native boglands. (Own transport required).
4pm Les Saunders and Matt Daniels from the Inland Waterways Association of Ireland, will be giving a lecture on Electronic Boat Charts and systems that are available to use on the navigable Inland Waterway system throughout the island of Ireland.
4.45pm will see Ciaran Clinton/Denis Baker give a talk and demonstration on the "Nav Watch" navigation reporting system and a discussion on the Royal Canal.
8pm Dr. Tina Aughney from Bat Eco will give an indoor presentation followed by a walk thereafter to view some of the Bat population in the immediate area.
Sunday 30th April
Lanesboro Art Group, Brushstrokes will be exhibiting their works of art in the Lough Ree Access for All Centre in Ballyleague as part of the "Gathering and Summer School". Well worth a visit and while you are there you can buy coffee and ice cream at the centre.
RNLI Athlone will do a 'Man Overboard Rescue Demonstration' at 12 noon
PADDLEBOARDING; Bookings for Paddleboarding are now live on the website https://www.supdublin.ie/book-online . We have received a special rate for the day. Please use the discount code THEGATHERING at the checkout. Please note: this is a prebooking rate only. Fun Stand up Paddleboarding session in Ballyleague Marina. This class is suitable for everyone. The class will include a safety briefing, fundamentals of SUP and lots of paddling. What's included: lots of fun. Inflatable Paddle Board – Paddle – Coiled Leash – Buoyance aid. What to bring: Swimwear/Sportswear? Wetsuit – Towel – Change of Clothes – Bottle of water – sun cream (hopefully you will need it)
BOAT JUMBLE: Our Boat Jumble will take place at Ballyleague Mariana at 1pm. Bring along all your "Boating Related" items and hopefully sell them to a new owner who will repurpose them. All we ask is if you sell something on is that you can make a donation to the RNLI Bucket that will be there. So bring along you excess engine parts, water coolers, gearboxes, clocks, seats, fenders, anchors, cables, oil coolers, chains, railing posts, windows,/frames, steering wheels, diesel tanks, ladders, steps, ribs, starters, alternators, CAV pumps, shackles, oars, outboard brackets, brass windows, cushions, windlasses, jet units, tenders, outboards, outboard fuel tanks, Gerry cans, calorifiers, and basically anything you feel is surplus to your requirements at present.
Lough Ree AC
Last Saturday the Roscommon Athletic Championship for Under 9 to 11 was held at the TUS Athlone Indoor Track. This is a great venue for Athletics as evident by the fact it attracted the largest number of entries even for this under age competition. Lough Ree AC was well represented with most athletes competing in all 4 events 60m, 300/600m distance race, Long jump and Turbo javelin. Best Club Performance of the day in the Male events was Tadhg Shea with his win in the U11 600m and Female was Lauren Mulvihill who medalled in both the sprint and distance events in the U9 age group. Special thanks to all parents and coaches for their support and to the Roscommon Co Board for their organisation of this event.
Training will continue at the Lanesboro Track on Tuesday starting at 6pm.
Get Well
At present there are a good number of our locals, young and old, in hospital and we would like to assure them that we are thinking of them and wishing them a speedy recovery. Our thoughts and prayers are with them and their families in this trying time.
Lough Ree Golfing Society
Our outing to Strokestown GC on Friday last was the finish to 2022 series. The winner of the Golfer of the Year was down for conclusion. We were blessed with a wonderful sunny day and the course very dry considering all the rain. The scores returned were very impressive for this time of year. The Golfer of the Year finished up very close as expected, with Joe McGrath winning out on 35 pts., Jackie McDonnell on 31pts and Tony Carleton on 29pts. The beautiful trophy for Golfer of the Year was presented to Joe by Jackie McDonnell and he was very pleased to accept. The results for the day were, 1st Michael Treacy 41pts, 2nd Jackie McDonnell 37pts, and 3rd Ronan Cullen 36pts. Longest Dive was won by Tony Carleton while M Treacy was winner of Nearest the Pin.
The Ladies had very impressive scores returned too, with Martina Feehily in 1st place with 36pts, Margaret Walshe finished second with 32pts and Nora Beirne took third place with 32pts, 2nd and 3rd was decided on count back. N/P was won by Martina Feehily.
We also had our AGM with J McDonnell elected Captain, with Mike Brennan elected Treasurer, and while Ronan Cullen was elected Secretary. The members present expressed their enjoyment of the day.
Our next outing is to Co Longford Golf Club on Friday 19th May with a tee time of 11.00am.
St. John's Congregation
The final Church Service of Morning Prayers for the month of April will take place in St. Coman's Church, Roscommon at 11.30am on Sunday 30th.
All are welcome.
Darkness into Light
Rathcline GAA invites you to join our club in the Darkness into Light walk on its new Walkway in Clonbonny on Saturday week 6th May. The walk will start at 4.15am and will be followed by tea and light refreshments. All donations will be given to Pieta House to support its great work supporting people in communities across Ireland.
The Electric Ireland sponsored Darkness into Light will take place this year on Saturday 6th May. Locally we have a selection of other centres that you can attend to take part; The Mall, Longford, Vocational School, Ballymahon, the Convent Gym, Roscommon Town and Strokestown Community Centre. The 5k will commence at all venues at 4.15am.
If you wish to fundraise for Pieta House or register you can do so by getting all the necessary information online at www.darknessintolight.ie
Local notes inclusion
Anybody that wants items included in the local notes is advised that they have their note with me on a Sunday night at the very latest. This is to ensure inclusion in the coming weeks notes.
Weekly 25 Drive
The results of the 25 Drive held on Sunday night last in St. Mary's Parish Hall are: 1st Aidan Carly & Seamus Casey. There was a five way tie for 2nd which resulted in a playoff with Pete Donlon & Brendan Hanley emerging victorious. Raffle winners were Tom Nohilly, Noreen Gibbons, Kevin McDonagh & Liz Hughes. Last game winners were Kevin & Mags. The game continues every Sunday night at 8.30pm sharp with light refreshments served.
Footpath
A few weeks back in these notes I complained about no work done on the dug up footpath on the Rathcline Road. As I write this week's notes I am delighted to say that the footpath is completed apart from a few small tidy up items. In fairness to the workers this has been done to the highest of standards and all the residents are delighted with the completed job and especially in the quality of work.
Roscommon Solstice Choir
On Friday 5th May at 8pm in the Sacred Heart Church, Roscommon along with Roscommon Traditional Musicians will perform a concert. The concert is to raise much needed funds for the Sacred Heart Church restoration fund. Work is due to commence in the very near future on this historic church that was built in the late 1890's.
Tickets for the concert are €15 and they can be obtained from Geraldine Greally – 086 3276584, Michael Connaughton – 086 2544671, Mary Glesson – 087 – 9119771, Paul Biesty – 087 2536510 or Fr. Kevin Fallon 087 1487774.
Day with the Stars extended
Yes, the wonderful and hugely enjoyable Day with the Stars once again returns to Roscommon Racecourse this year only this year it comes with an extension of another day making it a Midsummers Weekend with the Stars. The show will take place on Saturday 17th and Sunday 18th June and it promises to be one of the main attractions countrywide this year.
Saturday will see The Tumbling Paddies topping the bill that will also include Ruaile Buaile, Rhythm & Sticks, One for the Road and Paul Kelly Music.
Sunday will feature Derek Ryan Music, Philomena Begley, Jimmy Buckley, Mike Denver, Patrick Feeney, Robert Mizzell, Cliona Hagan, Claudia Buckley, Gerry Guthrie Music, David James Music, and Brendan Jermyn Music along with the award winning Shannonside/Northern Sound Orchestra
Tickets can be bought for either day and there are a limited number of weekend tickets available and they can be bought in O'Brien's, phone 043 3321107 or email Joe at joeaobrien@outlook.com.
New Book
The Burkes and the Pollocks is a recently publish book by Martin Duffy. The book tells of the fortunes of two families in the parish of Kilbegnet parish over different times in recent centuries. The parish of Kilbegnet is a big one covering the Creggs, Glinsk, Donamon and all points in between. The book tells the story of both families and how the land Act and Land League changed the fortunes and led to the ending of landlordism.
The book is available in O'Brien's and it is well worth a read. The book is priced at €20.
Advance Farmers Notice
Farm Plastic Recycling will take place at the St. Faithleach's GAA grounds on Friday 7th July from 9am until 1pm. The full list and prices are available online at www.farmplastics.ie
Bus to Mini Marathon
Ladies, it is that time of year when the buds are beginning to bloom and the June Bank brings us the Ladies Mini Marathon in Dublin on Sunday 4th June. If you require transport to Dublin for the Mini Marathon you should contact Pam Farrell at 087 4146987. Presently there are just 7 seats remaining so book yours immediately.
Tidy Town's Lotto stands at €13,000
The Lanesboro Tidy Towns Lottery on Tuesday 25th April stood at €13,000. This is a wonderful opportunity to win a large amount of money for just €2 each envelope or 3 envelopes for €5.
The numbers drawn on Tuesday 18th April for a jackpot of €12,800 were 9, 16, 17 and 26. There was no winner of the jackpot. The winner of the €50 prize was Kieran O'Dowd, Rathcline and the three €20 winners were Michael & Mari c/o The Yacht Bar, Mary Tiernan Ferefad, Longford, and Marselka Kavanagh, Rathcline Road.
The Lanesboro Tidy Towns committee would like to thank you for your continued generosity and this support is ensuring that Lanesboro continues to look beautiful.
Ballyleague Bingo
Ballyleague Bingo continues in Ballyleague Hall every Thursday night. The first numbers will be called at 8.30pm.
The club is extremely grateful for your continued tremendous support.
Ballyboro FC
Eoin Beattie achieved the notable feat of scoring direct from a corner kick not once but twice as the under 14s got the better of Ballymahon in a Plate semi-final encounter. A fired up Ballyboro team played some incisive football and were full value for their win. The game finished 3-0 with Dan Casey scoring the opening goal. Ballyboro: John Farrell, Sean O'Dowd, Emry Kaya, Mikie Sorohan, Ciaran McGloin, Eoghan Mullooly, Dan Casey, Eoin Beattie, Sean Collins, Jared Mulvey, Harry Brogan. Subs Rían Hogan and Ryan McCann. The under 14s play Killoe Celtic in the Plate final on this Wednesday26th at 6.30pm in Abbeycartron.
The under 16s had a busy and productive week. On Wednesday they had a comprehensive 8-1 win over Kenagh United in the Cup. Team: Euan Cullen, Thomas Gallagher, Billy Murray, Aidan Kelly (1), Jack Beattie, Taras Kostur, Cody Phelan, Luke Johnston, Nicholas Haluskar (1), Wesley Hughes (4), Ben Murphy (2). Subs: Paulius Bulota, Daniel Hogan. In their final League game of the season they got the better of Inny1 in a feisty encounter by a 2-1 margin. Anthony Cox opening the scoring with cracking drive which left the keeper helpless while a Jack Casey header from a David Cox free kick turned out to be the decisive goal. The under 16s play Inny again on Saturday at 2pm in Streete in a Cup quarter final.
The under 11s season came to a conclusion when they went down to a very strong Stonepark team in a Plate semi-final. The players played some super football during the season and many of them improved greatly as the season progressed. Squad: Luke McDonald, Lorcan Vesey, Niall Morgan, Lee Carberry, Dylan Fitzmaurice, Kyran Horohoe, Caolan McCann (1),Malachy Martin, Thomas Shea, Shane Farrell, Jay Flynn, Mark Feeney.
The under 12s were defeated by an exceptional Inny Rovers team. Though the team tried hard and there were some very good performances they had to give best to a team that was narrowly beaten in the Connacht Cup semi-final. Ballyboro: Michael McDonagh, Darragh McGloin, Eanna Kenny, Adam Greally, Jake O'Shea, Luke O'Halloran, Tom Hession, Darragh Shanley, Ethan Donnellan. Sub Senan Dermody.
The under 9s will be participating in an end of season Blitz on Thursday in Abbeycartron along with Abbey Rovers and Mostrim. The action gets underway at 5.45pm.
ICA Flower & Craft Festival
Longford Federation ICA presents a Flower and Craft Festival through May Bank Holiday Weekend from Friday 28th April until Monday 1st May. The festival will run from 10am until 6pm on Saturday, Sunday and Monday with Craft displays and demonstrations. The festival will be launched on Friday in St Mel's Cathedral at 6pm by Fr. Michael McGrath assisted by the mayor of Longford. Refreshments will be served afterwards in the Temperance Hall Civic Suite
Home baked cakes for sale and facilities for cuppa in the Civic Suite in the Temperance Hall.
There will be talks on Gardening and Shrubs and Plants for sale at ICA headquarters in the Old Barracks.
There is something for everybody throughout the weekend. You are invited to go along and enjoy all the wonderful aspects of the weekend.
The programme of events can be seen in O'Brien's shop window.
ALONE
ALONE is a national organisation that enables older people to age at home.
Our work is for all older people and aims to improve physical, emotional and mental wellbeing. We have a National network of staff and volunteers who provide an integrated system of Support Coordination, Practical Supports, Befriending, a variety of Phone Services, Social Prescribing, Housing with Support and Assistive Technology.
We use individualised support plans, to address health, financial benefits and supports, social care, housing, transport and other arising needs using technology and through harnessing other services.
We work to empower the whole sector of community support for older people through our Community Impact Network that provides Training, IT support and resources to other organisations.
Support line for older people
ALONE manage a national support line and additional support for older people who have concerns or are facing difficulties relating to Covid-19. Professional staff is available to answer queries and give advice and reassurance where necessary. The support line is open seven days a week from 8am until 8pm. Text TALK to 50808 to begin.
Alcohol Anon Meetings
Relatives and friends of alcoholics are welcome to attend meetings in the Family Centre building at the back of St. Mel's Cathedral on St. Mel's Road, any Tuesday evening at 7pm.
Local Health Service
The health service is here for us all, from routine to urgent calls. HSELive is here 7 days a week to answer questions. Freephone 1800 700700.
Roscommon University Hospital Injury Unit is available from 8am to 8pm seven days, a week and the contact number is 09066 32212.
Emergency Department deals with serious injuries and life-threatening emergencies if you need urgent medical help. They are open 24 hours a day and can be contacted by phoning 999 or 112.
Smart Recovery
SMART recovery is an evidence based addiction recovery support group where participants learn self-empowering techniques to aid their recovery by overcoming addictive behaviour.
There is a meeting every Friday evening from 7pm to 8.30pm in Vita House, Roscommon. For information you should phone Conor 086 1702912 or info@smartrecovery.ie
GROW
Grow is a Community Mental Health Movement which meets every Monday at 11am in the Community Mental Health Centre, Dublin Rd., Longford. If you are feeling lonely, isolated or suffering from stress, please feel free to attend. You can call Assumpta for any further information on 086 8114135.
Flower Festival
Flower Festival in St Mel's Cathedral and Craft Fair in the Temperance Hall Longford Bank Holiday weekend 29/29th April and 1st May 10am to 6pm. Demonstrations and workshops each day ring 0863751242 for details. Café in the Temperance Hall with home baked wholesome food. All welcome.
St. Mary's Church
Lourdes: Ardagh and Clonmacnois 2023 Pilgrimage to Lourdes is scheduled to take place from 2nd June. The cosy of the Pilgrimage is€879 full board. The pilgrimage is being led by Monsignor Bernard Noonan, Parish Priest of Moate. Contact Joe Walsh Tours 01-2410800 or email info@joewalshtours.ie
Alcohol Anon Meeting: Relatives and friends of those addicted to alcoholare welcome to attend this meeting in the Family Centre at the back of St. Mel's Cathedral on any Tuesday evening at 7pm
Trócaire: You are reminded that the Trócaire boxes should be returned to the church as soon as possible and place them in the collection basket at the altar.
Communion for Coeliacs: Gluten free hosts are available for all those who need them. Just make it known to the priest that you wish to receive a gluten free host at Holy Communion.
The Parish Hub: Maireád, the Parish Secretary is in her office on Tuesday to Thursday, 10.30am to 2.30pm. If you want to contact her by phone you can do so during the aforementioned working hours at 3321166. She will help you with any questions or booking related matters.
Speak with a Priest: if you wish to talk with any of the priests you can call into the sacristy after any Mass.
Talk to the Samaritans: Are you struggling to cope with life? Do you think it would help to talk about your problem in confidence? It does not matter who you are, how you feel or what happened to you. If things are getting you down you can turn to the Samaritans for help. The Samaritans are available on Freephone 116123, 24 hours a day and 365 days a year.
Alone Volunteers: Would you be willing to provide companionship or make calls to older people once a week? Alone is seeking volunteers in the area. Full training and support will be provided. If you are interest you are asked to sign up at the following address https://alone.ie/volunteers/
For more information you are invited to contact Helena at Helena.madden@aloone.ie or phone 086 0145 829
Parish contacts
Fr. Merlyn Kenny, Newtowncashel 0860603433 and Fr. Turlough Baxter, Killashee 0879972259 who as you know are assisting in our parish.
Kilgefin Parish
Annual Holidays: Fr. Dan will be travelling to Nigeria for his annual holiday from 1st may to 8th June. Consequently Rev Canon Eugene McLaughlin and Fr. Kevin Fallon will cover only three (3) Masses and Sacraments at weekends (Saturday 8pm in Ballagh; Sunday 10am in Curraghroe and Sunday in Ballyleague at 11am).For all other enquiries and adjustments on Anniversary Masses please contact parish secretary, Vivienne Barry at kilgefinparish21@gmail.com
Parish Webcam: After deliberation within the Parish Finance committee and the Pastoral Council there is consideration given to the switching off of the Parish webcam in a few months' time. The decision has been taken due to financial consideration into paying €1,332 annually. Your suggestions and possible solutions will be appreciated.
First Holy Communion and Confirmation: Bishop Kevin Doran will be in Ballyleague for the Sacrament of Confirmation on Wednesday 26th April at 11a.m. First Holy Communion will take place on Saturday 29th April at 12 noon.
Revenue Rebate: A gentle reminder to people that has received a revenue form from the parish – please return the completed form to Fr. Dan. The parish has benefitted by almost €6000 per year from Revenue in recent years. People who donated over 250 per year to the parish have received a request to allow the parish to claim a rebate. However, the parish needs the permission of the donor to claim the rebate. Your support in this matter is greatly appreciated.
St. Faithleach's GAA
Lotto
The Lottery jackpot is now standing at €3600. There was no winner this week. The numbers drawn were 6, 14, 22 and 26. The three €40 winners were John Martin Jnr, Dara Irwin, and Johnny Fallon. Tickets are on sale at all usual local outlets. Thank you for your continued support. Thank you Danesh and Sean for their Trojan work in running the club lotto week in week out.
Underage Training
Underage training commences on Thursday evenings at 18:30. Kids must be over 4 years of age on January 1st 2023. New members and all levels welcome.
Senior Men
The senior men played St. Brigid's on Saturday evening in Ballyleague in the senior league. Final score St. Faithleach's 1-04 1-12 to St. Brigid's.
Junior Men
The junior men take on Elphin on Saturday evening with throw in at 6pm. Best of luck to the team and management. Please support.
Cúl Camps
Cúl Camps return to St. Faithleach's on Monday July 3rd. Book your place now to avoid disappointment.
Volunteers
As the new season approaches for our underage teams, volunteers are being asked to give a helping hand at trainings and managing teams. If you wish to help out you can contact Tanya O'Rourke or Katie Carberry.
Condolences
We wish to extend our deepest sympathies to the family and friends of the late Tom Corcoran Ballyleague. Tom and the Corcoran family have always been heavily involved and great supporters of the club. May Tom rest in peace.
Fashion Night
Fashion Master Class by Maria Carton was held in the clubhouse on Friday last. A fantastic night was had by all. Thank you to all who supported and all the volunteers for organizing a wonderful night.
Clubhouse
The Clubhouse will be open every Saturday night from 7pm. Why not come on in for a chat and a bit of craic. Thank you for your continued support.
Waste Metal Collection
The club are carrying out a waste metal collection over the next few weeks. If you wish to have anything collected just contact any club committee member. Any donations greatly appreciated.