Lanesboro Ballyleague notes
Tidy Towns Summer Draw
We always appreciate the fantastic work that continues to be done by Lanesboro Tidy Town's committee. Through all seasons they draw huge comment and praise for the manner they maintain the town. The committee is not just about the competition every summer but it is about the progression of the beauty of our town all year around.
This year they have great plans for the town's enhanced beauty and to achieve their plans they need a boost in their funds. To that end the committee is asking everyone home and away to support their very first summer draw. The first prize will be €1,000 and the next four prizes will be €100 vouchers sponsored by Johnston's Pharmacy, Fergus Hanley LTD, Keane's SuperValu and Casserly's Spar. Tickets are priced at €20.
Tickets are on sale throughout the town from the committee or available from Martina at the shop or from me at joeaobrien@outlook.com
The draw will take place on Sunday 21st May at 12.30pm where the committee is making the draw into a community event inviting everyone to come along, have a cup of tea/coffee as part of the refreshments that will be on offer all free of charge.
Alzheimer's Tea Day
Your support is required for the Alzheimer's Tea Day on Thursday next 4th May in support of families living with a family member living with dementia. The tea morning will take place in the Parish Hub on this Thursday 4th May following 10am mass. The cup of tea may make all the difference to a family.
Wetlands Park
I am told the remarkable difference a couple of years have made to the arrival of new wildlife in the area of the Kilnacarrow walkway and the flooded boglands. Woodpeckers appear to have a great liking to the area and have been identified not only in this area but also in the North Commons Woodland Walkway. When walking in these areas keep your ears open for sound of the distinctive woodpecker drumming. You are also asked to keep an eye out for the rare great spotted woodpecker that is believed to be spreading its wings west and south from it base in Wicklow.
Poetry Launch
A collection of poems 'The Overlap of Things' by Margaret Nohilly will be launched by Arlen House Publishers during the Strokestown Poetry Festival on Friday next, 28th April at 1pm, in Strokestown Park House. This will be the official launch, and local launches in Lanesboro and Longford Libraries will take place on 26th and 27th May. There will be more details at a later date.
MS Christmas Day Run Thank You
After an absence of two years due to COVID the Annual 2022 Multiple Sclerosis Christmas Day Run returned to the usual route Newtowncashel to Lanesborough. Over 80 people participated on Christmas Day and 15 completed it on Christmas Eve. There were also virtual participants in Australia. Congrats and well done to all who participated and donated. We are delighted to announce the total amount raised is €6,645. Thanks to all who donated on the GoFundMe or left sponsorship/donations with any of the committee, rest assured your funds have now reached the Longford Branch of Multiple Sclerosis. Thanks to Joe & Martina O'Brien for allowing donations to be left in the Shop for collection by the Committee. Grateful appreciation goes again to Peter Hanley Motors who once again sponsored the T-Shirts. Sincere appreciation again to participants and all who helped out in any way and to Breda Slattery who coordinated the GoFundMe page. The 32nd Christmas Day Run cheque handover took place over the weekend where Michael Flood and Brigid Mullooly handed over the cheque to Longford Branch of the MS Society.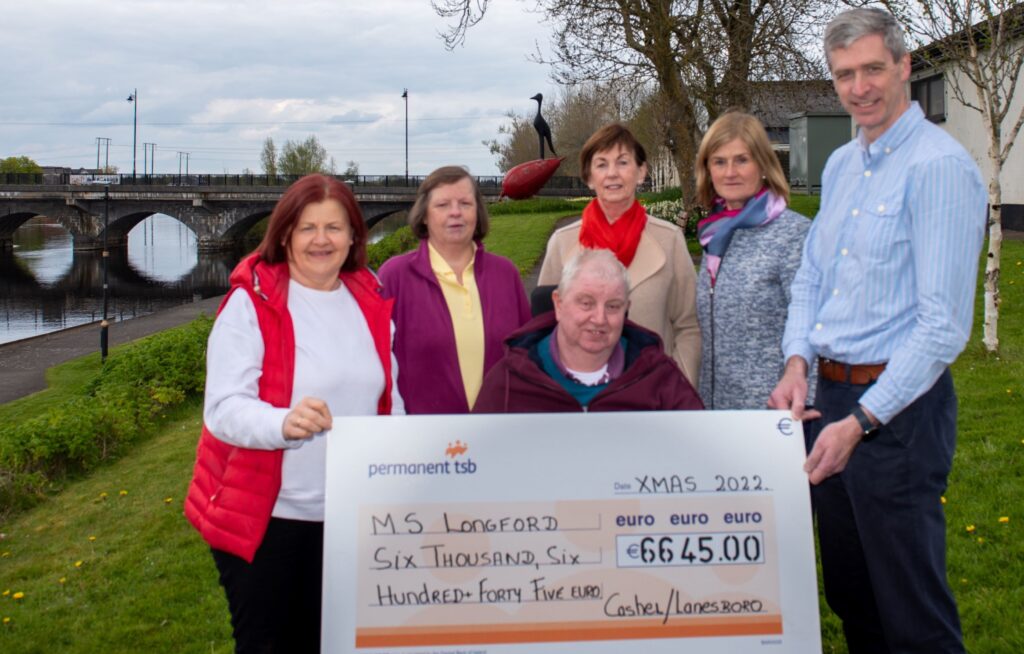 In the picture are Brigid Mullooly and Michael Flood making a presentation of the proceeds from the 2022 Christmas Day Run to the Longford Multiple Sclerosis Committee – PJ & Mary Cox, Celine O'Rourke and Ann O'Brien.
Rathcline 50/50
On Monday last 24th April Lorraine Kearney had ever reason for a celebration when she was the lucky winner of the Rathcline 50/50 weekly draw. This week was another week of successful selling and the winning pool was a wonderful sum of €694.
The Rathcline 50/50 draw takes place every Monday night at 7.30pm and your generous support is greatly appreciated.
Access for All boat
The Access for All boat is for everybody. The boat can cater for three large wheelchairs but you don't be to be a wheelchair user to avail of the excellent trips. Guided fishing excursions can also be organised. Advanced booking is recommended. You can contact by email www.loughreeboattrips.com or phone 089 2625505 or 043 33 84175.
The summer sailings are 10am, 12 noon and 2.30pm. The winter schedule is still in place and sailings are at 11am and 1pm.
Sympathy
We would like to extend our deepest sympathy to extend our deepest sympathy to Darina, Conal and Seadna, their families and the extended Ryan family on the death of Letitia Ryan, Blackrock, Co. Dublin and formerly Lanesboro on Tuesday 25th April. Letitia was predeceased by her parents M.J and Alice Ryan, brother Eamon, sisters Evelyn, Geraldine, Jeanette and Lillie, Main Street. Letitia lived her life in Dublin where she spent her working life with the Bank of Ireland.
Letitia reposed on Friday last in Blackrock. Her Funeral Mass took place on Saturday at the Church of St. John the Baptist, Blackrock followed by a committal service in the Victorian Chapel, Mount Jerome.
Sympathy
On Monday last we learned of the death on Monday 24th April, of Therese Cummins, Cnoc na Gaoithe and formerly Tallaght, Dublin at Laurel Lodge Nursing Home. Therese was predeceased by her husband Ron and son Michael. Therese is survived by her sons Chris, Derek and Ron, extended family and friends to whom we extend our deepest sympathy.
Sympathy
We would like to extend our deepest sympathy to the Casey family Newtowncashel on the death of Maureen Maloney in Florida, U.S.A. on Wednesday 26th April. She has spent well over 60 years living in the U.S.A. Maureen formerly of Lough Bannow was sister of the late J.P (Newtowncashel) and Eva (Church View), Rose and Eileen and their brother James. She is survived by her sister Elizabeth who resides in Limerick. Mass will take place in Lanesboro St. Mary's at a later date and her wish was always that her ashes would be dispersed on her native Lough Bannow.
4-Day Bus Tour in Cork
West Cork calling! Anyone interested in a 4-day bus tour of beautiful West Cork, June 22nd-26th 2023, call Seamus on 0863901060 for hotel booking and bus seats. Taking in the sights of Béal na Bláth, Gougane Barra, Michael Collins' Homestead and lots more!
Birth
Many congratulations to Lindsey Linnane and her husband Greg Cassidy, Curraghrua on the recent birth of a baby boy.
ICA display
The local Lanesboro guild of the ICA took part in the flower and craft festival all over last weekend. Their craft design for the festival will be on view in St. Mary's Church ffor at least this week. It is fabulous work and well worth a visit.
Sympathy
We would like to extend our sincere sympathy to Sarah Crinigan, The Mill House, Barnacor, and her extended family on the recent death of her father George Nichols in England recently.
Boat Gathering and Summer School
The inaugural Boat Gathering that also included the Lough Ree Environmental Summer School took place last weekend in Ballyleague and Lanesboro. Boats started to arrive from early in the week leading to and increasing atmosphere as we approached the weekend.
Liam Kelly, the organiser of the event had steadily put everything in place with leading and world renowned speakers attracting great numbers throughout the weekend. The Festival brought a great air to the town with boaters and people arriving for the weekend and making every business in town very grateful for this early season business.
We cannot say enough about Liam and his team for the wonderful weekend presentation and we hope that this festival will become an annual event in our community
Lough Ree AC
Training will continue at the Lanesboro Track on Tuesday's starting at 6pm.
Darkness into Light
Rathcline GAA invites you to join our club in the Darkness into Light walk on its new Walkway in Clonbonny on Saturday week 6th May. The walk will start at 4.15am and will be followed by tea and light refreshments. All donations will be given to Pieta House to support its great work supporting people in communities across Ireland.
The Electric Ireland sponsored Darkness into Light will take place this year on Saturday 6th May. Locally we have a selection of other centres that you can attend to take part; The Mall, Longford, Vocational School, Ballymahon, the Convent Gym, Roscommon Town and Strokestown Community Centre. The 5k will commence at all venues at 4.15am.
If you wish to fundraise for Pieta House or register you can do so by getting all the necessary information online at www.darknessintolight.ie
Local notes inclusion
Anybody that wants items included in the local notes is advised that they have their note with me on a Sunday night at the very latest. This is to ensure inclusion in the coming weeks notes.
Weekly 25 Drive
The results of the 25 Drive held on Sunday night last in St. Mary's Parish Hall are: 1st Johnno & Martin. In 2nd place were Noel McDermott & Michael Finnan. Last game winners were Peggy Moran & Noreen Gibbons. Raffle winners were Niall Hughes, Anne Corcoran, Pete Donlon & Joe Dolan. The game continues every Sunday night at 8.30pm sharp with light refreshments served.
Roscommon Solstice Choir on Friday
On Friday night next 5th May at 8pm in the Sacred Heart Church, Roscommon along with Roscommon Traditional Musicians will perform a concert. The concert is to raise much needed funds for the Sacred Heart Church restoration fund. Work is due to commence in the very near future on this historic church that was built in the late 1890's.
Tickets for the concert are €15 and they can be obtained from Geraldine Greally – 086 3276584, Michael Connaughton – 086 2544671, Mary Glesson – 087 – 9119771, Paul Biesty – 087 2536510 or Fr. Kevin Fallon 087 1487774.
Day with the Stars extended
Yes, the wonderful and hugely enjoyable Day with the Stars once again returns to Roscommon Racecourse this year only this year it comes with an extension of another day making it a Midsummers Weekend with the Stars. The show will take place on Saturday 17th and Sunday 18th June and it promises to be one of the main attractions countrywide this year.
Saturday will see The Tumbling Paddies topping the bill that will also include Ruaile Buaile, Rhythm & Sticks, One for the Road and Paul Kelly Music.
Sunday will feature Derek Ryan Music, Philomena Begley, Jimmy Buckley, Mike Denver, Patrick Feeney, Robert Mizzell, Cliona Hagan, Claudia Buckley, Gerry Guthrie Music, David James Music, and Brendan Jermyn Music along with the award winning Shannonside/Northern Sound Orchestra
Tickets can be bought for either day and there are a limited number of weekend tickets available and they can be bought in O'Brien's, phone 043 3321107 or email Joe at joeaobrien@outlook.com.
New Book
The Burkes and the Pollocks is a recently publish book by Martin Duffy. The book tells of the fortunes of two families in the parish of Kilbegnet parish over different times in recent centuries. The parish of Kilbegnet is a big one covering the Creggs, Glinsk, Donamon and all points in between. The book tells the story of both families and how the land Act and Land League changed the fortunes and led to the ending of landlordism.
The book is available in O'Brien's and it is well worth a read. The book is priced at €20.
Advance Farmers Notice
Farm Plastic Recycling will take place at the St. Faithleach's GAA grounds on Friday 7th July from 9am until 1pm. The full list and prices are available online at www.farmplastics.ie
Bus to Mini Marathon
Ladies, it is that time of year when the buds are beginning to bloom and the June Bank brings us the Ladies Mini Marathon in Dublin on Sunday 4th June. If you require transport to Dublin for the Mini Marathon you should contact Pam Farrell at 087 4146987. Presently there are just 7 seats remaining so book yours immediately.
Tidy Town's Lotto stands at €13,100
The Lanesboro Tidy Towns Lottery on Tuesday 2nd May stood at €13,100. This is a wonderful opportunity to win a large amount of money for just €2 each envelope or 3 envelopes for €5.
The numbers drawn on Tuesday 25th April for a jackpot of €13,000 were 3, 22, 25 and 29. There was no winner of the jackpot. The winner of the €50 prize was F & E Clyne and the three €20 winners were Mike Mullooly, New York c/o Mags, Marie Farrell, c/o Mags and Eileen Mullen, c/o XLNTEE.
The Lanesboro Tidy Towns committee would like to thank you for your continued generosity and this support is ensuring that Lanesboro continues to look beautiful.
Scrap Metal Collection
Throughout the month of May The St. Faithleach's club will be asking everyone that has scrap metal that they want to get rid of to contact the club and make arrangements for collection or drop off. If you have any items please contact Gerry Nerney, Danny Cox, Frank Curley, Derek Thompson, James Irwin or any other club member. Your support will be appreciated.
Ballyleague Bingo
Ballyleague Bingo continues in Ballyleague Hall every Thursday night. The first numbers will be called at 8.30pm.
The club is extremely grateful for your continued tremendous support.
Ballyboro FC
With the season coming to an end it proved to be a hectic weekend as the club had seven teams participating in knock out games.
The under 14s captured the first silverware of the season when they recorded a convincing win over Killoe Celtic in the Plate final. This team has improved greatly in recent weeks under their enthusiastic manager Gary Beattie, and this was evident right from the onset of the game as the Ballyboro boys were in the ascendency playing with great commitment and no little skill. Goals from Patrick Gilmore and Rían Hogan (2) ensured the game finished 3-0 in favour of Ballyboro over a sporting Killoe team. Ballyboro: John Farrell, Sean O'Dowd, Leon Malkowski, Mikie Sorohan, Ciaran McGloin, Eoghan Mullooly, Eoin Beattie, Jared Mulvey, Harry Brogan, Emry Kata, Patrick Gilmore. Subs: Rían Hogan, Sean Collins, Ryan McCann, Evan Rooney, Dan Casey.
The under 11 team were in fine fettle as they just got the better of Gaels United in the League semi-final. A high quality contest went all the way to extra time and Tom Hession emerged as the Ballyboro hero as his well taken hat trick propelled the team into the League final. Team: Matthew Murphy, Ben Smith, David Kenny, Andrew Nolan, Darragh Shanley, Tom Hession, Donncha Farrell. Suns: Tyler Murray, Andriannes Drina.
An understrength under 9 team found the going tough against Gaels United in the Plate semi-final. Though the team gave of their best and played some good football they had to give best to a talented Gaels team. Ballyboro Patrick McDonagh, Rían Morrissey, Darragh McGloin, Eanna Kenny, Jake O'Shea, Ethan Donnellan, Michael Hogan, Senan Dermody. Conor Kilcoyne. Sub: Eoin Collins Thanks to team manager Donal Hogan for all his hard work throughout the season.
In the Combined Counties Cup semi-final Ballyboro were defeated by Moydow. Though the game was closely contested in the main, the concession of 4 goals in a 10 minute period in the second half proved disastrous as Moydow took control and emerged as 7-2 winners. Jordan Donlon and David Rooney scored for Ballyboro. Team: Mark Tarmey, Ben Hussey, Greg Cassidy, Daniel Foley, Ciaran Regan, David Rooney, Aidan Dooney, Derek Murray, Jordan Donlon, Kevin Tansey. Subs: Patrick Kenny, Chris Whitten, Jack McGloin, Henry Masterson, Dean O'Reilly.
The under 14 girls team were hoping to round off a very impressive season where they finished top of the table with a win in the League final but it was not to be as Newtown emerged victorious by one goal to nil. A first half converted penalty decided the issue in favour of the Newtownforbes girls. With defences generally on top goal scoring chances were at a premium. The Ballyboro girls can be proud of their display but Lady Luck did not smile on them on the day. Team: Lillie Dowd, Leah Kenny, Marianna Donlon Goncalves, Anna Cox, Kate Malone, Emma Dowd, Emma Feeney, Sophie Cox, Sarah Healy, Siun McElgunn, Sophie Byrne. Subs: Evie Malone, Amy Burke, Leah Mimnagh, Kate Ferguson, Emily McDermott, Laura Rhatigan, Katie Hoey, Emma Hoey, Erin Rumley, Clodagh Martin, Katie Smith, Aleysha Kaya, Emmie Rose Cassidy. The club is appreciative of team manager Sean Cox and his assistants Deirdre Kenny and Patricia McCormack for their commitment and dedication towards the girls all year.
The under 12 girls played Kenagh United in the Shield semi-final. Two goals from Faye Hogan put Ballyboro in front. Kenagh got a goal back but Saoirse Feeney scored a terrific solo goal to restore the 2 goal cushion. Kenagh scored again to make it a nervy finish but the Ballyboro defence stood strong to run out 3-2 winners against a very good and sporting Kenagh United side. Squad: Hannah Farrell(c),Faye Hogan, Kallie Herbert, Sadhbh Neilon, Emma Hopkins, Chloe Kilcoyne, Rosie Farrell, Laoise Farrell, Sinead Murray, Saoirse Feeney, Saoirse Dillon, Ria Cassidy, Millie Cassidy, Niamh Casey, Ellen Cox, Zoe Hassett, Pippa O'Shea, Ava Donohoe.
The under 9s enjoyed their end of season Blitz in Abbeycartron where Ardagh and Mostrim Albion were the opposition. Panel: James Murray, Paudi Murray, Fionn Curran, Rory Curran, Ronan Kelly, Jake Nolan, Dean Nolan, Eofsa Arsmta, Sean Casey, Tadgh Edgeworth, Fionn Connell, Brian Connell, Donncha Connell, Brody Stokes, Kian Feeney, Thom Cullen, Finn Cullen, Luke Clancy, Alex Tyndall, Ben O'Rourke, Karol Rola. Thanks to John Tynan and Katie Curran for taking charge of the players all season.
The fourth annual 5 a Side National Schools Tournament organised by the club in conjunction with Lanesboro Community College will take place at the Astro on this Thursday. 12 local schools have entered and the action gets underway at 10.15am. 32 games will be played and the Stephen Kelly Memorial Shield will be presented to the winners of the "A" final while a Shield sponsored by the Community College will be presented to the "B" final winners. In addition there will be trophies for "Player of the Tournament", "Goal of the Tournament", and "Save of the Tournament".
ALONE
ALONE is a national organisation that enables older people to age at home.
Our work is for all older people and aims to improve physical, emotional and mental wellbeing. We have a National network of staff and volunteers who provide an integrated system of Support Coordination, Practical Supports, Befriending, a variety of Phone Services, Social Prescribing, Housing with Support and Assistive Technology.
We use individualised support plans, to address health, financial benefits and supports, social care, housing, transport and other arising needs using technology and through harnessing other services.
We work to empower the whole sector of community support for older people through our Community Impact Network that provides Training, IT support and resources to other organisations.
Support line for older people
ALONE manage a national support line and additional support for older people who have concerns or are facing difficulties relating to Covid-19. Professional staff is available to answer queries and give advice and reassurance where necessary. The support line is open seven days a week from 8am until 8pm. Text TALK to 50808 to begin.
Alcohol Anon Meetings
Relatives and friends of alcoholics are welcome to attend meetings in the Family Centre building at the back of St. Mel's Cathedral on St. Mel's Road, any Tuesday evening at 7pm.
Local Health Service
The health service is here for us all, from routine to urgent calls. HSELive is here 7 days a week to answer questions. Freephone 1800 700700.
Roscommon University Hospital Injury Unit is available from 8am to 8pm seven days, a week and the contact number is 09066 32212.
Emergency Department deals with serious injuries and life-threatening emergencies if you need urgent medical help. They are open 24 hours a day and can be contacted by phoning 999 or 112.
Smart Recovery
SMART recovery is an evidence based addiction recovery support group where participants learn self-empowering techniques to aid their recovery by overcoming addictive behaviour.
There is a meeting every Friday evening from 7pm to 8.30pm in Vita House, Roscommon. For information you should phone Conor 086 1702912 or info@smartrecovery.ie
GROW
Grow is a Community Mental Health Movement which meets every Monday at 11am in the Community Mental Health Centre, Dublin Rd., Longford. If you are feeling lonely, isolated or suffering from stress, please feel free to attend. You can call Assumpta for any further information on 086 8114135.
St. Mary's Church
Lourdes: Ardagh and Clonmacnois 2023 Pilgrimage to Lourdes is scheduled to take place from 2nd June. The cosy of the Pilgrimage is €879 full board. The pilgrimage is being led by Monsignor Bernard Noonan, Parish Priest of Moate. Contact Joe Walsh Tours 01-2410800 or email info@joewalshtours.ie
Continuing the Easter Story: A short reflection on the Gospel for the coming weekend masses will take place in the Prayer room after the 10am Mass, each Wednesday leading up to Pentecost. All are welcome to join.
Alcohol Anon Meeting: Relatives and friends of those addicted to alcoholare welcome to attend this meeting in the Family Centre at the back of St. Mel's Cathedral on any Tuesday evening at 7pm
Communion for Coeliacs: Gluten free hosts are available for all those who need them. Just make it known to the priest that you wish to receive a gluten free host at Holy Communion.
The Parish Hub: Maireád, the Parish Secretary is in her office on Tuesday to Thursday, 10.30am to 2.30pm. If you want to contact her by phone you can do so during the aforementioned working hours at 3321166. She will help you with any questions or booking related matters.
Speak with a Priest: if you wish to talk with any of the priests you can call into the sacristy after any Mass.
Talk to the Samaritans: Are you struggling to cope with life? Do you think it would help to talk about your problem in confidence? It does not matter who you are, how you feel or what happened to you. If things are getting you down you can turn to the Samaritans for help. The Samaritans are available on Freephone 116123, 24 hours a day and 365 days a year.
Alone Volunteers: Would you be willing to provide companionship or make calls to older people once a week? Alone is seeking volunteers in the area. Full training and support will be provided. If you are interest you are asked to sign up at the following address https://alone.ie/volunteers/
For more information you are invited to contact Helena at Helena.madden@aloone.ie or phone 086 0145 829
Parish contacts
Fr. Merlyn Kenny, Newtowncashel 0860603433 and Fr. Turlough Baxter, Killashee 0879972259 who as you know are assisting in our parish.
Kilgefin Parish
Annual Holidays: Fr. Dan will be travelling to Nigeria for his annual holiday from 1st May to 8th June. Consequently Rev Canon Eugene McLaughlin and Fr. Kevin Fallon will cover only three (3) Masses and Sacraments at weekends (Saturday 8pm in Ballagh; Sunday 10am in Curraghroe and Sunday in Ballyleague at 11am).For all other enquiries and adjustments on Anniversary Masses please contact parish secretary, Vivienne Barry at kilgefinparish21@gmail.com
Scrap metal: Throughout the month of May The St. Faithleach's club will be asking everyone that has scrap metal that they want to get rid of to contact the club and make arrangements for collection or drop off. If you have any items please contact Gerry Nerney, Danny Cox, Frank Curley, Derek Thompson, James Irwin or any other club member. Your support will be appreciated.
Parish Webcam: After deliberation within the Parish Finance committee and the Pastoral Council there is consideration given to the switching off of the Parish webcam in a few months' time. The decision has been taken due to financial consideration into paying €1,332 annually. Your suggestions and possible solutions will be appreciated.
First Holy Communion and Confirmation: Bishop Kevin Doran will be in Ballyleague for the Sacrament of Confirmation on Wednesday 26th April at 11a.m. First Holy Communion will take place on Saturday 29th April at 12 noon.
Revenue Rebate: A gentle reminder to people that has received a revenue form from the parish – please return the completed form to Fr. Dan. The parish has benefitted by almost €6000 per year from Revenue in recent years. People who donated over 250 per year to the parish have received a request to allow the parish to claim a rebate. However, the parish needs the permission of the donor to claim the rebate. Your support in this matter is greatly appreciated.