Lanesboro Ballyleague notes
Death
It was with great sorrow and sadness we learned of the sudden death at her residence of Mary Murphy, Lakeview Ballyleague on Friday 28th July. Mary was predeceased by her parents Jim and Elizabeth, her brothers Pat and Liam and her grandchildren Cillian and Odhrán. The Murphy family came to Lanesboro when Jim came to work with Bord na Mona and they have added greatly to our community for so many years. Mary lived in the family home in Ballyleague for the past number of years. All her life Mary was always a lively and vibrant lady who had a great interest in all things local. She enjoyed nothing more to have a chat. Mary had a gentle nature was a great lover of all animals and in particular cats where her home was adorned with pictures and ornaments of cats. A lifelong supporter of Dublin GAA and she prided herself in flying the Dublin flag for all their games. She would have been especially delighted to have seen Dublin win this year's All Ireland. Mary's passing will sadden the hearts of everyone that had the pleasure to know her and especially those of us that knew her for all those years growing up in Lanesboro.
Mary remains reposed in Farrell's Funeral Home on Monday and on Tuesday her remains were removed from her home to the Church of the Holy Rosary, Ballyleague for Mass of the Resurrection. Burial took place to Cloontuskert Cemetery. We extend our deepest sympathy to her sons Jonathan, Darren and Jimmy, her daughters Elizabeth and Kellie, her brothers John, Gerry, Timmy and Michael, her extended family, relatives and neighbours.
Ríl Óg
Bank Holiday Monday on Radio 1 is always a joy to listen to the entertaining show presented by Marty Morrissey. This Monday was special as Marty introduced the very popular local Lanesboro and Edgeworthstown group Ríl Óg to the programme. Marty was in Mullingar presenting from the Fleadh and it was great to hear a few tunes from the lads. They really do create a great sound. The Lanesboro connection comes through Dylan Hanly, son of Lewis and Martina Hanly, Lehery. They will play with the Kilkennys on Tuesday night in Mullingar Arts Centre to a full house. Tickets for this event have been sold out and it is great to see the local group featuring alongside one of the best groups in the country. We wish the group every success and look forward to hearing much more of them.
Tidy Town's Lotto stands at €14,500
The Lanesboro Tidy Towns Lottery for Tuesday 8th August stands at €14,500. This is a wonderful opportunity to win a large amount of money for just €2 each envelope or 3 envelopes for €5.
The numbers drawn on Tuesday 1st August for a jackpot of €14,400 were 11, 12, 24, and 26. There was no winner of the jackpot. The winner of the €50 prize was Geraldine c/o Mags and the three €20 winners were Donagh Casey, Rathcline Road, Johann Martin, Blenavoher and Margaret Mullooly, Lehery.
The Lanesboro Tidy Towns committee would like to thank you for your continued generosity and this support is ensuring that Lanesboro continues to look beautiful.
Tremendous Success
Sunday 30th April there was a fantastic turnout for the Tractor, Truck and Car Run
in memory of Ronan Mc Dermott. Thank you to everyone for taking part, the support was amazing from tractors, cars, trucks, motor bikes, volunteers, spectators, raffle prize donations, cakes, sandwiches and St Faithleachs Clubhouse for hosting the event, Lough Ree Sub Aqua Club who led the event, the Gardaí for controlling the traffic on the day and Roscommon civil defence who were on site.
We are proud to share we raised €14,865.00 for Pieta House.
And have also exceeded our targets.
From Sharon, Sean, Michael, Catherine, Emma and Caitlin a huge thank you to everyone.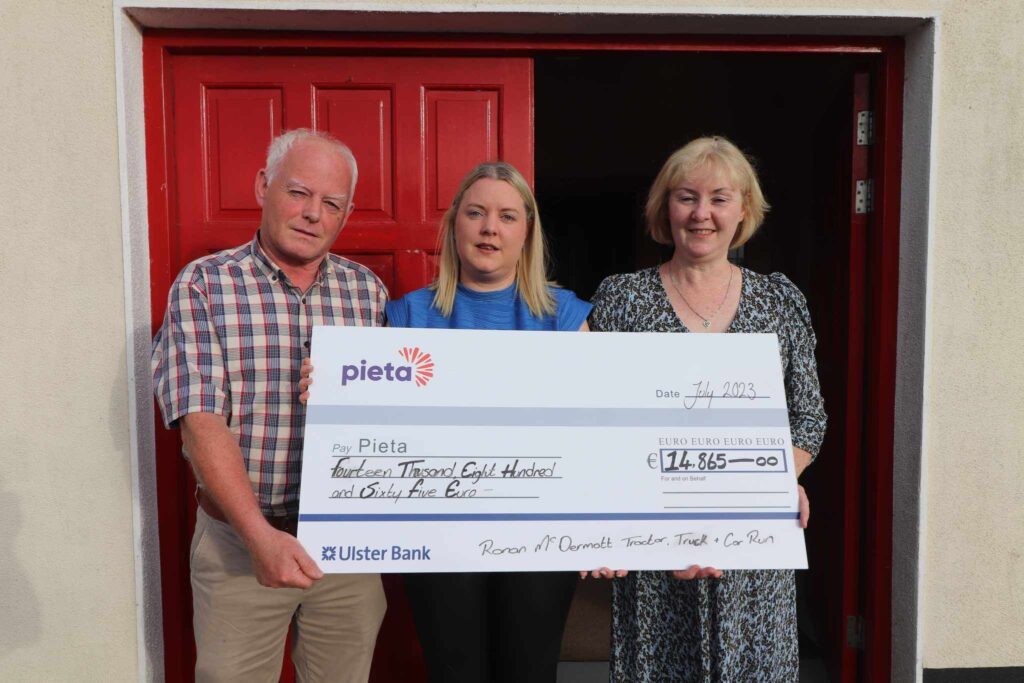 Prospects
Word on the grapevine is that this autumn, winter and spring could be a catalyst for great anticipation with developments in Lanesboro and Ballyleague with some very exciting proposals going for development that will be announced in the near future. We will be watching and waiting, with excitement in our hearts, to see if what is being talked about comes to fruition. Wonderful local people are planning, investing and hoping to create new developments which will enhance the town, community and wider area. It is hoped that the positivity of the proposed developments will be the spark that will ignite further development and investment in our community.
With every piece of excitement comes disappointments and there is no doubt that silence on the on-going saga of the proposed Amphitheatre together with seemingly no plan for the completion of a Feasibility Study from Longford County Council to link with the incredible Feasibility Study results commissioned by Roscommon County Council and presented by Enda Mulryan Senior Executive Engineer, Regeneration Unit, Roscommon County Council and his team. It would be a crying shame to see this study go for nothing seeing the incredible proposal and the potential tourism transformation it could make to Lanesboro and Ballyleague.
Since the 1950's until its closure in 2020 the ESB power station had created a wonderful source of income for so many local families and for the many workers it drew into our community from so many counties, making us richer by their integration. Along with Bord na Mona it brought a cosmopolitan feel and so much vibrancy into our community. There was so much power and light oozing from the power station over those years and now we sadly looking at the darkness and dark shadow it casts on the community. With the proposed demolition in abeyance and the prospects of nothing happening for at least a few years would it not be a smart proposal to lease out the office space or create a remote working hub both of which are of high priority judging by the number of enquiries we encounter in the shop. From memory the office block at the station was of the highest quality and spacious. Before this magnificent administration block falls into decay could we avail of the opportunity that this idle space could offer and should this be the case the facility could be transformative for our community and give us a badly needed boost.
So often when in discussion with ESB representatives we are constantly given the stock answer of 'we were great for Lanesboro and the surrounding communities'. I always counter that the local area we were equally as great for ESB and indeed Bord na Mona. We were great for each other and as a Government body and semi state body we should not be left in the current wilderness of employment considering both companies they have the land banks that developments could and should take place on.
It is not too long for an election with local and European elections coming next year and a general election coming hot on its heels. No doubt we will be promised, as we were prior to the last general election, when we met both the leaders of Fianna Fail and Fine Gael that we would not be left behind. Well Micheál and Leo, we are well and truly left behind and truly forgotten as surely as you have forgotten your own words to us.
Route 426 proving successful
The new bus route 426 Longford to Roscommon with its seven return trips Monday to Thursday, eight return trips on Friday and Saturday and four return trips on Sunday is already proving to be a wonderful success.
Normally, it takes time for any new initiative to settle in and for people to get used to availing of the service. Not so in this case as people began using the bus service right from Monday morning last and it continues to be well used throughout the day.
It just goes to show that there was a crying need for this service all along and congratulations to those that decided to put the bus service on. We hope that it will become more popular as word spreads of the now easy availability to and from Longford and Roscommon.
We now have access to Longford and Roscommon and especially the connection to the train services from Longford and Roscommon. If we only got good weather then the service could be availed of by people in Longford and Roscommon towns to take advantage of the beauty of our community and the walkways and swimming opportunities.
Printouts of the timetable are available in O'Brien's
Sympathy
Our sincere sympathy to Marie, Denis and Leisa Murphy, Cloontuskert and their extended families on the death on the death of Marie brother Pat Belton, Moneyglass, Co. Antrim on Sunday 30th July.
Sympathy
Our deepest sympathy to Paul, Anne, Joseph and Mellissa Coghlan, Barnacor and their extended families on the death on Friday last 4th August of Paul's mother Mrs Frances, Coghlan, Towlaght, Clonard, Co. Meath.
Thank You
The Rathcline graveyard committee would like to thank most sincerely everyone that helped by preparing their family graves for the recent Cemetery Sunday and the Blessing of the Graves. We express a very special thank you to everyone for your kind donations taken up for the upkeep of the graveyard. If you did not get to contribute you can still do so by leaving your contribution in an envelope marked Rathcline into O'Brien's.
Access for All boat
The Access for All boat is for everybody. The boat can cater for three large wheelchairs but you don't have to be a wheelchair user to avail of the excellent trips. Guided fishing excursions can also be organised. Advanced booking is recommended. You can contact by email www.loughreeboattrips.com or phone 089 2625505 or 043 33 84175.
The summer sailings are 10am, 12 noon and 2.30pm.
King of the Lake
The King of the Lake International Pike Festival will take place on Lough Ree – No Frontiers – Fish the whole lake from 8th to 10th September. There will be up to €11,500 in cash prizes and up to €2,000 in sponsorship prizes. The entry fee is €150 per boat.
This promises to be a fabulous weekend of fishing and it is sure to create great excitement in and around Ballyleague and Lanesboro community.
Kayaking Camp
Kayaking Camp in Lanesboro/Ballyleague will take place from Monday 14th to Thursday 17th August for young people between the age of 10 and 17. All gear will be supplied apart from wetsuits; the cost of the camp is €70 and a second person from the same family €65. To make a booking for your youngsters place in the camp you are asked to phone 087 2977769 or for further details.
Due to great this is the second kayaking camp to be held this summer and you are advised to book early to avoid disappointment.
Services
The August Service schedule for Roscommon group of parishes including our own St. John's isSunday 13th August there will be Morning Prayer in St. John's Lanesboro at 11.30am.
On Sunday 20th August in St. Coman's, Roscommon, there will be Holy Communion Service with Dean Gerald Field at 11.30am
The final Service of August will be Service of Holy Communion taking place in St. John's Lanesboro on Sunday 27th August at 11.30am
Visit Old Trafford
With a new Premiership season comes high expectation for an exciting season for all supporters. In October there is an opportunity to travel to Old Trafford to support Manchester United as they take on Brentford on Saturday 7th October. This is a two night trip that includes match tickets, Bus and Ferry fares, Hotel Accommodation including breakfast all for just €379. There are just a few places left on the bus leaving Roscommon at a cost of €379. Call 086 8417262 to book your seat and for all other information.
Hugg Free Event:
"Finding Hope and Healing After Suicide" August 12th, Roscommon. HUGG is a national suicide bereavement charity which helps adults bereaved by suicide. HUGG will host a free information event Saturday August 12th, in the Abbey Hotel, Roscommon (F42F992), 1 p.m. – 4 p.m. There is no need to register for this event, all are welcome.
What to expect: Guest speaker Bryan Nolan, grief & loss specialist 1.30 p.m. Fiona Tuomey, CEO & Founder of HUGG, will share her lived experience of suicide loss, along with information around suicide bereavement and supports available. Coffee, cakes and compassionate conversations. For more information visit www.hugg.ie or if you have any questions contact Arlene, Email: arlene@hugg.ie, Phone: 086 2714515.
Championship Updates
St. Faithleach's began their senior championship campaign when they travelled to Frenchpark to take on Western Gaels on Friday evening. After a wonderful game St. Faithleach's emerged with a great win on a scoreline of 1-12 to 0-10.
Next Saturday evening they will have their home game against Boyle in Ballyleague at 5pm. Hopefully, there will be big support for the team in their bid to qualify for the knockout stages.
Unfortunately for Rathcline they had not the same result against Young Emmets Killoe in Michael Moran Park when they lost by a wide margin. Following a very bad start it seen them on the hind foot throughout the first half. A very credible performance ensued following the break going score for score throughout.
On Saturday next they have the opportunity to bounce back when they play Abbeylara in Allen Park, Newtownforbes at 8pm. The lads need your support and there no better time to go along and cheer them on than at Newtownforbes.
Cloontuskert Cemetery Sunday
Cemetery Sunday will be celebrated in Cloontuskert Cemetery on Sunday next 13th August at 6pm. All families as asked to maintain their family graves in preparation for Cemetery Sunday.
Kilgefin Cemetery Sunday next
Cemetery Sunday will be celebrated in Kilgefin Cemetery on Sunday 20th August at 6pm. All families are very welcome.
Rathcline 50/50
On Monday 31st July the Rathcline GAA 50/50 weekly draw took place in Clarke's Bar. Another week of very successful selling and the winning pool rose to a wonderful €695.50. The winning envelope drawn out was in the name of Ray Flanagan, Clonmee, Newtowncashel.
As always, the winning cheques can always be collected in O'Brien's.
The Rathcline 50/50 draw takes place every Monday night at 7.30pm. Your continued generous support is greatly appreciated and it is highlighted by the large pool each week.
Crumlin Children's Hospital
There will be a Jumble/Cake Sale in aid of Crumlin Children's Hospital on Saturday, August 19th at Roscommon Agricultural Show. Donations of any jumble i.e. toys, ornaments etc. would be much appreciated. You can contact Bridget on 087 9773338.
Sunday night Cards
The weekly 25 partners game continued on Sunday night last in the parish hall. The winners on Sunday night 30th July were 1st P.J & Bridie Glennon. Joint 2nd were Peter & Mary Gregg and Fran & Johnno. Last game winners were Brian & Frank. Raffle winners were Michael Finnan, Peggy Moran, Pat Rock and P.J Glennon. The game continues every Sunday night at 8.30pm sharp with light refreshments served.
Co. Longford Citizens Advice Centre
Co. Longford Citizens Information Service has recently been restructured and is currently under new management.
They continue to provide free, impartial, and confidential information, advice, and advocacy services to the public on social services, rights, and entitlements. The range of areas covered by the citizens information centre are extremely wide including social welfare rights and entitlements and other social issues such as employment, health services, housing, education, family matters and consumer rights, all where people need access to information.
The way people access the services changed during Covid and now they currently deal with a large number of queries over the telephone, however, they continue to provide our drop-in times and welcome people to their face-to-face service five mornings a week from the Longford office. The services are provided by experienced trained Information Officers who are here to help
The centre is located on level 1 within Longford Shopping Centre and direction can be obtained at the reception desk from Monday to Friday from 9.30am until 5.00pm. The office closes for lunch from 1pm until 2pm.
Lough Derg
A one-day pilgrimage to Lough Derg will take place on Saturday 19th August. The bus will leave from Ballyleague church at 7am. Lough Derg donation is €45 and the bus costs €15. For more information and bookings please call Mary 043 33 21969.
Local notes inclusion
Anybody that wants items included in the local notes is advised that they have their note with me on a Sunday night at the very latest. This is to ensure inclusion in the coming weeks notes.
Line Dancing
Line Dancing classes take place every Friday morning 11am at the Quad Centre Roscommon Town.
Line Dancing classes every Sunday at the Quad Centre Roscommon Town for beginners from 6pm to 7pm and Improvers from 7pm to 8pm
Dance classes takes place in Kilbride, Four Mile House every Tuesday 7pm followed by:
Jive & Waltz classes 8 45pm.
Alcohol Anon Meetings
Relatives and friends of those addicted to alcohol are welcome to attend meetings in the Family Centre at the back of St. Mel's Cathedral. The meetings take place every Tuesday evening at 7pm.
Ballyleague Bingo
Ballyleague Bingo continues in Ballyleague Hall every Thursday night. The first numbers will be called at 8.30pm.
The club is extremely grateful for your continued tremendous support.
ALONE
ALONE is a national organisation that enables older people to age at home.
Our work is for all older people and aims to improve physical, emotional and mental wellbeing. We have a National network of staff and volunteers who provide an integrated system of Support Coordination, Practical Supports, Befriending, a variety of Phone Services, Social Prescribing, Housing with Support and Assistive Technology.
We use individualised support plans, to address health, financial benefits and supports, social care, housing, transport and other arising needs using technology and through harnessing other services.
We work to empower the whole sector of community support for older people through our Community Impact Network that provides Training, IT support and resources to other organisations.
Support line for older people
ALONE manage a national support line and additional support for older people who have concerns or are facing difficulties relating to Covid-19. Professional staff is available to answer queries and give advice and reassurance where necessary. The support line is open seven days a week from 8am until 8pm. Text TALK to 50808 to begin.
Alcohol Anon Meetings
Relatives and friends of alcoholics are welcome to attend meetings in the Family Centre building at the back of St. Mel's Cathedral on St. Mel's Road, any Tuesday evening at 7pm.
Local Health Service
The health service is here for us all, from routine to urgent calls. HSELive is here 7 days a week to answer questions. Freephone 1800 700700.
Roscommon University Hospital Injury Unit is available from 8am to 8pm seven days, a week and the contact number is 09066 32212.
Emergency Department deals with serious injuries and life-threatening emergencies if you need urgent medical help. They are open 24 hours a day and can be contacted by phoning 999 or 112.
Smart Recovery
SMART recovery is an evidence based addiction recovery support group where participants learn self-empowering techniques to aid their recovery by overcoming addictive behaviour.
There is a meeting every Friday evening from 7pm to 8.30pm in Vita House, Roscommon. For information you should phone Conor 086 1702912 or info@smartrecovery.ie
GROW
Grow is a Community Mental Health Movement which meets every Monday at 11am in the Community Mental Health Centre, Dublin Rd., Longford. If you are feeling lonely, isolated or suffering from stress, please feel free to attend. You can call Assumpta for any further information on 086 8114135.
St. Mary's Church
Mass Changes: Weekday masses for the rest of August will take place daily on Monday, Tuesday and Wednesday at 10am and on Friday at 7pm.
Pilgrimage to Knock: The Diocesan Pilgrimage to Knock Shrine will take place on Sunday 3rd September. The ceremonies will commence at 2.30 with Anointing of the Sick followed by Mass at 3pm.
Longford Citizen Information: The centre is located on level 1 within Longford Shopping Centre and it provides free, impartial and confidential information, advice and advocacy services, rights and entitlements. Information at the reception desk from Monday to Friday from 9.30am until 5.00pm. The office closes for lunch from 1pm until 2pm. There is a free information booklet available and you can pick it up at the office.
Alcohol Anon Meeting: Relatives and friends of those addicted to alcoholare welcome to attend this meeting in the Family Centre at the back of St. Mel's Cathedral on any Tuesday evenings at 7pm
Communion for Coeliacs: Gluten free hosts are available for all those who need them. Just make it known to the priest that you wish to receive a gluten free host at Holy Communion.
The Parish Hub: Maireád, the Parish Secretary is in her office on Tuesday to Thursday, 10.30am to 2.30pm. She can be contacted on the phone at 3321166. She will help you with any questions or booking related matters.
Speak with a Priest: if you wish to talk with any of the priests you can call into the sacristy after any Mass.
Talk to the Samaritans: Are you struggling to cope with life? Do you think it would help to talk about your problem in confidence? It does not matter who you are, how you feel or what happened to you. If things are getting you down you can turn to the Samaritans for help. The Samaritans are available on Freephone 116123, 24 hours a day and 365 days a year.
Alone Volunteers: Would you be willing to provide companionship or make calls to older people once a week? Alone is seeking volunteers in the area. Full training and support will be provided. If you are interest you are asked to sign up at the following address https://alone.ie/volunteers.
For more information you are invited to contact Helena at Helena.madden@alone.ie or phone 086 0145 829
Parish contacts
Fr. Merlyn Kenny, Newtowncashel 0860603433 and Fr. Turlough Baxter, Killashee 0879972259 who as you know are assisting in our parish.
Kilgefin Parish
Parish Contact:
You can contact Fr Dan at 089 2706060
Diocesan Pilgrimage to Knock
The annual Elphin Diocesan Pilgrimage to Knock Shrine will take place on Sunday week 20th August. Ceremonies will commence with the Anointing of the Sick at 2.30pm followed by Mass in the Basilica at 3pm.
Station Masses: The autumn stations will commence very soon. If you would like to have your area station mass in your home you are asked to contact Fr. Daniel as soon as possible.
Audio needs replacing: The amplifier and speakers in Ballyleague church are no longer in working order and they are in need of replacing. If anyone would like to make a donation towards the cost of replacements you are asked to contact Fr. Daniel. Any amount would be very welcome.
Revenue Rebate: The parish recently received €13,303.23 from Revenue. This amount helps significantly towards the running costs. Thank you very much to everyone for their contributions and encourage everyone to use the weekly envelopes or set up a standing order to contribute.
Lough Derg:
A one-day pilgrimage to Lough Derg will take place on Saturday 19th August. The bus will leave from Ballyleague church at 7am. Lough Derg donation is €45 and the bus costs €15. For more information and bookings please call Mary 043 33 21969.