Lanesboro Ballyleague notes
Sympathy
In the past three years former parishioners Celine Fallon, nee Greene (Lisduff and Bullockstown), her husband Pat, (Lisrevagh) who lived their married life in Caramana passed away and on Saturday 19th August their son Mark passed away creating great family devastation. The Fallon family retained a great allegiance to their native parish and in the case of each they had their Funeral Mass in St. Mary's and they were buried in our local Clonbonny cemetery. Mark married Curraghroe lady Catherine Dunne and their family was complete when they had their two daughters Nicole and Tara. Mark was an electrician by trade and he also worked diligently at the family farm and on the bog where he cut and sold turf. His passing will leave a great sadness throughout the entire area and to his wife Catherine, daughters Nicole and Tara, sisters Regina and Deirdre relatives and many friends we extend our deepest sympathy. Mark reposed at Kelly's Funeral Home on Monday last and his Funeral Mass took place in St. Mary's Lanesboro on Tuesday before he was laid to rest in Clonbonny cemetery.
Artistic Genius
When it comes to being creative in an artistic way there is very few that would better the inventiveness of local man Tom Gill. Time and time again he comes up with new and innovative ideas. Last week Tom took first and third place for his designs at the renowned and oldest show, the Iverk Show in Piltown, Co. Kilkenny.
Congratulations Tom and long may your creativity continue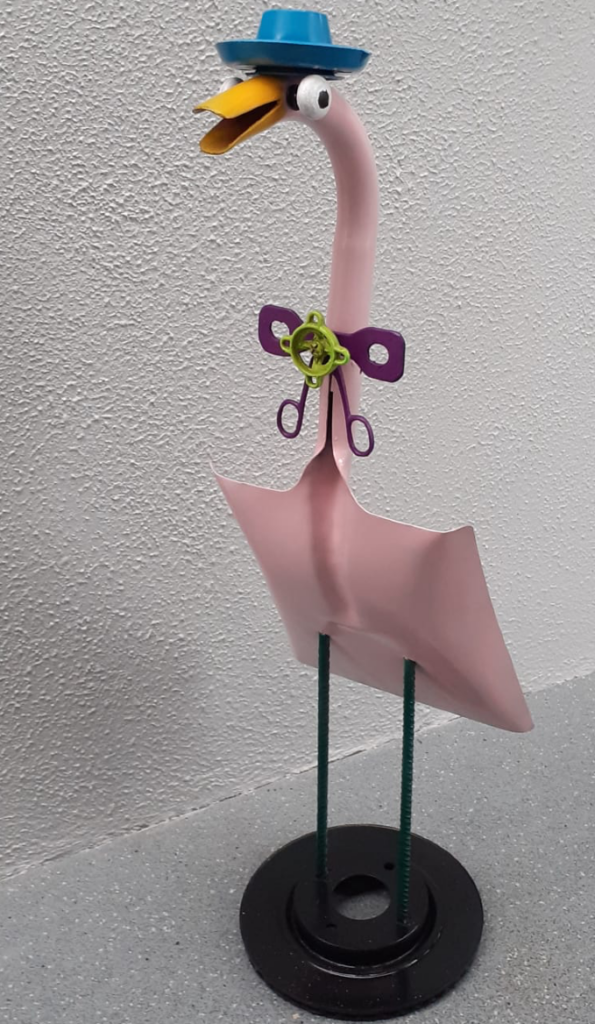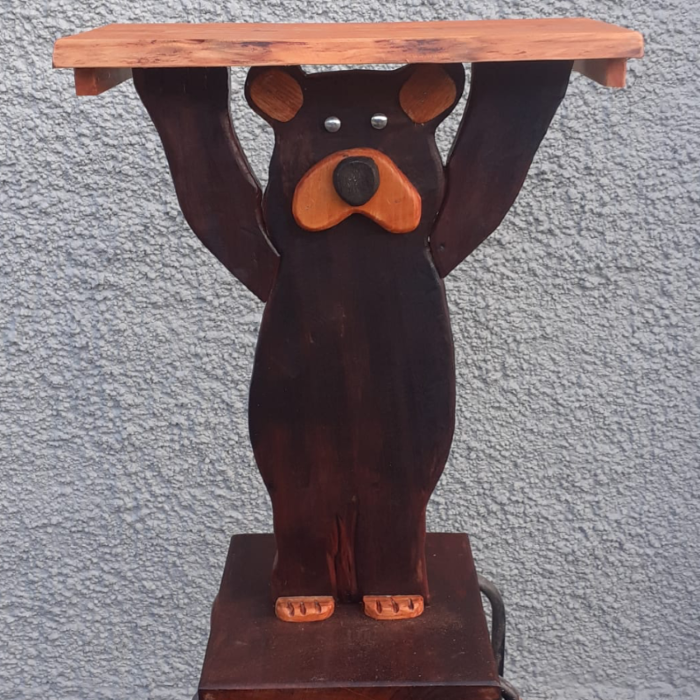 Diocesan Pilgrimage to Knock
The Diocesan Pilgrimage to Knock Shrine will take place on Sunday next 3rd September. The ceremonies will commence at 2.30 with Anointing of the Sick followed by Mass at 3pm.
Death
There was great sadness in the community when we learned of the deathin the care of Roscommon Hospice of Jack Cabena, Waters Edge, Ballyleague on Saturday 19th August. Jack a born and reared Dubliner along with his wife, Noeleen, moved to Waters Edge a number of years ago. A man with a great wit and he a wonderful character he became a popular figure all around the community. Jack had a great pride of place and he took great pride in maintaining his estate and was regularly seen on the ride on lawnmower. Jack's passing will sadden every heart of those that got to know him. Jack had been ill for a relatively short time and his passing came as a shock. Our community will be lessened by his passing.
To his wife Noeleen, his son Philip and daughter Jill, his daughter in law Riann, grandson Ronan, Jill's partner Jake and the extended family we extend our deepest sympathy.
Killian Homeplace Genealogy
Would you like to trace your family roots? The Killian Homeplace in Fermoyle is now available for anybody to trace their family Irish roots. Many people have hit a block when searching for their family roots and there is now the golden opportunity to help your search. You can contact the team at the Killian Homeplace www.thekillianhomeplace.com or phone 0863952557 or from abroad 011 353 86 395 2557.
There is a great team in place and you will be assured of every help possible to get your family tree completed.
Joan Killian Gallagher since she renovated and opened the Killian Homeplace 25 years ago has made sure that the Homeplace was never idle and I am sure the Killian Homeplace History Centre will be a major success for people all over the world.
Tidy Town's Lotto stands at €14,800
The Lanesboro Tidy Towns Lottery for Tuesday 29th August stands at €14,800. This is a wonderful opportunity to win a large amount of money for just €2 each envelope or 3 envelopes for €5.
The numbers drawn on Tuesday 22nd August for a jackpot of €14,700 were 1, 2, 10 and 18. There was no winner of the jackpot. The winner of the €50 prize was Jay, Leah and Becky Hanley, Corrigeen and the three €20 winners were Breda Moran, Carraroe, John rice, Cloontuskert and Kathleen and Emily Morris, Church View.
The Lanesboro Tidy Towns committee would like to thank you for your continued generosity and this support is ensuring that Lanesboro continues to look beautiful.
Special Needs Assistant
Would you consider a career as a Special Needs Assistant? A programme to equip the learner with the knowledge, skill and competence in the practice and principals underpinning the role of a Special Needs Assistant to work effectively under direction in a special needs assisting capacity. The programme will take place at the Longford Women's Link, Willow House, Ardnacassa, Longford beginning on Wednesday 6th September. The programme is being run over 15 dates from 7pm to 10pm and the cost is €340. Early enrolment is advisable. For further information you should ring 3341511 or see the website: www.lwl.ie or email info@lwl.ie
Town Twinning
Presently there is a committee seeking to organise a Town Twinning with Lanesboro and a town in Europe. On Friday last Gerard and Nicole Benoit from Inguiniel, Brittany on the north west of France along with their son, daughter in law and grandchild visited Lanesboro. The Town Twinning Chairman Andrew Knowles had made contact with them to see if they may be interested in twinning with our community. As they were coming for a holiday to Ireland the committee invited them to Lanesboro for a brief visit.
Starting with a coffee at Lanesbrew, a visit and tour of Corlea, dinner in Adie's bar and restaurant followed by a tour of the Lough Ree Distillery host by the excellent Darragh ended the visit. They appeared very impressed with their short visit and they will report back to their own committee.
Twinning is a great experience and it creates a wonderful excitement in communities. It is hoped that many more people from both sides of the bridge will get involved with the group and help develop plans for the twinning of our community. The next meeting will take place in September and time and venue will be posted here, on Facebook and in the shop window.
Coffee Morning
The Lanesborough branch of the Longford Hospice care will be hosting a coffee/ tea morning in the Parish Hall on Sunday 17th September from 11am until 1pm.
Lough Ree AC
Lough Ree Athletic Club
Summer holidays are over and the Schools are reopening so it's time to return to the Athletic Track. We are planning to have our first gentle training session on Tuesday 8th September at 6.00pm.
Lough Ree Golfing Society
The Society had its second last outing of the year to Slieve Russell Golf Club last Friday 25th August. They were blessed with the weather and the course was in immaculate condition as expected, the greens very fast and hard to judge. The number playing was down a bit on other outings what with holidays and some last minute problems. The scores returned were impressive for a Championship course, with the winner Joe McGrath bringing in 39 pts., Second went to Ronan Cullen with 35 pts. on countback, and Aidan Cassidy on 35pts also, Nearest the Pin was Peter Day, and the Longest Drive winner was Tony Carleton. Some nice food was consumed before the presentation of prizes. The final outing of the year will be to Strokestown Golf Club at the end of September.
Access for All boat
The Access for All boat is for everybody. The boat can cater for three large wheelchairs but you don't have to be a wheelchair user to avail of the excellent trips. Guided fishing excursions can also be organised. Advanced booking is recommended. You can contact by email www.loughreeboattrips.com or phone 089 2625505 or 043 33 84175.
The summer sailings are 10am, 12 noon and 2.30pm.
King of the Lake
The King of the Lake International Pike Festival will take place on Lough Ree – No Frontiers – Fish the whole lake from 8th to 10th September. There will be up to €11,500 in cash prizes and up to €2,000 in sponsorship prizes. The entry fee is €150 per boat.
This promises to be a fabulous weekend of fishing and it is sure to create great excitement in and around Ballyleague and Lanesboro community.
Vintage display at Strokestown Show
On Saturday 9th September at Strokestown's Agricultural and Industrial Show the Mid-Roscommon Vintage Club will have an interesting display of vintage machinery. This year we will see for the first time ever a vintage stone-crusher in action. Appearing there also will be a selection of working stationary engines, and it is hoped one of them will be powering the stone crusher. Another novel item will be a blacksmith and mobile forge. Vintage enthusiasts are invited to display their good at our site in the show grounds, where there will be a selection of vintage items on display. Watch this space next week for more details of our venture and also our Facebook page. Save the date for the second weekend in September to see Mid-Roscommon Vintage's display at the Strokestown Show.
Thank You
The recent church gate collection in aid of Divine Word Missionaries raised a wonderful €1236.40. The organisers would like to thank sincerely everyone that donated so generously.
Ballyboro FC
Coaches needed
The club have the following vacancies in coaching roles for the upcoming 23/24 season;
Under 14 boys – Head Coach and assistant coaches
Under 13 boys – Assistant Coaches
Under 11 boys – Assistant Coaches
There is also a need for an influx of female coaches to assist with our mixed age groups!
Contact the club on Instagram @ Ballyboro_fc or find us on Facebook @ Ballyboro FC
Or you can contact David on 0857045505 or Mark on 0861613727
Referees are required
Referees needed for the upcoming season in particular for u10, u11 and u12 grades. Anyone interested can make contact with the club on Instagram @ Ballyboro_fc or find them on Facebook @ Ballyboro FC. Alternatively you can contact David on 0857045505 or Mark on 0861613727
Visit Old Trafford
With a new Premiership season comes high expectation for an exciting season for all supporters. In October there is an opportunity to travel to Old Trafford to support Manchester United as they take on Brentford on Saturday 7th October. This is a two night trip that includes match tickets, Bus and Ferry fares, Hotel Accommodation including breakfast all for just €379. There are just a few places left on the bus leaving Roscommon at a cost of €379. Call 086 8417262 to book your seat and for all other information.
Championship Updates
Sunday last Rathcline produced a top class display when they overcame Carrickedmond to ensure their place in the Championship quarter-final with one game to spare. On Sunday next in Allen Park the final game of the league section will take place when they take on Colmcille at 3.30pm. A win will see them take third place in the group.
St. Faithleach's after a week's break will take on Roscommon Gaels in a winner takes all game in Knockcroghery on Sunday 1st September at 1pm where victory ensure place in the knockout stages.
Rathcline Juniors following a great win in Granard on Wednesday last will play Fr. Manning Gaels in Drumlish on this Wednesday at 8pm. Victory, I believe, will see them into the final.
Good luck to all teams.
Oskars News
The groups participating in the Rathcline club Oskars are presently fundraising for their side. The Derry Girls group held Bingo Boro in St. Faithleach's clubhouse on Friday night last. It was a night of mighty craic and the group and club would like to thank everyone that supported the night.
On Sunday last a 10hour sponsored walk took place at the club grounds in Clonbonny. This was a venture between four of the groups and they would like to thank everyone for their generous support.
A Duck Race will take place on Saturday week 9th September. Ducks are on sale and your support will be appreciated.
In the Name of the Father group will be hosting a Ladies Night in St. Faithleach's clubhouse on Saturday 30th September – more information will be with us soon.
This weekend will see the commencement of filming for three of the films and we should embrace with support all the filming that will be happening locally over the next number of weeks.
Lakeland Language Centre
Lakeland Language Centre (LLC) is looking for host families to host Spanish students who will attend Lanesboro Community College for the full academic year and also the term up to Christmas. The monthly rate for hosting a student is €900. LLC will offer 24-hour advice and support to the families. Collection point for the young students is Athlone and there will be no airport trip involved. If you are interested you are invited to contact Majella 087 3368559 or Gabby 085 8596657.
Rathcline 50/50
On Monday 28th August the Rathcline GAA 50/50 weekly draw took place in Adie's Bar. Another very successful week of selling seen the winning pool topped the €700 mark to reach a wonderful total of €708. The winning envelope drawn out was in the name of Gerry Lane, Moher. Well done Gerry on your great win.
As always, the winning cheques can always be collected in O'Brien's.
The Rathcline 50/50 draw takes place every Monday night at 7.30pm. Your continued generous support is greatly appreciated and it is highlighted by the large pool each week.
The Employability Service
is an Employment and Recruitment Service to assist people with a disability or health issue to pursue and maintain employment in the open labour market. If you are over 18, have a disability or health issue and would consider working part-time then you should contact Employment Services Roscommon support to help find you a job in your area. This is a confidential and free individualised service funded by the Department of Social Protection.
Are you managing mental health issues? There is the opportunity for Individual Placement and Support (IPS) that is funded by the HSE and offers a range of tailored personalised supports to people using mental health services who wish to work. For further information you should phone 090 66 28608 or call/text 087 3745307. They can also be contacted via email at info@rosemp.ie
Co. Longford Citizens Advice Centre
Co. Longford Citizens Information Service has recently been restructured and is currently under new management.
They continue to provide free, impartial, and confidential information, advice, and advocacy services to the public on social services, rights, and entitlements. The range of areas covered by the citizens information centre are extremely wide including social welfare rights and entitlements and other social issues such as employment, health services, housing, education, family matters and consumer rights, all where people need access to information.
The way people access the services changed during Covid and now they currently deal with a large number of queries over the telephone, however, they continue to provide our drop-in times and welcome people to their face-to-face service five mornings a week from the Longford office. The services are provided by experienced trained Information Officers who are here to help
The centre is located on level 1 within Longford Shopping Centre and direction can be obtained at the reception desk from Monday to Friday from 9.30am until 5.00pm. The office closes for lunch from 1pm until 2pm.
Local notes inclusion
Anybody that wants items included in the local notes is advised that they have their note with me on a Sunday night at the very latest. This is to ensure inclusion in the coming weeks notes.
Line Dancing
Line Dancing classes take place every Friday morning 11am at the Quad Centre Roscommon Town.
Line Dancing classes every Sunday at the Quad Centre Roscommon Town for beginners from 6pm to 7pm and Improvers from 7pm to 8pm
Dance classes takes place in Kilbride, Four Mile House every Tuesday 7pm followed by:
Jive & Waltz classes 8 45pm.
Alcohol Anon Meetings
Relatives and friends of those addicted to alcohol are welcome to attend meetings in the Family Centre at the back of St. Mel's Cathedral. The meetings take place every Tuesday evening at 7pm.
Ballyleague Bingo
Ballyleague Bingo continues in Ballyleague Hall every Thursday night. The first numbers will be called at 8.30pm.
The club is extremely grateful for your continued tremendous support.
ALONE
ALONE is a national organisation that enables older people to age at home.
Our work is for all older people and aims to improve physical, emotional and mental wellbeing. We have a National network of staff and volunteers who provide an integrated system of Support Coordination, Practical Supports, Befriending, a variety of Phone Services, Social Prescribing, Housing with Support and Assistive Technology.
We use individualised support plans, to address health, financial benefits and supports, social care, housing, transport and other arising needs using technology and through harnessing other services.
We work to empower the whole sector of community support for older people through our Community Impact Network that provides Training, IT support and resources to other organisations.
Support line for older people
ALONE manage a national support line and additional support for older people who have concerns or are facing difficulties relating to Covid-19. Professional staff is available to answer queries and give advice and reassurance where necessary. The support line is open seven days a week from 8am until 8pm. Text TALK to 50808 to begin.
Alcohol Anon Meetings
Relatives and friends of alcoholics are welcome to attend meetings in the Family Centre building at the back of St. Mel's Cathedral on St. Mel's Road, any Tuesday evening at 7pm.
Local Health Service
The health service is here for us all, from routine to urgent calls. HSELive is here 7 days a week to answer questions. Freephone 1800 700700.
Roscommon University Hospital Injury Unit is available from 8am to 8pm seven days, a week and the contact number is 09066 32212.
Emergency Department deals with serious injuries and life-threatening emergencies if you need urgent medical help. They are open 24 hours a day and can be contacted by phoning 999 or 112.
Smart Recovery
SMART recovery is an evidence based addiction recovery support group where participants learn self-empowering techniques to aid their recovery by overcoming addictive behaviour.
There is a meeting every Friday evening from 7pm to 8.30pm in Vita House, Roscommon. For information you should phone Conor 086 1702912 or info@smartrecovery.ie
GROW
Grow is a Community Mental Health Movement which meets every Monday at 11am in the Community Mental Health Centre, Dublin Rd., Longford. If you are feeling lonely, isolated or suffering from stress, please feel free to attend. You can call Assumpta for any further information on 086 8114135.
St. Mary's Church
Pilgrimage to Knock: The Diocesan Pilgrimage to Knock Shrine will take place on Sunday next 3rd September. The ceremonies will commence at 2.30 with Anointing of the Sick followed by Mass at 3pm.
Longford Citizen Information: The centre is located on level 1 within Longford Shopping Centre and it provides free, impartial and confidential information, advice and advocacy services, rights and entitlements. Information at the reception desk from Monday to Friday from 9.30am until 5.00pm. The office closes for lunch from 1pm until 2pm. There is a free information booklet available and you can pick it up at the office.
Alcohol Anon Meeting: Relatives and friends of those addicted to alcoholare welcome to attend this meeting in the Family Centre at the back of St. Mel's Cathedral on any Tuesday evenings at 7pm
Communion for Coeliacs: Gluten free hosts are available for all those who need them. Just make it known to the priest that you wish to receive a gluten free host at Holy Communion.
The Parish Hub: Maireád, the Parish Secretary is in her office on Tuesday to Thursday, 10.30am to 2.30pm. She can be contacted on the phone at 3321166. She will help you with any questions or booking related matters.
Speak with a Priest: if you wish to talk with any of the priests you can call into the sacristy after any Mass.
Talk to the Samaritans: Are you struggling to cope with life? Do you think it would help to talk about your problem in confidence? It does not matter who you are, how you feel or what happened to you. If things are getting you down you can turn to the Samaritans for help. The Samaritans are available on Freephone 116123, 24 hours a day and 365 days a year.
Alone Volunteers: Would you be willing to provide companionship or make calls to older people once a week? Alone is seeking volunteers in the area. Full training and support will be provided. If you are interest you are asked to sign up at the following address https://alone.ie/volunteers.
For more information you are invited to contact Helena at Helena.madden@alone.ie or phone 086 0145 829
Parish contacts
Fr. Merlyn Kenny, Newtowncashel 0860603433 and Fr. Turlough Baxter, Killashee 0879972259 who as you know are assisting in our parish.
Kilgefin Parish
Parish Contact:
You can contact Fr Dan at 089 2706060
Station Masses: The autumn stations will commence very soon. If you would like to have your area station mass in your home you are asked to contact Fr. Daniel as soon as possible.
Audio needs replacing: The amplifier and speakers in Ballyleague church are no longer in working order and they are in need of replacing. If anyone would like to make a donation towards the cost of replacements you are asked to contact Fr. Daniel. Any amount would be very welcome. At the time of writing donations totalling €305 have been received.
Ballyleague Hall: It is intended to do some work including disposal of unwanted items, slabbing the ceilings, erecting partitions, upgrading the kitchen units, painting and all other necessary work over the coming months.
Any contractor, wishing to submit a quotation should phone 087 2238293 for further details. The closing date for quotations is this Thursday 31st August.
St. Faithleach's GAA
Annual Lottery
It's now time for annual lottery subscriptions to be renewed. Please contact any committee member to do so. Thank you for your continued support.
Senior Championship
Our senior men play Roscommon Gaels in the final round of the Hudson Bay Senior Football Championship on Sunday next in Knockcroghery at 1pm. As this is a winner takes all game it is hoped that a great crowd from the area will turn out to support the team.
Clubhouse
The Clubhouse is open every Saturday night from 19:00. The clubhouse is available for private party bookings. Please contact any committee member to book.