Lanesboro Ballyleague notes
Constituency Changes
The Electoral Commission on Wednesday last announced their finding for the constituency reviews that was created by the results of the latest census and our population increase. Longford Westmeath has moved from being a 4 seater constituency to a five seater.
Westmeath regained a portion of their county that was in the Meath constituency and that brings with it a voting strength of almost 10,000. Longford seems to become the poor relation in terms of the changes as the extra votes in Westmeath is a quota in itself and the chances of a Longford candidate gaining anything worthwhile from that is highly unlikely.
For Longford, according to the latest census Westmeath's population is almost 50,000 larger than Longford. Once again it appears that there will be a struggle to elect a Longford TD hence it is very important that everyone goes out to ensure that there is a Longford voice in the new Dáil.
The Roscommon/Galway constituency has changed too with a large portion of east county Galway returning back into the east Galway constituency and Roscommon regaining north Roscommon that was in the Sligo Leitrim constituency. At the moment it appears Claire Kerrane and Michael Fitzmaurice seem to have a solid base that will re-elect them and there will be a battle royal for the third seat. Roscommon in recent elections bucked the notion that 3 seater constituencies are a happy hunting ground for the bigger parties continually electing two Independent TD's.
There is going to be an intriguing battle for all seats when the election takes place and no doubt there will be a shock or two. We are in for a very interesting time in the build up to the nominations and the elections themselves.
Educational movers
Last week saw the beginning for all of the youngsters in our community as they began/continued their primary and secondary school education. Amongst almost all of the students we got the feeling of great excitement as they looked forward to another year of school.
Also, last in the past two weeks we saw the results of the Leaving Certificate and the offering of places at university. There was great enthusiasm as the result all round were excellent with nearly all achieving their goal of a university place and a future filled with dreams of successful careers.
We wish all the students, primary, secondary and university bound the very
Sympathy
It was with great sympathy that we learned during the week of the death on Saturday 12th August at St. James's Hospital, Dublin of Imelda Cryan, Harold's Cross. Imelda, nee Farrell, and late of Carraroe had lived in Dublin for many years. Up until recent time along with her husband John she was a regular visitor back home to the native sod she loved so much. Imelda was sister to the late Anna, Clare and Luke Farrell. She was also predeceased by her infant daughter Berna.
We extend our deepest sympathy to her husband John her daughters Mary and Lorna, her sons Michael and Shane, her sisters Gaye and Noreen the extended Farrell and Cryan families, relatives and friends.
Imelda was laid to rest in Mount Jerome cemetery following her Funeral Mass in our Lady of the Holy Rosary church, Harold's Cross on Thursday 17th August.
Funding Scheme
Last week Fáilte Ireland announced an open call for Expressions of Interest for a funding scheme for regenerative tourism projects. There will be up to €17million available in grant aid. This is very important as the grant-aid is for both private and community based projects. In our area this is sure to create many opportunities for private sector. The community based groups will naturally be submitting their plans. Our community is ripe for submissions for developments and we look forward to all availing of the funding and opportunities that the fund offers to tourism projects.
This Investment Grant-Aid scheme for Private and Community SMEs is the first part of the up to €68 million Regenerative Tourism and Placemaking scheme to be delivered by Fáilte Ireland.
Under the scheme there are five project categories that will be considered.
Development or Enhancement of Sustainable Visitor Experiences
Development of Sustainable/Low Carbon Tourist accommodation
Capital Project Planning and Design
Digital Transformation
Accessibility enhancements to provide a more inclusive visitor experience.
The first stage is an expression of interest and it is very important that all groups and private sector submit their expression of interest.
This is a golden opportunity for our locality and it is an opportunity to create, once again, the vibrancy what we all remember was in our community for many years when ESB and Bord na Mona were active and employing..
Nobody to cross children
After a lifetime of Longford County Council crossing children as they made their way to and from the Primary school the lollipop has now become redundant. Employed by the council the people crossing the kids were an essential at this busy road.
As and from the start of the school year Longford county council employed nobody and they say they have no intention of doing so.
Have you ever stood at the corner at the times that the kids are going and coming from school? Have you witnessed the amount of traffic going up and down Main Street and especially at the junction? Have you witnessed the speed of the traffic going up to and down from the church in particular? The traffic has naturally increased with some parents deciding to drive their kids to school when Eamon Ryan is asking people to cut down on driving and fuel emissions.it seems as if Longford Co Co want to buck the trend of fuel conservation.
During the week the person that is doing traffic control for the Rathcline Road during the road resurfacing had to stand out in her high visibility jacket to ensure some kids got to cross the road such was the amount of traffic going through the junction and Main St. The kids were standing at the corner for a good time trying to cross before the intervention.
There are times when you think some decisions by the powers that be are ridiculous, well this is a case of lunacy and putting those kids that are walking or cycling to school in danger for their lives.
To counter the argument by saying that they put up a sign really does not cut the mustard as it has not slowed the driving through town one iota and the county council must revisit this decision with immediate effect.
Coffee Morning
The Lanesborough branch of the Longford Hospice care will be hosting a coffee/ tea morning in the Parish Hall on Sunday week 17th September from 11am until 1pm.
Culture Night 2023
The 18th Culture Night will take place nationwide on Friday 22nd September. Each year the Culture Night gets bigger and bigger and this year is no different. There are a vast number of events and with the array of events there will be an event that will be of interest to everyone. At the moment there are no events listed for Longford but Roscommon has 19 events listed countywide with 4 in Boyle, 1 in Knockcroghery, 8 in Roscommon Town and 1 in Strokestown.
See www.culturenight.ie/events for full details on all the events.
County Selector
Local man Gareth Johnston has just accepted the invitation from Longford County Football manager Paddy Christie to become a selector and part of Paddy's backroom team. Gareth has a vast amount of experience where he has trained many teams over the years and especially in recent times with underage teams in Longford. We wish Gareth the very best of luck for a very successful time.
Community Games Gold
While none of our proud competitors managed to make the podium in the Community Games Final in Carlow there was a local connection to the medal winning ceremonies. Charlie Murphy and his brother Peter represented Ballymore Eustace and Kildare in the sprints competition. Charlie was successful in taking home the gold medal in the 100m final while his brother Peter who was fifth in the U16 100m final was part of the Kildare 4 x 100m relay team that won the bronze medal.
Peter and Charlie are sons of Keith and Michelle Murphy. Keith is son of Jude and Kitty Murphy, Cloontuskert while Michelle is daughter of Sonny and Mary Claire Wallace, Strokestown Rd., Ballyleague. Congratulations to the three generations of the family.
Jack Harte Bursary 2022
I am coming late to the party as it was only last week in a social media entry that I realised that there was a Jack Harte Bursary. As you can see below many well-known literary figures were previous winners of this prestigious award. It is a true honour and an acknowledgement of Jack's lifetime contribution to the Arts and literature in particular. Congratulations Jack, continued success and may your pen never run short of ink.
Louise Phillips is this year's awardee. She won the Best Irish Crime Fiction Novel of the Year in the Irish Book Awards for The Doll's House, and many of her other novels were nominated for several other leading awards.
The Jack Harte Bursary is created and funded by the Irish Writers Centre in partnership with the Tyrone Guthrie Centre; it offers a professional writer a one-week fully resourced Writer-in-Residence Bursary to take place in 2023 by arrangement with the TGC. The award is named in honour of Jack Harte, founder of the Irish Writers Centre, in celebration and acknowledgement of his contribution to Irish literature. Previous awardees include Micheál Ó Conghaile, Jan Carson, Neil Hegarty, Henrietta McKervey, Sarah Moore Fitzgerald and Liz Nugent.
Battle of Ballinamuck
Ballinamuck community will celebrate the Battle of Ballinamuck 225th Commemoration this week from 7th to 10 September. From a full battle re-enactment to live music each night this promises to be a fun filled weekend for all the family.
Why not go along and celebrate this historic event with the people of the area and join in what should be a memorable weekend. See www.battleofballinamuck.ie for full details of the events.
Killian Homeplace Genealogy
Would you like to trace your family roots? The Killian Homeplace in Fermoyle is now available for anybody to trace their family Irish roots. Many people have hit a block when searching for their family roots and there is now the golden opportunity to help your search. You can contact the team at the Killian Homeplace www.thekillianhomeplace.com or phone 0863952557 or from abroad 011 353 86 395 2557.
There is an excellent team in place and you will be assured of every help possible to get your family tree completed.
New Book
Last week Ciaran Mullooly announced that the script for his new book had just gone to the publishers and that it would be launched and on book shelves on Friday 15th September. The book, 'The Future is Now' is about his life after RTÉ and stories of Just Transition and renewal in rural Ireland.
We wish him the very best with his book.
Piano Recital
A piano recital will be given by Daren Lane in St. Brendan's Church, Clondra on this Friday night 8th September at 8pm. Daren attended the Royal Academy of Music and the London College of Music and has given recitals in London, Bury St. Edmonds and Athlone. Daren plays and sings at St. Mary's Church in Athlone. This night is to raise funds for St. Brendan's Church, Clondra. All are welcome and donations can be made on the night.
St. Faithleach's Coffee Morning
St Faithleach's GAA club are hosting a coffee morning in their Clubhouse on Saturday 23rd September from 10.00am to 1.00pm. Come along and enjoy a coffee and a chat and support this worthy cause.
All Welcome
Ladies Night Out
Ladies, this promises to be one fantastic night out and a night not to be missed.
The 'In the Name of the Father' film cast and crew are holding a Girls Night Out in St. Faithleach's clubhouse on Saturday 30th September. It promises to a night for the ages such is the marvellous line-up and prizes. As the advertisement says great entertainment, delicious food and exciting drinks will all help to make it a night to remember. This is a fundraising event to help finance the OsKars film 'In the Name of the Father' and hopefully provide funds to the club for their future developments.
Sinead McHale will be your MC and take you through the night.
As part of Health and Wellbeing
Audrey Sorohan will walk through the essential steps in skin care.
Michelle Kelly will create a daytime makeup look.
Sharon Rooney will show us how to transition into a glamorous night time glow.
Karen Johnston will introduce homeopathy, a form of complementary medicine.
Part of the entertainment will be
Time to get your groove on with an evening of music promising to bring the night to life.
Many amazing spot prizes. Spa Vouchers, Pamper Hampers and more.
Check out the photo station on the night. Sinead Hogan will be poised with her camera to capture those magic moments. You can leave your contact details and we can send on your photo.
Upon arrival you will be greeted with a complimentary glass of prosecco and nibbles.
Hot Snacks will also be served.
Tickets are priced at €25 each that includes you for the draw Center Parcs – Twilight Spa for 2
This is the perfect post work pick me up to share with a friend – relax, unwind and recharge together in 21 different spa experiences.
There will also be a raffle on the night where the Spot Prizes include
Homeopathy Starter Kit, Pamper Hampers and Beauty vouchers
Tickets are available in O'Brien's Corner Shop or from Susan Donlon: (087) 9807945, Caroline Farrell: (087) 6259092 or Michelle Shea: (086) 8703154.
National Apprentice of the Year Nomination
Many congratulations to Hazel Johnston daughter of Ronnie and Karen Johnston, Rathcline road on being nominated for National Apprentice of the Year 2023. Hazel is Apprentice Digital and Automation Systems Engineer at DePuy Synthes in Cork.
Tidy Town's Lotto stands at €14,900
The Lanesboro Tidy Towns Lottery for Tuesday 5th September stands at €14,900. There is a wonderful opportunity to win a large amount of money for just €2 each envelope or 3 envelopes for €5.
The numbers drawn on Tuesday 29th August for a jackpot of €14,800 were 12, 14, 16 and 19. There was no winner of the jackpot. The winner of the €50 prize Mike Mulvihill, Clonterm, Longford and the three €20 prizes went to Therese Kelly, Lanesboro, Bethany Feeney, The Wooden Spoon, Main St., and Michael Sweeney c/o CE Scheme.
The Lanesboro Tidy Towns committee would like to thank you for your continued generosity and this support is ensuring that Lanesboro continues to look beautiful.
Access for All boat
The Access for All boat is for everybody. The boat can cater for three large wheelchairs but you don't have to be a wheelchair user to avail of the excellent trips. Guided fishing excursions can also be organised. Advanced booking is recommended. You can contact by email www.loughreeboattrips.com or phone 089 2625505 or 043 33 84175.
The summer sailings are 10am, 12 noon and 2.30pm.
King of the Lake
The King of the Lake International Pike Festival will take place on Lough Ree – No Frontiers – Fish the whole lake from Friday next 8th to Sunday 10th September. There will be up to €11,500 in cash prizes and up to €2,000 in sponsorship prizes. The entry fee is €150 per boat.
This promises to be a fabulous weekend of fishing and it is sure to create great excitement in and around Ballyleague and Lanesboro community.
Alzheimer's Memory Walk 2023
Alzheimer's Memory Walk takes place on Sunday, 24th September. It's a family-friendlyevent suitable for all ages and walking abilities to unite friends, families and communities to raise awareness and funds for dementia supports.
Approximately 64,000 people in the country live with Dementia and as we now the diagnosis of Dementia to a family member also affects the entire family. The Alzheimer's Society of Ireland is hoping that 3,000 walkers from all across Ireland will join them and help raise funds for vital services that support so many people living with dementia and those who care for them. These services include Daycare, Daycare at Home, Family Carer Training, Social Clubs, Cafés, and a National Helpline.
You are invited to register online at www.alzheimer.ie or you can phone 01-2073833
The Longford Walk will take place at the Mall Walking Trail at 3pm. The distance is 5Km and the meeting place is the Mall car park.
The Roscommon walk will take place at the Demesne, Castlerea starting at 2pm and the meeting place is the Friary Gates, near ASI Day Care Centre Longford, Castlerea.
Vintage Club to stage a blast from the past
Each year Mid-Roscommon Vintage club endeavours to show to the public some type of machine that was once in common use, but is now a relic of yesteryear. Last year we had a working thresher that evoked a lot of nostalgia with the older generation. This year we have sourced a working stone-crusher that will be crushing some stone on site at the show. Before the advent of large industrial quarrying plants, stone was crushed in small quarries throughout rural Ireland by local authorities using the small mobile crusher. In earlier times, farmers who had limestone bedrock on their land opened quarry pits and broke stone by hand to sell to the county councils.
After early attempts to manufacture a machine that could break stones, the first successful mechanical rock-breaking crusher was invented by a man called Eli Whitney Blake in the US in 1858. Blake's machine was very popular until in 1881 P. W. Gates (US) invented the gyratory stone crusher. Gates' crusher was able to outdo Blake's in production and his device then became the common machine used by companies for the crushing of stone for road-building.
At Strokestown show this weekend, Mr Billy Stewart from Killashee County Longford will have his crusher on hand, the machine was manufactured by Robey Engineering, Lincoln and it is at least one hundred years old. Mr Stewart has agreed to transport it to the vintage site for the purpose of demonstrating how it works. The crusher is belt-driven and can be powered by either a tractor or a stationary engine. Also on show will be two stationary engines, the property of Mr Kevin Foley, Newtownforbes, County Longford. One of the engines is almost one hundred years old, being manufactured in 1924. The engine make is a National 'hot-bulb', it is run on paraffin and delivers 20 h.p.
The term 'hot-bulb' refers to the type of ignition system that fired these engines into life. The hot-bulb ignition was the forerunner of the spark plug gasoline and compression ignition Diesel engines that came on stream later. It is hoped to have the display in motion around mid-day and again in the afternoon on Saturday the 9th. Also at the site will be a blacksmith and mobile forge and lots more. This year's display is something that should not be missed, so we advise the public and vintage enthusiasts to make sure and visit our site on September 9 at Strokestown Show.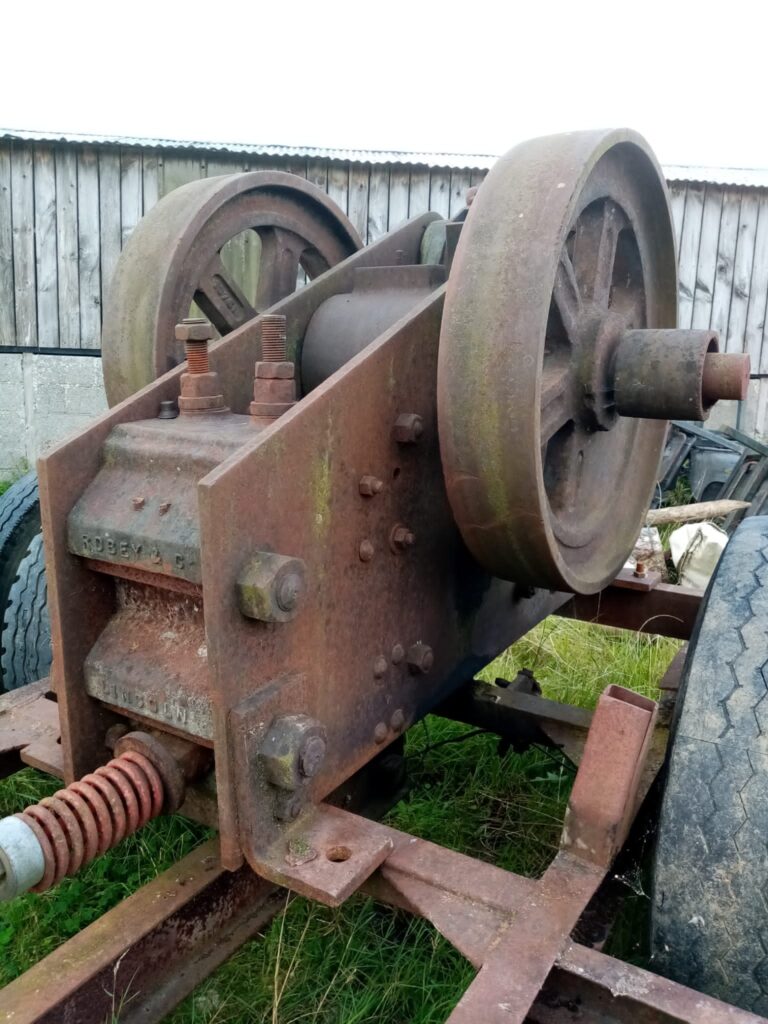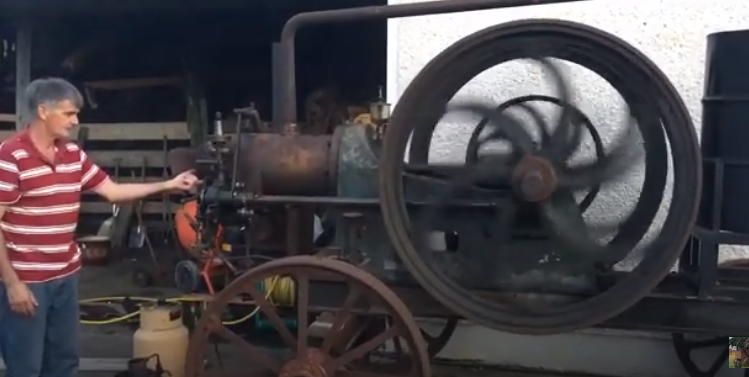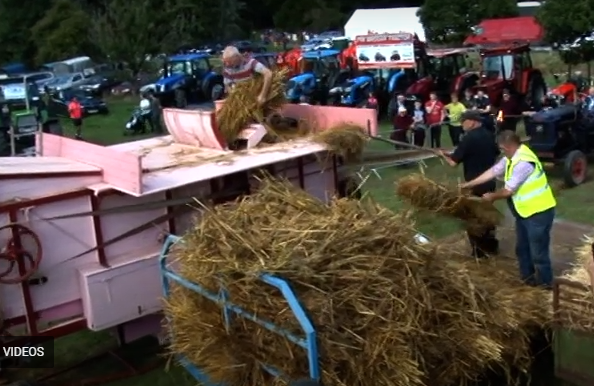 Visit Old Trafford
With a new Premiership season comes high expectation for an exciting season for all supporters. In October there is an opportunity to travel to Old Trafford to support Manchester United as they take on Brentford on Saturday 7th October. This is a two night trip that includes match tickets, Bus and Ferry fares, Hotel Accommodation including breakfast all for just €379. There are just a few places left on the bus leaving Roscommon at a cost of €379. Call 086 8417262 to book your seat and for all other information.
Championship Updates
Sunday last was an agonising day for the St. Faithleach's senior team when they went down to a last minute penalty to lose by one point to Roscommon Gaels for a place in the senior championship quarter final. The final score finished Roscommon Gaels 1-9 to St. Faithleach's 1-8. It was really a heart-breaking defeat for St. Faithleach's as they led for the greater part of the game and looked as if they could hold out for a tremendous victory.
Rathcline took on last year's county champions, Colmcille in their final league game of the championship. With both teams already having already secured their quarter final place last week this game was a dead rubber although very vital to Rathcline. It gave them the opportunity to measure themselves against the champions and assess their improvement. The game was a great contest with Colmcille winning on a scoreline of 2-15 to 2-12. This game put them in a great place going into the quarter final in two weeks' time and we look forward to a great game when they take on Dromard in Pearse Park. Day and time yet to be decided.
Rathcline 50/50
On Monday 28th August the Rathcline GAA 50/50 weekly draw took place in the Yacht Bar. Another very successful week of selling seen the winning pool topped the €500 mark to reach a wonderful total of €550. The winning envelope drawn out was in the name of pam Farrell, Derrygeel. Well done Pam on your great win.
As always, the winning cheques can always be collected in O'Brien's.
The Rathcline 50/50 draw takes place every Monday night at 7.30pm. Your continued generous support is greatly appreciated and it is highlighted by the large pool each week.
Lough Ree Athletic Club
Please note: training will recommence on Tuesday evening the 12th September at the track, starting at 6pm
A very big thanks to all who contributed to the track tidy up last week, it was very much appreciated.
Rathcline & OsKar News
Following the weekend three of the seven films have now been completed and the final four will be completed on Saturday and Sunday. It is said that at the making of the three films over the weekend the craic was only mighty and there was wonderful interaction between young and old. The weekend coming is sure to increase the craic and fun.
The casts and their teams are making huge efforts with some very creative and unique fundraising ventures. You are invited to support some or all of the fundraisers. The club would like to thank everyone for their efforts and their support.
If you are interested in sponsoring one of the OsKar awards you are invited to contact any of the club executive. In total there will be 10 awards up for winning. Also, if you are interested you can take an advertisement in the OsKars programme.
The Duck race will take place on Saturday next and there are just a few ducks left for sale. They are on sale for €10 each and it is limited to 300 and the winner will receive €500. Again, contact the club executive to buy a duck.
Hard luck to the seniors on Sunday last where they just fell short against Colmcille. They now play Dromard in the quarter final the weekend after next and we wish them every success.
Weekly Card Game
The weekly card game in St. Mary's Parish Hall takes place every Sunday night and light refreshments are always served. On Sunday night last, the game finished in a four-way tie between Barney & Eugene, Josie & Freda, Vincent & Sean and Petey and Brendan. Last game winners were Pat & Mick. The raffle winners were Jim Horan, Freda Connaughton, Tommy Fox and Tom.
Lakeland Language Centre
Lakeland Language Centre (LLC) is looking for host families to host Spanish students who will attend Lanesboro Community College for the full academic year and also the term up to Christmas. The monthly rate for hosting a student is €900. LLC will offer 24-hour advice and support to the families. Collection point for the young students is Athlone and there will be no airport trip involved. If you are interested you are invited to contact Majella 087 3368559 or Gabby 085 8596657.
The Employability Service
is an Employment and Recruitment Service to assist people with a disability or health issue to pursue and maintain employment in the open labour market. If you are over 18, have a disability or health issue and would consider working part-time then you should contact Employment Services Roscommon support to help find you a job in your area. This is a confidential and free individualised service funded by the Department of Social Protection.
Are you managing mental health issues? There is the opportunity for Individual Placement and Support (IPS) that is funded by the HSE and offers a range of tailored personalised supports to people using mental health services who wish to work. For further information you should phone 090 66 28608 or call/text 087 3745307. They can also be contacted via email at info@rosemp.ie
Co. Longford Citizens Advice Centre
Co. Longford Citizens Information Service has recently been restructured and is currently under new management.
They continue to provide free, impartial, and confidential information, advice, and advocacy services to the public on social services, rights, and entitlements. The range of areas covered by the citizens information centre are extremely wide including social welfare rights and entitlements and other social issues such as employment, health services, housing, education, family matters and consumer rights, all where people need access to information.
The way people access the services changed during Covid and now they currently deal with a large number of queries over the telephone, however, they continue to provide our drop-in times and welcome people to their face-to-face service five mornings a week from the Longford office. The services are provided by experienced trained Information Officers who are here to help
The centre is located on level 1 within Longford Shopping Centre and direction can be obtained at the reception desk from Monday to Friday from 9.30am until 5.00pm. The office closes for lunch from 1pm until 2pm.
Local notes inclusion
Anybody that wants items included in the local notes is advised that they have their note with me on a Sunday night at the very latest. This is to ensure inclusion in the coming weeks notes.
Line Dancing
Line Dancing classes take place every Friday morning 11am at the Quad Centre Roscommon Town.
Line Dancing classes every Sunday at the Quad Centre Roscommon Town for beginners from 6pm to 7pm and Improvers from 7pm to 8pm
Dance classes takes place in Kilbride, Four Mile House every Tuesday 7pm followed by:
Jive & Waltz classes 8 45pm.
Alcohol Anon Meetings
Relatives and friends of those addicted to alcohol are welcome to attend meetings in the Family Centre at the back of St. Mel's Cathedral. The meetings take place every Tuesday evening at 7pm.
Ballyleague Bingo
Ballyleague Bingo continues in Ballyleague Hall every Thursday night. The first numbers will be called at 8.30pm.
The club is extremely grateful for your continued tremendous support.
ALONE
ALONE is a national organisation that enables older people to age at home.
Our work is for all older people and aims to improve physical, emotional and mental wellbeing. We have a National network of staff and volunteers who provide an integrated system of Support Coordination, Practical Supports, Befriending, a variety of Phone Services, Social Prescribing, Housing with Support and Assistive Technology.
We use individualised support plans, to address health, financial benefits and supports, social care, housing, transport and other arising needs using technology and through harnessing other services.
We work to empower the whole sector of community support for older people through our Community Impact Network that provides Training, IT support and resources to other organisations.
Support line for older people
ALONE manage a national support line and additional support for older people who have concerns or are facing difficulties relating to Covid-19. Professional staff is available to answer queries and give advice and reassurance where necessary. The support line is open seven days a week from 8am until 8pm. Text TALK to 50808 to begin.
Alcohol Anon Meetings
Relatives and friends of alcoholics are welcome to attend meetings in the Family Centre building at the back of St. Mel's Cathedral on St. Mel's Road, any Tuesday evening at 7pm.
Local Health Service
The health service is here for us all, from routine to urgent calls. HSELive is here 7 days a week to answer questions. Freephone 1800 700700.
Roscommon University Hospital Injury Unit is available from 8am to 8pm seven days, a week and the contact number is 09066 32212.
Emergency Department deals with serious injuries and life-threatening emergencies if you need urgent medical help. They are open 24 hours a day and can be contacted by phoning 999 or 112.
Smart Recovery
SMART recovery is an evidence based addiction recovery support group where participants learn self-empowering techniques to aid their recovery by overcoming addictive behaviour.
There is a meeting every Friday evening from 7pm to 8.30pm in Vita House, Roscommon. For information you should phone Conor 086 1702912 or info@smartrecovery.ie
GROW
Grow is a Community Mental Health Movement which meets every Monday at 11am in the Community Mental Health Centre, Dublin Rd., Longford. If you are feeling lonely, isolated or suffering from stress, please feel free to attend. You can call Assumpta for any further information on 086 8114135.
St. Mary's Church
Longford Citizen Information: The centre is located on level 1 within Longford Shopping Centre and it provides free, impartial and confidential information, advice and advocacy services, rights and entitlements. Information at the reception desk from Monday to Friday from 9.30am until 5.00pm. The office closes for lunch from 1pm until 2pm. There is a free information booklet available and you can pick it up at the office.
Alcohol Anon Meeting: Relatives and friends of those addicted to alcoholare welcome to attend this meeting in the Family Centre at the back of St. Mel's Cathedral on any Tuesday evenings at 7pm
Communion for Coeliacs: Gluten free hosts are available for all those who need them. Just make it known to the priest that you wish to receive a gluten free host at Holy Communion.
The Parish Hub: Maireád, the Parish Secretary is in her office on Tuesday to Thursday, 10.30am to 2.30pm. She can be contacted on the phone at 3321166. She will help you with any questions or booking related matters.
Speak with a Priest: if you wish to talk with any of the priests you can call into the sacristy after any Mass.
Talk to the Samaritans: Are you struggling to cope with life? Do you think it would help to talk about your problem in confidence? It does not matter who you are, how you feel or what happened to you. If things are getting you down you can turn to the Samaritans for help. The Samaritans are available on Freephone 116123, 24 hours a day and 365 days a year.
Alone Volunteers: Would you be willing to provide companionship or make calls to older people once a week? Alone is seeking volunteers in the area. Full training and support will be provided. If you are interest you are asked to sign up at the following address https://alone.ie/volunteers.
For more information you are invited to contact Helena at Helena.madden@alone.ie or phone 086 0145 829
Parish contacts
Fr. Merlyn Kenny, Newtowncashel 0860603433 and Fr. Turlough Baxter, Killashee 0879972259 who as you know are assisting in our parish.
Kilgefin Parish
Parish Contact:
You can contact Fr Dan at 089 2706060
Station Masses: The autumn stations will commence very soon. If you would like to have your area station mass in your home you are asked to contact Fr. Daniel as soon as possible.
Audio needs replacing: The amplifier and speakers in Ballyleague church are no longer in working order and they are in need of replacing. If anyone would like to make a donation towards the cost of replacements you are asked to contact Fr. Daniel. Any amount would be very welcome. At the time of writing donations totalling €245 have been received.
Eucharistic Ministers: The Eucharistic Ministers have been entrusted with a special role of assisting the priest in the distribution of Holy Communion to the sick, elderly and home-bound. Such privileged responsibility has to be done wearing the Eucharistic Minister's gown available in the sacristy. Fr. Dan would like to encourage all the Eucharistic Ministers serving at Mass in the three churches to use the gown.
Apostolic Work: Apostolic work is celebrating 100 years this year. Elphin Diocesan Apostolic work are planting a tree at Knock on Saturday week 16th at 11.30am with Mass celebrated by the Papal Nuncio in the Basilica at 12 noon to celebrate the occasion. There will be soup, tea and sandwiches afterwards in St. John's at a cost of €10. If you are attending please contact Mary Lee merlee4525@gmail.com 087 1353780 or Margaret Haughey magthaughey@gmail.com 087 2072400
Shannon Gaels Minor Club
End Of Season Parish League Social Update
The annual end of season Parish league/Social is confirmed to take place on Saturday week 16th Sept from 10:00am to 1:30pm.
This is always a wonderful day of games and social activity and it is very important that everyone gets involved
The Parish league teams shall be drawn from those players born during years 2010 to 2014 inclusive. The plan is to have 6 teams in total, with top 2 contesting the Parish League Final.
A Fun blitz to be ran for all remaining players from U-8 down.
All are asked to arrive for 9:45am at the latest with games to commence at 10:15am sharp
Refreshments/BBQ will be served from 12:00 to 1:30pm along with some presentations
There is an online link to register also
Well done to the senior team on qualifying for the championship quarter final where they will take on Dromard on the weekend of the 16th September. We urge all parents and club players to travel to Pearse Park to cheer the team on.
The U12 12 beat Longford Slashers in a high scoring game finishing 1 point winners on a scoreline 22pts to 21pts.Our 14 and U18 teams did not fare as well and lost their games during the week.
The U18 team will take on Carrick Sarsfields in Michael Moran Park on this Wednesday 6th at 7pm. The U16 quarter final will take place on Tuesday next 11th September in Keenan Park, Ardagh at 6.45pm when they take on St. Patrick Óg.
St. Faithleach's GAA
Annual Lottery
It's now time for annual lottery subscriptions to be renewed. Please contact any committee member to do so. Thank you for your continued support.
Senior Championship
It was heart-breaking time for the senior team in the Hodson Bay Championship on Sunday last in Knockcroghery. So near and yet so far as losing to Roscommon Gaels by a single point margin meant that we were gone from this year's championship.
It has been a tough year for the team and management but they could not be faulted for their dedication and fight for the club over the season. We look forward to a good build into 2024 and a lot of success through the year.
Clubhouse
The Clubhouse is open every Saturday night from 19:00. The clubhouse is available for private party bookings. Please contact any committee member to book.