Lanesboro Ballyleague notes
Culture Night 2023
The 18th Culture Night will take place nationwide on Friday 22nd September. Each year the Culture Night gets bigger and bigger and this year is no different. There are a vast number of events and with the array of events there will be an event that will be of interest to everyone. There are 10 events listed for county Longford with the locals ones being 'Art by the Lake' hosted by Hanlon Art from 6.30 to 8.30pm and Kenagh Culture Evening at Corlea Trackway from 7.30 to 9.30pm with six other events in Longford Six in Longford Town and one each in Granard and Edgeworthstown. Roscommon has 19 events listed countywide with 4 in Boyle, 1 in Knockcroghery, 8 in Roscommon Town and 1 in Strokestown.
See www.culturenight.ie/events for full details on all the events and what may attract you from this varies and exciting list of events.
Try a Dive 2023
Are you over 18? Have you ever thought of joining the Sub Aqua club or even thought what it would be like to dive? Your opportunity to Try-a-Dive is being offered to you by the Lough Ree Sub Aqua Club at Longford Swimming Pool at the Mall on the following October dates: Thursday 5th, Thursday 12th, Thursday 19th and Thursday 26th. Try-a-Dive will take place at 9pm each night and this is entirely free. For further information and to confirm your attendance contact 087-9817784 or email loughreesubaquaclub@gmail.com
Schools Cross Country Championships
What is always a wonderful day for youngsters and creates an absolutely tremendous comradery is the Schools Cross Country. As usual, the Roscommon Primary Schools, that includes Ballyleague, Cloontuskert and Ballagh will congregate at Roscommon Racecourse on Tuesday 3rd October for another terrific day.
Lanesboro and Fermoyle will travel to Moyne Community College for the Longford championships. There will be four races for the primary School students the 3rd/4th Boys the 3rd/4th Girls over a distance of 1000m and 5th/6th Boys and 5th/6th Girls over a distance of 1200m competing in these four races.
There will also be a Secondary Schools competition for Junior boys and Junior girls over 2km and a 3km race for Senior girls and Senior boys.
The entire event is due to be over to allow time for buses to return to schools.
Uncertainty in the Future
The past 3 years since the closure of the power station and consequently the downsizing of Bord na Mona to a negligible number of workers has created a massive change in our community and the wider area. Despite great positivity from within the community there has been no, absolutely no political response to the plight of the entire area that gave great support to both ESB and Bord na Mona. Things continue to get harder and the brain drain of our youth has commenced with nothing being created to offer them the option of working in the community.
From a local business perspective there was always great support from the farming community to their own communities and it was something never underestimated by the local businesses.
Now, another strand of our community is coming under severe pressure and this time it is the farming community who are facing an uncertain future following the decision to cut Ireland's nitrate derogation. Recent decisions means that there will be cuts in the nitrate levels from 1st January.
It is said by experts that these changes will have massive effects on faming and farmers will be forced to find extra land and that is something that is of a very scarce commodity or else they will have to reduce their herd numbers that will greatly affect farm incomes and consequently their spending powers. This decision creates an uncertain future for farmers and their families.
At a time when communities such as ours require support it is really beyond belief that the current Government parties would allow the closure of the Power Station, the disintegration of Bord na Mona as we know it and now farming. All this, is and has been done without preparing communities with a forward plan. What we have got is the rug pulled out from out of our existence by a Government that seems to have little care or concern for communities and especially rural communities such as ours. The only time we become an interest is when they want to get someone elected to the council, Europe or the Dáil. Our votes count then but our voices are never listened to or heeded until the next election comes along.
Coffee Morning Thank You
The Lanesborough branch of the Longford Hospice Committee would like to thank everyone for the fantastic turn out at their coffee morning. Thanks to our sponsors and everyone that donated The Yacht Bar, SuperValu, Joe & Martina O Brien, Fr. Turlough, Casserly's , Lanesbrew, C.B. Gillen & Co, John L Farrell, Mary Kelly, Mullooly & Donohue, Pauline Casey, Sinead Farrell, Anne Donlon, Seadna & Teresa Ryan, Mags Hair Salon & Lanesborough Hall Committee . Anyone that missed or forgot about the morning and would like to donate can do so with Joe & Martina O Brien, Geraldine Farrell or Mags salon . A total of the monies will be issued in the next few weeks.
Two Extra Bus Stops
The new Longford to Roscommon bus route 426 passing through Lanesboro 14 times a day Monday to Thursday, 16 times on a Friday and Saturday and 8 times on a Sunday.
Two addition stops have been added to the time table and they are at the Lifebelt bar and Ballyleague Hall that now I feel satisfies the needs of everyone.
The Future is Now
Following the launch of Ciaran Mullooly's latest book at Longford Library on Saturday last 'The Future in Now' is available in bookshops. We wish Ciaran every success with the book that carries stories of his life after his time reporting and working with RTÉ. The book also covers stories about Just Transition and the renewal of rural Ireland.
If you are travelling the Ploughing Championship you can meet Ciaran there, buy his book and have it signed, He will be situated at Block B, Stand 382, Row 25.
Killian Homeplace Genealogy
Would you like to trace your family roots? The Killian Homeplace in Fermoyle is now available for anybody to trace their family Irish roots. Many people have hit a block when searching for their family roots and there is now the golden opportunity to help your search. You can contact the team at the Killian Homeplace www.thekillianhomeplace.com or phone 0863952557 or from abroad 011 353 86 395 2557.
There is an excellent team in place and you will be assured of every help possible to get your family tree completed.
Ladies….Friday night is almost upon you
The opportunity to dress up for the night and enjoy a very special night in the company of you friends and other ladies is almost upon you. Saturday night week 30th September will see ladies enjoying what is sure to be a fabulous night out and one not to be missed.
The 'In the Name of the Father' film cast and crew are holding a Girls Night Out in St. Faithleach's clubhouse. It promises to a night for the ages such is the marvellous line-up of events and prizes.
All tickets bought will be entered into the draw for the fabulous prize of Center Parcs – Twilight Spa for 2.
Tickets are available in O'Brien's Corner Shop or from Susan Donlon: (087) 9807945, Caroline Farrell: (087) 6259092 or Michelle Shea: (086) 8703154.
This is the perfect post work pick me up to share with a friend – relax, unwind and recharge together in 21 different spa experiences.
Included in your Twilight Spa for 2:
Access to our Spa from 5:30pm – 9:00pm
Glass of bubbly each on arrival
Complimentary towel and robe hire
This is a fundraising event to help finance the OsKars film 'In the Name of the Father'.
Sinead McHale will be your MC and take you through the night.
As part of Health and Wellbeing
Audrey Sorohan will walk through the essential steps in skin care.
Michelle Kelly will create a daytime makeup look.
Sharon Rooney will show us how to transition into a glamorous night time glow.
Karen Johnston will introduce homeopathy, a form of complementary medicine.
Part of the entertainment will be
Time to get your groove on with an evening of music promising to bring the night to life.
Many amazing spot prizes. Spa Vouchers, Pamper Hampers and more.
Check out the photo station on the night. Sinead Hogan will be poised with her camera to capture those magic moments. You can leave your contact details and we can send on your photo.
Upon arrival you will be greeted with a complimentary glass of prosecco and nibbles.
Hot Snacks will also be served.
Tickets are priced at €25 each that includes you for the draw Center Parcs – Twilight Spa for 2
This is the perfect post work pick me up to share with a friend – relax, unwind and recharge together in 21 different spa experiences.
There will also be a raffle on the night where the Spot Prizes include
Homeopathy Starter Kit, Pamper Hampers and Beauty vouchers
School Clothing Collection
Ballagh National School is holding a clothing collection on Wednesday 27th September. All funds raised will go directly to the school. If you have any unwanted clothing, footwear, belts, handbags, hats, linens and household textiles, please put them in bags and bring them to the school. All donations will be greatly appreciated.
Tidy Town's Lotto stands at €15,000
The Lanesboro Tidy Towns Lottery for Tuesday 19th September stands at €15,000. There is a wonderful opportunity to win a large amount of money for just €2 each envelope or 3 envelopes for €5.
The numbers drawn on Tuesday 12th September for a jackpot of €15.000 were 16, 17, 24 and 30. There was no winner of the jackpot. The winner of the €50 prize was Maura Quinn, Shannon Heights, Ballyleague and the three €20 winners were Francis & John c/o FÁS, Mary Connaughton, Knock and Sarah Hopkins c/o Mags.
The Lanesboro Tidy Towns committee would like to thank you for your continued generosity and this support is ensuring that Lanesboro continues to look beautiful.
St. Faithleach's Coffee Morning
St Faithleach's GAA club are hosting a coffee morning in aid of Hospice in their Clubhouse on Saturday next 23rd September from 10.00am to 1.00pm. Come along and enjoy a coffee and a chat and support this worthy cause.
Go Pink in October
The Mater Hospital Foundation is calling on companies, individuals and communities to take part in its new Go Pink campaign to help raise vital funds for breast cancer care in the Mater Public Hospital.
Taking place on 18th October, Go Pink is a new fundraising campaign that will support patients with breast cancer by investing funds where they are needed most in the hospital.
To coincide with Breast Cancer Awareness Month this October, the Foundation is calling on people across the country to get on board by hosting their own Pink Party. Getting involved couldn't be easier. You can hold your event on 18th October or whatever date works best for you.
Simply register on the website www.materfoundation.ie/gopink or by getting in contact with the Mater Hospital Foundation directly and you will receive your free pink specs to bring even more razzle dazzle to your go Pink event.
Your party can be as simple or elaborate as you like, and the funds you raise will be put to work to support women and men with breast cancer from all across Ireland. Your colleagues and friends will be tickled pink to take part, knowing that they will be having a positive impact on the lives of so many Mater Hospital patients.
Access for All boat
The Access for All boat is for everybody. The boat can cater for three large wheelchairs but you don't have to be a wheelchair user to avail of the excellent trips. Guided fishing excursions can also be organised. Advanced booking is recommended. You can contact by email www.loughreeboattrips.com or phone 089 2625505 or 043 33 84175.
The summer sailings are 10am, 12 noon and 2.30pm.
Alzheimer's Memory Walk 2023
Alzheimer's Memory Walk takes place on Sunday next, 24th September. It's a family-friendlyevent suitable for all ages and walking abilities to unite friends, families and communities to raise awareness and funds for dementia supports.
Approximately 64,000 people in the country live with Dementia and as we now the diagnosis of Dementia to a family member also affects the entire family. The Alzheimer's Society of Ireland is hoping that 3,000 walkers from all across Ireland will join them and help raise funds for vital services that support so many people living with dementia and those who care for them. These services include Daycare, Daycare at Home, Family Carer Training, Social Clubs, Cafés, and a National Helpline.
You are invited to register online at www.alzheimer.ie or you can phone 01-2073833
The Longford Walk will take place at the Mall Walking Trail at 3pm. The distance is 5Km and the meeting place is the Mall car park.
The Roscommon walk will take place at the Demesne, Castlerea starting at 2pm and the meeting place is the Friary Gates, near ASI Day Care Centre Longford, Castlerea.
Championship Quarter Final
Sunday last Rathcline travelled to Parse Park to take on Dromard for a place in the Longford senior championship semi-final. Dromard was the huge obstacle that faced them. Unfortunately, the obstacle was too great to surmount and Rathcline went out at this stage. We must compliment the team and management for the development and excitement they brought to the parish. As this was the last game of the season that they winter well and come back chomping at the bit for greater success next year.
Mid-Roscommon's Vintage display attracts a lot of interest
At Strokestown Agricultural and Industrial show last Sunday there was huge interest in the Mid-Roscommon Vintage spectacle. Shortly before mid-day the demonstration got underway, when Billy Stewart from Killashee, began crushing stone with his one hundred year-old crusher. The crusher was belt-driven from a 1945 model Fordson tractor. The noise of the machine soon had crowds converging at the scene to witness how crushed stone was manufactured in the early days. The exhibition continued intermittently through the day until a full load of stone was reduced to rubble.
Kevin Foley, Newtownforbes and Robert Kenny, Ballinlough had three stationary engines present at the display; one of the engines, a huge machine run on paraffin, was manufactured in 1904. Another of the engines had a historical link it being the power source that supplied electricity to the town of Dungarvan Co Tipperary in the 1930s and powered the cinema there that showed the first talkie film in Ireland. All engines were running through the day. The vintage display included an array of tractors implements and cars from a bygone era, each looking resplendent on the day. The stone-crushing and engine display was a treat to watch and attracted the interest of young and old at the show.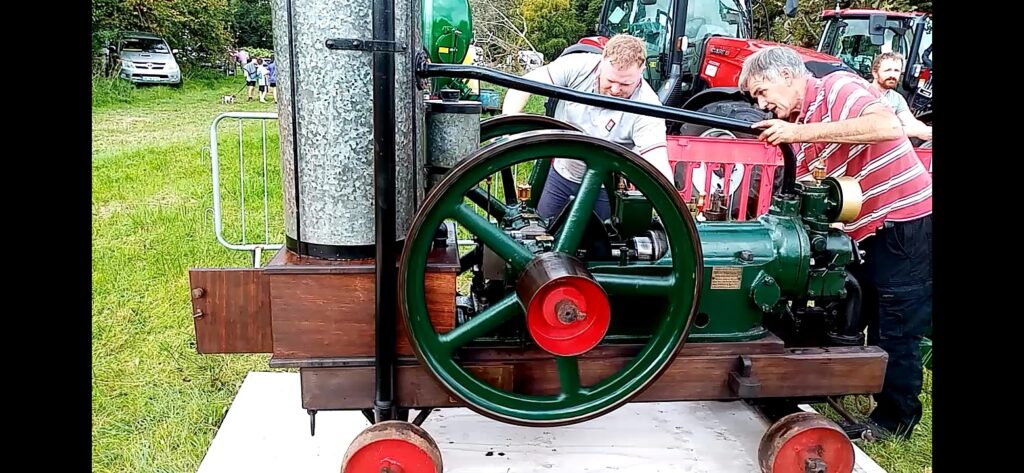 Rathcline 50/50
On Monday 11th September the Rathcline GAA 50/50 weekly draw took place in Clarke's Bar. After another very successful week of selling we have seen the winning pool again topping the €600 mark to reach an excellent total of €616. The winning envelope drawn out was in the name of Séan McGrath. Well done Séan on your great win.
As always, the winning cheques can always be collected in O'Brien's.
The Rathcline 50/50 draw takes place every Monday night at 7.30pm. Your continued generous support is greatly appreciated and it is highlighted by the large pool each week.
Lough Ree Athletic Club
Training will continue on Tuesday evening at the track, starting at 6pm
Eucharistic Healing Day
On Saturday next 23rd September there will be a Eucharistic Healing Day at St. Mel's Cathedral from 3pm to 8.30pm.
The day will include Prayer and Reflection, Spiritual Talk: Mother Adela Galindo, Veneration of relic, Worship Music, Holy Mass with Bishop Paul Connell, and a Eucharistic Healing Cenacle and Confessions.
There will also be a special visitation of St. John Paul ІІ's relic.
Weekly Card Game
The weekly card game in St. Mary's Parish Hall takes place every Sunday night and light refreshments are always served. On Sunday night last the results were 1st Kathleen & Annie. Joint 2nd were Joe & Brendan and Tom & Tommy. Last game winners were Barney & Eugene. Raffle winners were Frank, Tom Rooney, Sean Parker and Pat Joe Fallon.
Bridge Lessons
Lessons for newcomers to bridge will commence at 7.30pm on Thursday 28th September 2023 at the Bridge Centre, Connolly Barracks, Longford. Intending participants may attend as a partnership of two persons or as individuals. Turn left inside the main gate and proceed to the Centre car park on the right. To register your interest and for further information please call Ray at 086 2649604 or you may attend on the evening.
Co. Longford Citizens Advice Centre
Co. Longford Citizens Information Service has recently been restructured and is currently under new management.
They continue to provide free, impartial, and confidential information, advice, and advocacy services to the public on social services, rights, and entitlements. The range of areas covered by the citizens information centre are extremely wide including social welfare rights and entitlements and other social issues such as employment, health services, housing, education, family matters and consumer rights, all where people need access to information.
The way people access the services changed during Covid and now they currently deal with a large number of queries over the telephone, however, they continue to provide our drop-in times and welcome people to their face-to-face service five mornings a week from the Longford office. The services are provided by experienced trained Information Officers who are here to help
The centre is located on level 1 within Longford Shopping Centre and direction can be obtained at the reception desk from Monday to Friday from 9.30am until 5.00pm. The office closes for lunch from 1pm until 2pm.
The Employability Service
is an Employment and Recruitment Service to assist people with a disability or health issue to pursue and maintain employment in the open labour market. If you are over 18, have a disability or health issue and would consider working part-time then you should contact Employment Services Roscommon support to help find you a job in your area. This is a confidential and free individualised service funded by the Department of Social Protection.
Are you managing mental health issues? There is the opportunity for Individual Placement and Support (IPS) that is funded by the HSE and offers a range of tailored personalised supports to people using mental health services who wish to work. For further information you should phone 090 66 28608 or call/text 087 3745307. They can also be contacted via email at info@rosemp.ie
Local notes inclusion
Anybody that wants items included in the local notes is advised that they have their note with me on a Sunday night at the very latest. This is to ensure inclusion in the coming weeks notes.
Line Dancing
Line Dancing classes take place every Friday morning 11am at the Quad Centre Roscommon Town.
Line Dancing classes every Sunday at the Quad Centre Roscommon Town for beginners from 6pm to 7pm and Improvers from 7pm to 8pm
Dance classes takes place in Kilbride, Four Mile House every Tuesday 7pm followed by:
Jive & Waltz classes 8 45pm.
Ballyboro FC
The Ballyboro u16 girls were in fine fettle as they took on Kenagh in their first game of the season in the Connaught Cup on Sunday. The home team got off to a great start with a fantastic opening goal from Sarah Healy. Kenagh kept the Ballyboro girls on their toes but excellent defence in the first half prevented the Kenagh girls from scoring. In the closing minute of the first half, Sarah Healy secured another fantastic goal. Kenagh made several attempts to score in the 2nd half but Mariana Donlon Goncalves drove another ball into the net early on. Kenagh did not give up and managed to secure two goals in the closing stages of the game. Final Score 3-2 to Ballyboro. A special mention to the four new team members for Ballyboro, Keira Hopkins, Sarah Skelly, Mattea Cox and Maria Forde, all who contributed positively in their match debut. Ballyboro: Mattea Cox, Leah Kenny, Anna Cox, Emma Dowd, Mariana Donlon Goncalves, Emma Feeney, Kate Malone, Sarah Skelly, Sophie Byrne, Maria Forde & Sarah Healy. Subs: Clodagh Martin, Kiera Hopkins, Sophie Cox, Kate Ferguson, Amy Burke, Evie Malone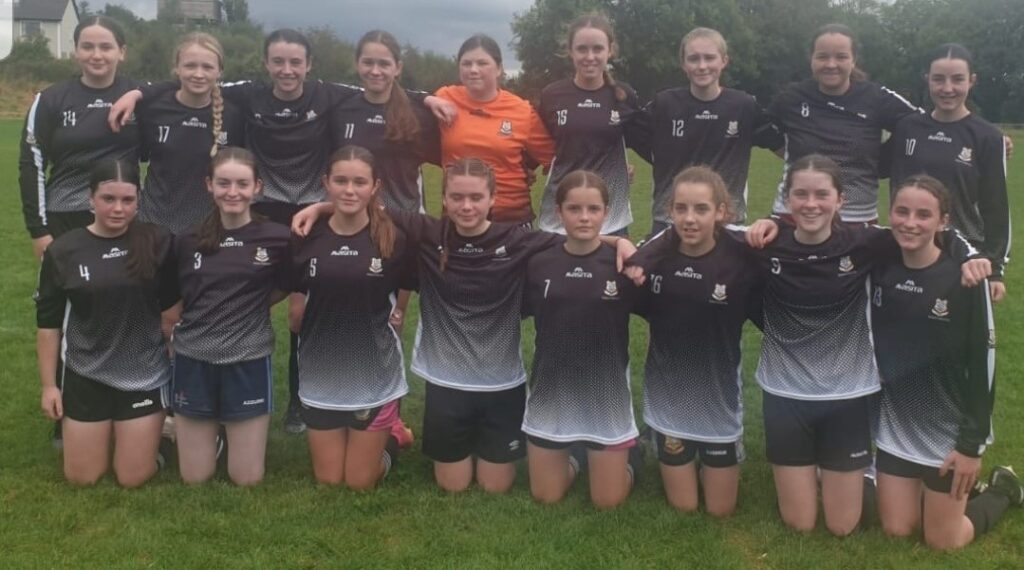 The Ballyboro u12 boys were extremely unlucky on Friday evening in the Connacht Cup away to Swinford. A cagey first half saw the teams go in scoreless at half time. Swinford got the game's first goal early in the 2nd half and then piled on the pressure with Matthew Murphy making some fantastic saves. Finn Fallon on his under 12 debut scored a fantastic glancing header to even the score 5mins before full time. Unfortunately Swinford broke on the counter attack and scored immediately after the restart to make it 2-1 and saw out the game from there. This was a battling performance from our boys with Finn Fallon, David Kenny and Matthew Murphy outstanding on the day.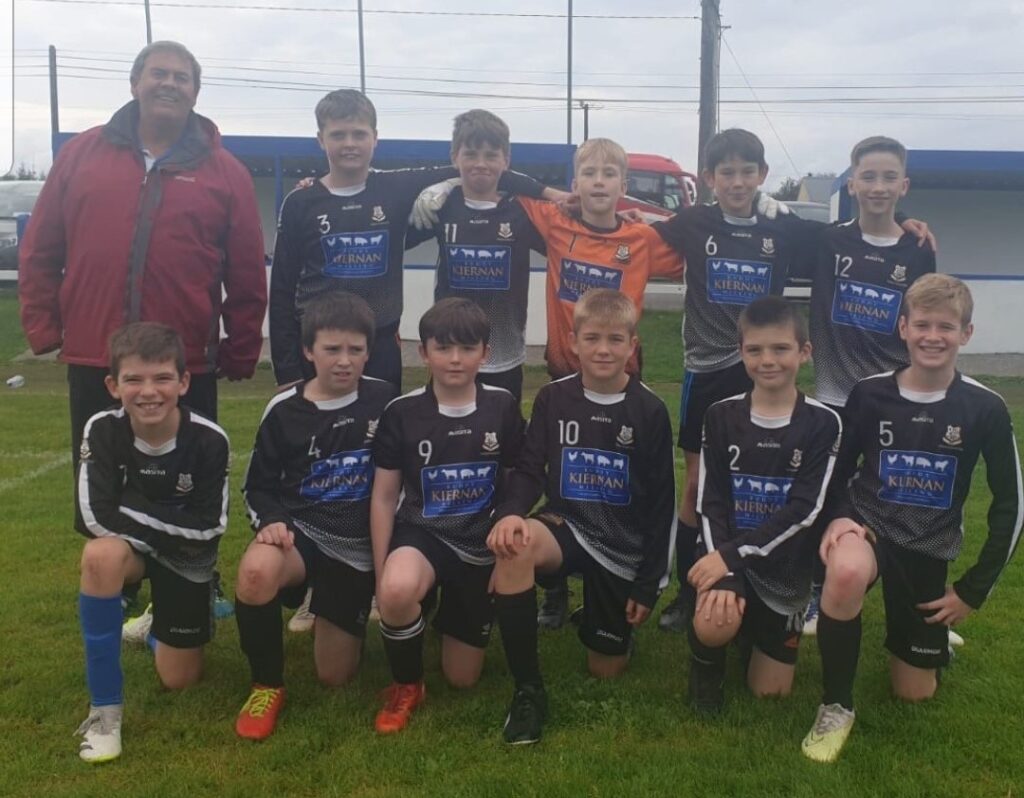 The Ballyboro under 16s Boys we're defeated by Coolaney FC in a first round Connacht Cup encounter. The Ballyboro lads had much the better of the first half exchanged and led 3-2 at the interval courtesy of goals from Rian Hogan, Nicolas Haluska, and Billy Murray (penalty) Ballyboro should have been further in front as a number of gilt edged scoring opportunities were missed and two efforts hit the post. Coolaney edged the second half and 3 more goals secured a win for the Sligo boys though the winning margin certainly flattered them. Ballyboro will now contest the Connacht Shield where they should acquit themselves very well. Ballyboro: Eoin Beattie, Taras Kostur. Leon Malkowski, Mikie Sorohan, Harry Brogan, Cody Phelan, Billy Murray, Jared Mulvey, Nicolas Haluska, Dan Casey, Rian Hogan. Subs: Sean Collins, Ciaran McGloin, Eoin Connell, Eoghan Mullooly, Jake Rice, Sean O'Dowd.
Alcohol Anon Meetings
Relatives and friends of those addicted to alcohol are welcome to attend meetings in the Family Centre at the back of St. Mel's Cathedral. The meetings take place every Tuesday evening at 7pm.
Ballyleague Bingo
Ballyleague Bingo continues in Ballyleague Hall every Thursday night. The first numbers will be called at 8.30pm.
The club is extremely grateful for your continued tremendous support.
ALONE
ALONE is a national organisation that enables older people to age at home.
Our work is for all older people and aims to improve physical, emotional and mental wellbeing. We have a National network of staff and volunteers who provide an integrated system of Support Coordination, Practical Supports, Befriending, a variety of Phone Services, Social Prescribing, Housing with Support and Assistive Technology.
We use individualised support plans, to address health, financial benefits and supports, social care, housing, transport and other arising needs using technology and through harnessing other services.
We work to empower the whole sector of community support for older people through our Community Impact Network that provides Training, IT support and resources to other organisations.
Support line for older people
ALONE manage a national support line and additional support for older people who have concerns or are facing difficulties relating to Covid-19. Professional staff is available to answer queries and give advice and reassurance where necessary. The support line is open seven days a week from 8am until 8pm. Text TALK to 50808 to begin.
Alcohol Anon Meetings
Relatives and friends of alcoholics are welcome to attend meetings in the Family Centre building at the back of St. Mel's Cathedral on St. Mel's Road, any Tuesday evening at 7pm.
Local Health Service
The health service is here for us all, from routine to urgent calls. HSELive is here 7 days a week to answer questions. Freephone 1800 700700.
Roscommon University Hospital Injury Unit is available from 8am to 8pm seven days, a week and the contact number is 09066 32212.
Emergency Department deals with serious injuries and life-threatening emergencies if you need urgent medical help. They are open 24 hours a day and can be contacted by phoning 999 or 112.
Smart Recovery
SMART recovery is an evidence based addiction recovery support group where participants learn self-empowering techniques to aid their recovery by overcoming addictive behaviour.
There is a meeting every Friday evening from 7pm to 8.30pm in Vita House, Roscommon. For information you should phone Conor 086 1702912 or info@smartrecovery.ie
GROW
Grow is a Community Mental Health Movement which meets every Monday at 11am in the Community Mental Health Centre, Dublin Rd., Longford. If you are feeling lonely, isolated or suffering from stress, please feel free to attend. You can call Assumpta for any further information on 086 8114135.
St. Mary's Church
Eucharist: If you would like to receive Holy Communion call from a Minister of the Eucharist you are invited to let Maireád in the parish office know. Call in or phone 3321166.
Longford Citizen Information: The centre is located on level 1 within Longford Shopping Centre and it provides free, impartial and confidential information, advice and advocacy services, rights and entitlements. Information at the reception desk from Monday to Friday from 9.30am until 5.00pm. The office closes for lunch from 1pm until 2pm. There is a free information booklet available and you can pick it up at the office.
Alcohol Anon Meeting: Relatives and friends of those addicted to alcoholare welcome to attend this meeting in the Family Centre at the back of St. Mel's Cathedral on any Tuesday evenings at 7pm
Communion for Coeliacs: Gluten free hosts are available for all those who need them. Just make it known to the priest that you wish to receive a gluten free host at Holy Communion.
The Parish Hub: Maireád, the Parish Secretary is in her office on Tuesday to Thursday, 10.30am to 2.30pm. She can be contacted on the phone at 3321166. She will help you with any questions or booking related matters.
Speak with a Priest: if you wish to talk with any of the priests you can call into the sacristy after any Mass.
Talk to the Samaritans: Are you struggling to cope with life? Do you think it would help to talk about your problem in confidence? It does not matter who you are, how you feel or what happened to you. If things are getting you down you can turn to the Samaritans for help. The Samaritans are available on Freephone 116123, 24 hours a day and 365 days a year.
Alone Volunteers: Would you be willing to provide companionship or make calls to older people once a week? Alone is seeking volunteers in the area. Full training and support will be provided. If you are interest you are asked to sign up at the following address https://alone.ie/volunteers.
For more information you are invited to contact Helena at Helena.madden@alone.ie or phone 086 0145 829
Parish contacts
Fr. Merlyn Kenny, Newtowncashel 0860603433 and Fr. Turlough Baxter, Killashee 0879972259 who as you know are assisting in our parish.
Kilgefin Parish
Parish Contact:
You can contact Fr Dan at 089 2706060
Ballagh National School: The school is holding a clothing collection on Wednesday 27th September. All funds raised will go directly to the school. If you have any unwanted clothing, footwear, belts, handbags, hats, linens and household textiles, please put them in bags and bring them to the school. All donations will be greatly appreciated.
Altar Society: As some groups are no longer able to do the altar at Ballyleague church there is an urgent need for volunteers to join the society rota. You would be part of a group of 3 and would be on duty on a rota basis that comes around every 7 weeks. If you are interested please phone 086 8896969.
St. Faithleach's Coffee Morning:
St Faithleach's GAA club are hosting a coffee morning in aid of Hospice in their Clubhouse on Saturday 23rd September from 10.00am to 1.00pm. Come along and enjoy a coffee and a chat and support this worthy cause.
Station Masses: The autumn stations will commence very soon. If you would like to have your area station mass in your home you are asked to contact Fr. Daniel as soon as possible.
Audio needs replacing: The amplifier and speakers in Ballyleague church are no longer in working order and they are in need of replacing. If anyone would like to make a donation towards the cost of replacements you are asked to contact Fr. Daniel. Any amount would be very welcome.
Apostolic Work: Apostolic work is celebrating 100 years this year. Elphin Diocesan Apostolic work are planting a tree at Knock on this Saturday 16th at 11.30am with Mass celebrated by the Papal Nuncio in the Basilica at 12 noon to celebrate the occasion. There will be soup, tea and sandwiches afterwards in St. John's at a cost of €10. If you are attending please contact Mary Lee merlee4525@gmail.com 087 1353780 or Margaret Haughey magthaughey@gmail.com 087 2072400
St. Faithleach's GAA
Annual Lottery
It's now time for annual lottery subscriptions to be renewed. Please contact any committee member to do so. Thank you for your continued support.
Junior Ladies
Well done to our Junior ladies who had a fantastic victory this morning. There was some great football played and it was a well-earned win. The win earned the ladies a semi-final place in 2 weeks' time. The date, time and opponent are to be announced in due course. The final Score St. Faithleachs 3-08 St. Mary's 1-12. Well done team and management.
Coffee Morning
St Faithleach's GAA club are hosting a Hospice coffee Morning in their Clubhouse on
Saturday 23rd September from 10.00 am – 1.00pm
Come along enjoy a coffee and chat and support this worthy cause. All welcome
Junior Men
Our Junior men lost out to St. Brigid's on Sunday afternoon in the Championship.
Lotto
There was no jackpot winner this week. Jackpot now stands at €4700. The three €40 winners were Eamon Bolger, Pearse Hardiman and Elliot Fallon. The numbers drawn were 3, 6, 17 and 20. The next draw is on 19th September. Envelopes are available at all local outlets. Thanks for your continued support.
U12 Girls
Championship Final fixed for next Saturday September 23rd against St. Ciaran's. Throw in in Ballyleague at 1pm. Best of luck to team and management. Please support.
Clubhouse
The Clubhouse is open every Saturday night from 19:00. The clubhouse is available for private party bookings. Please contact any committee member to book.