Lanesboro Ballyleague Notes
From Lanesboro to Lanesboro
A young couple celebrating their marriage by touring Ireland on their honeymoon. Mariah and Eric Boyum from Lanesboro, Minnesota made Lanesboro as an integral part of their tour. They called into the Lough Ree Distillery where the history and future plans of Lough Ree Distillery were outlined. As far as we know Mariah and Eric are the first from Lanesboro to visit the distillery and we hope that once the restrictions are fully lifted, we will be welcoming many more from our namesake towns of Lanesboro Minnesota and Lanesborough, Massachusetts.
We wish Mariah and Eric much health and happiness in their life ahead.
See attachment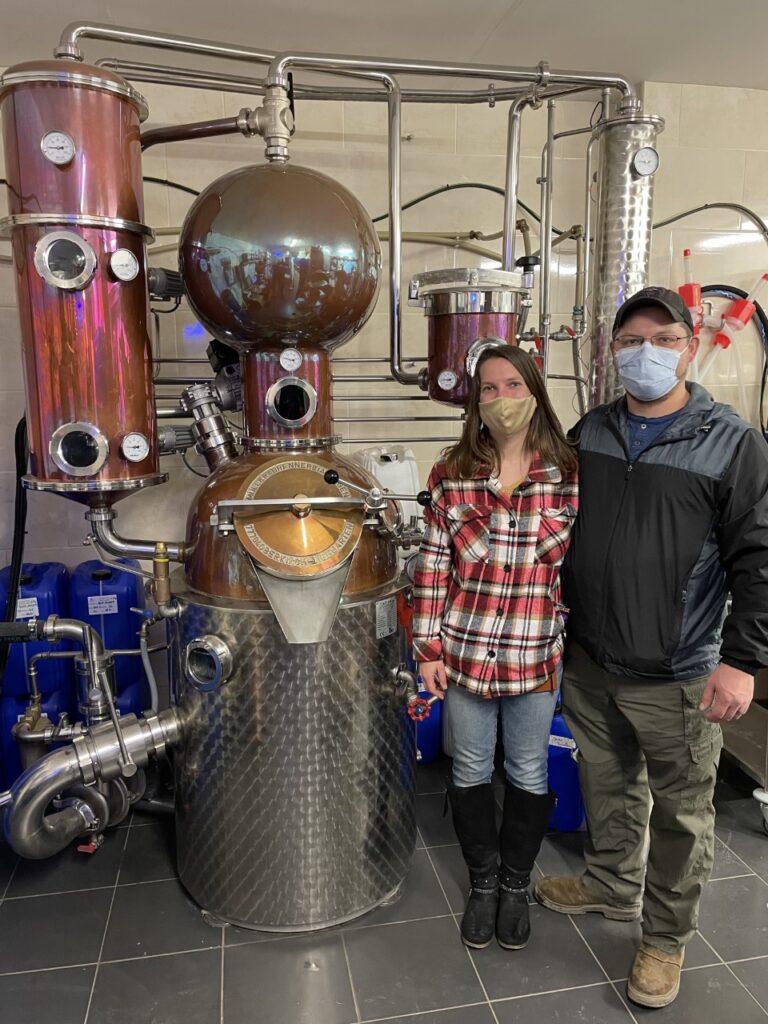 Christmas and New Year Greetings
To all the readers of the Lanesboro and Ballyleague notes I would like to wish you the happiest of Christmases and a very special 2022. As it was in 2020 this year was very tough on everyone with the continuation of the Corona Virus and the different strains that emerged along with it. I would like to think that everyone that suffered because of it has regained full health. Hopefully the coming year will see an easing of the restrictions and we can all return to leading normal lives.
To everyone that suffered bereavements during the year, my heart goes out to you and may the memories of your deceased create smiles and ease your pain. To everyone in that is ill or in hospital I wish you a speedy recovery back to full health. To all that commented and supported the notes with their comments in person or via email I thank you and the notes can become more comprehensive by your comments. For all those that cannot make it back home for one reason or another we hope you can enjoy your Christmas and we look forward to welcoming you back into the bosom of the community very soon.
I know that there are fleeting readers of the notes in our namesake towns in the USA namely Lanesboro, Minnesota and Lanesborough, Massachusetts we wish you a very Happy Christmas and wonderful 2022.
Finally, to everyone that calls the Lanesboro and Ballyleague community and our parishes home and are now far from their old family home we hope that we will see a great number of you visiting in the coming year.
Engagement
Many congratulations to PJ O'Neill, son of Mary and the late Sean O'Neill, Knock and Anta Stepanenko, Rathcline Road, on the announcement of their engagement at the weekend.
Sympathy
It was with great shock we learned on Sunday last of the death of Michael Hester formerly of Knock at Tallaght Hospital on Friday 17th December. Michael, second youngest of the Hester family was son of John and the late Mary Hester. We would like to extend our deepest sympathy to his sister Sylvia, brothers Ian, Eugene and Edmund, his beloved partner Rosie, daughters Jenny, Sylvia, Sabrina and Lorna, relatives and friends.
Christmas Lights Support
If anyone would like to contribute towards the excellent lights, they can do so in Ballyleague to Noel Moran, Gerry Trimble or John Loughlin or through donation boxes located in Inver Filing station, Credit Union and Keane's Supervalu or in Lanesboro to Mark Casey, Margaret Gillen, Brigid Mullooly or leave your envelope into O'Brien's for collection.
Christmas Day Run
With all the Covid restrictions again this year the annual Christmas Day Newtowncashel to Lanesboro Run will for the second year in a row take a different format. Runners and walkers are asked to uphold the tradition and the major fundraiser for the Longford Branch of Multiple Sclerosis by carrying out the walk/run of 11.5km in their favourite place for exercising. You are encouraged to get as many to accompany you on the run/walk. It is very important that you subscribe and encourage your family and friends to donate towards Longford branch of MS. You can gather the money together and leave it in an envelope with, in Lanesboro Jimmy or Brigid Flood or in O'Brien's shop, in Newtowncashel the Flood family or in Ballymahon Peter Hanley Motors.
It would be a shame to let a tradition die and as many as possible are encouraged to get out and make the effort in your own time to complete the 11.5km.
Christmas Shoe Boxes
The final delivery of the Shoe Box appeal presents was delivered by Eilish Dillon last week. Eilish delivered the last of the kids presents to the Family Resource Centre Roscommon last week. Shannon and Sarah were delighted to receive them and they said they would be distributed in the coming days making Christmas special for those kids. Thanks to Eilish and all the donators for doing this and putting a smile on kids' faces this coming Christmas morning.
I know I have said it many times about your generosity, but I can assure you that since last September your generosity has been truly incredible. You have made the past few months incredible for the homeless and those sleeping rough. The Shoe Box appeal took on a life of its own and again your generosity was frankly unbelievable. The collusion of Eilish Dillon and Brendan O'Halloran to highlight the need for support for the Grafton Street Kitchens and the needy sleeping rough and the homeless proved to be remarkable.
I congratulate Brendan and Eilish and all of you for your amazing past four months. You are all a very special people and deserve all the good fortune in this world. Thank you once again.
St. John's Community
The arrangements for Christmas at St. John's Church are Carol Service on Christmas Eve at 7.30pm and on St Stephen's Day Holy Communion Service at 11.30am.
Final Date Fixed
At the weekend the date of Saturday two weeks 8th January was set for the Connaught Intermediate Club Final between St. Faithleach's and Cumann Peile Naomh Anna, Leitir Móir. The final will take place in Pearse Stadium Galway where it will have a 1.30pm throw in time. Tickets will be an online purchase and details will follow.
Extra Lighting
Congratulations to Lough Ree Sub Aqua Club members Francis Casey and Michael Farrell along with chairman of the Lanesboro Lighting committee Mark Casey on getting the Christmas boat and swan lit up for the Christmas. It really looks great and enhances our area over Christmas.
Lanesboro Fire Service
Lanesboro Fire Service are actively seeking two people male or female to join the local team. A person interested in such a post should be in a position to operate in a roster that guarantees their availability when on call and they should live and work within a 5-minute response time of the Fire Station. The position is open to all people within or community, Killashee or Cashel that can meet all the requirements.
Joining Lanesboro Fire Service as part of Longford Fire Service as a Retained Firefighter, applicants must be aged 18 years and over, meet the required health and physical fitness standards, have a good standard of vision and colour perception and preferably have a category B, full, clean driving license.
Applications should be made to The Chief Fire Officer, Longford Fire Station, Templemichael, Longford N39 FW96 or email firestation@longfordcoco.ie
LCC Enrolment closes in two weeks
All applications to the First Year Group in Lanesboro Community College are now being accepted.
https://lanesborocc.com/ please visit our school website and home page for relevant links. Please do not hesitate to contact the college for any further information or if you wish to make an appointment
Enrolment for first year students for the 2022/23 school year is now open and will close on 14th January 2022.
Application forms and further information can be got by contacting the school secretary at https://lanesborocc.com/or by phoning 043 33 21139.
Writer In Residence
Congratulations to Luke Casserley son of Con and Yvonne Casserley, Clonfower who will spend the next nine months developing new work in residence at The Mick Lally Theatre, Galway as one of the selected FUEL artists for 2022. FUEL assists artists in the development of new work over a nine-month programme.
Luke is quite a successful theatre artist and director. His burgeoning and unique vision sees the stretching out of new conservations around the environment through non-conventional theatre forms.
Luke is currently a Resident Artist at Dublin Fringe Festival's FringeLAB and Associate Director of Pan Pan Theatre Company,
Meals on Wheels
With no Church Gate collection this year your support is asked for the Co. Longford Meals on Wheels collection. As you know support for Meals on Wheels is very vital for our community where many people avail of this fabulous service every week. Traditionally it is held in the days leading up to Christmas and your generosity is normally excellent in support of this hardworking group. There is a collection point in O'Brien's shop and we would urge your fullest support. Thank you in advance.
Books for Christmas
There is a tremendous array of books available for the Christmas with most written by local authors and the others having a local interest. A number of Jack Harte's books have recently arrived on the bookshelves including In the Wake of the Bagger and Jack's latest book Laughing Boy that was adapted into a play are now on sale. The recent and very popular publication of poetry Ghost Homeland by Colin Carberry has been restocked. Sliabh Bán, out a few years now, written by Henry Owens, this book continues to sell in big numbers and it remains very popular. The annual Longford Historical publication is once again proving very popular. The recently published Longford Republican History 1900 – 2000 is a huge book with lots of local references and a book for any house. The recently published Dukie – The Game of Life by local journalist Seamus Duke covers his life spanning a number of decades, the book covers Seamus' long and distinguished career in media in the midlands and west and features over 30 interviews with figures from the world of politics, sport, and local communities. The Swinging Sixties is a recent publication by prolific writer Paddy Egan from Kenagh. This book will take you back in time and relive the memories of what was one of the greatest eras since the beginning of time. Two other very popular books over the past year are again back in stock and would make great Christmas reading or as a Christmas present Light Reading for Short Journeys and In my Mind's Eye.
Windsong Music
The hugely popular Windsong Music is now enrolling for a new term and lessons are available for all levels in singing, piano, violin, cello and harp. Phone Edel Loftus 087 3649005 or 089 4974865 or you can email Edel at windsongmusiclessons@gmail.com
St. Vincent de Paul
Every year the Longford Branch of the Society of St. Vincent de Paul make an appeal for support to help. So many people find Christmas a harrowing time due to their situation of not been able to provide for themselves or their family members. The Longford branch of St. Vincent de Paul through your generosity really comes into its own and helps so many people within our communities that are really in need. This great support cannot happen without your tremendous generosity, each year your donations are truly tremendous.
This year again the dedicated members of St. Vincent de Paul are again calling on your generosity. Donation envelopes can be picked up in O'Brien's or in the church. The envelopes can be left into Fr. Sergiy at the parochial house or into O'Brien's.
Do you know that your contributions can help provide food for a family that is struggling; help an elderly person stay warm this winter; help a young family with education costs like books and uniforms.
Christmas Day Swim
The annual Christmas Day swim organised by the Lough Ree Sub Aqua Club will not go ahead this year due to the Corona Virus restrictions.
The ORCAS who swim daily all year round will as usual be going for their daily swim.
Rathcline's Annual Draw
Tickets for the annual Rathcline GAA Christmas/New Year draw are once again proving to be very popular. Don't miss your chance to be in for a chance or to gift a family member the chance to win the first prize of €3,000. The draw will take place in Adie's bar on Saturday night 15th January. Tickets are again priced at €20 and available from club members and usual local outlets.
First prize is €3,000, 2nd prize €1,000, 3rd prize 2 tickets for the eagerly awaited concert in Croke Park of Ed Sheeran on Sunday 24th April 2022, 4th prize €250, 5th prize €250.
About the Defibrillator
A defibrillator is a device that gives a high energy electric shock to the heart of someone who is in cardiac arrest. This high energy shock is called defibrillation, and it's an essential part in trying to save the life of someone who's in cardiac arrest.
We can always remember the clash of two players in Clonbonny and the consequences of the Rathcline club having a defibrillator installed. The instalment of the defibrillator would have been useless unless there was someone in place adept in the knowledge of how to use it. That day there were a number available to help and aid the stricken player. Thankfully all ended well
Due to the Covid restrictions the training and refresher courses had to be deferred. If you are willing to partake in the training, you are asked to leave your name and phone number with Martina O'Brien in the shop or ring Martina at 086 3858934 or email martinaclyne1@gmail.com
Ballyboro FC
Ballyboro Football Club extends Season's Greeting to all its players, officials and supporters. Here's hoping that all will have a Peaceful and Happy Christmas. Thanks all who helped the club in whatever capacity over the past year. It is much appreciated.
The club fielded a total of 14 teams over the course of the year and a number of notable firsts were recorded. Christian Donlon Goncalves became the first Ballyboro player to be capped for Ireland when he made his debut at 13 years of age, on the Irish under 15 team when they played Montenegro in two international games. A great honour for Christian and his family. The Longford League girls under 13 team made history when they won the Gaynor Cup Bowl for the first time defeating the Cork League in the Final. The club were well represented with three players in the squad, Mariana Donlon Goncalves, Emma Feeney, and Sarah Healy,
Competitive playing activity takes a break over the Christmas period and will resume early in the New Year.
The coming year promises to be another eventful one for the club with some exciting projects in the pipeline.
Lanesboro Primary Enrolment
Enrolment of children for Lanesboro Primary School is now being accepted for September 2022. You are asked to email the school at smgslb2022@gmail.com for an enrolment form. Alternatively, you can ring the school Principal Claire Murphy at 043 33 21545.
Tidy Towns Lottery
The weekly Lanesboro Tidy Towns lottery draw took place in the Tourism Office on Tuesday 14th December for a jackpot of €6,100. The numbers drawn for this week were 10, 11, 12 and 18. There was no winner of the jackpot and the jackpot for Tuesday 21st December rose to €6,200.
The winner of the €50 consolation draw was won by Fiona and Niamh Toolan, and the three €20 prizes went to Molly, Lucy and Emma, c/o The Yacht Bar, Jean Fallon, and Karen Donlon c/o Mags.
Rathcline 50/50
The Rathcline club's 50/50 draw took place on Tuesday night 14th December in the Yacht Bar. Winning the 50/50 for the second consecutive week was Bernie McKenna, Barnacor who was again the lucky winner of the draw and Bernie received €107. The draw on Monday night 20th December is taking place in Clarke's Bar. The club would like to thank everyone for their continued support.
Tickets are available online https://member.clubspot.app/club/rathcline-gaa/fundraiser/tickets or in any of the local shops and the club would encourage your support.
Lanesboro Library
Tel: 0433321291 Email: lanesborolibrary@longfordcoco.ie
The Knitting and Crochet Group meet every Tuesday from 2-4pm. All welcome to come along for a chat and join in this vibrant group.
Poetry and Music Hour meet again on Thursday 23rd December 3-4.30pm. All welcome to come along and hear some wonderful poetry and music.
Christmas Closing
Library will close at 5pm on Thursday 23rd December and reopen on Tuesday 5th January 2022 at 2pm.
All our Online Services can be accessed by visiting www.longfordlibrary.ie
Merry Christmas and Happy New Year to all our patrons!
Foreign Currency & Used Stamps
The library is still collecting unwanted foreign currency and old coins/notes in aid of Koins for Kids. The smallest donation can make a huge difference.
They also collect used stamps in aid of ISPCC. Thank you.
All the Online Services can be accessed on the website below by selecting 'Your Online Library'. www.longfordlibrary.ie
Use your library card number and pin to log in to your account.
St. Mary's Church
Christmas Mass Schedule
Masses will take place on Friday 24th December, Christmas Eve, at 5.00, 6.30 and 9.00pm.
Christmas Day Masses will be at 9.30am and 11.30am.
Masses on Sunday 26th, St. Stephen's Day, will take place at 9.30am and 11.30am.
Thank you
You are sincerely thanked for continuing to keep the offertory collection as such a high level throughout all the restrictions. Your continuous generosity means everything to the upkeep of the parish church.
New offertory collection boxes can be collected from the table at the back of the church. There are just a few boxes left for picking up.
Mass attendances
The numbers that can attend Mass in St. Mary's Church is now set at 120. Feel free to return to a mass of your choice. Please avail of the sanitising stations in and around the church and please ensure you wear your mask.
Weekend Masses
On Saturday evening next Mass at 7.30pm those from Fermoyle, Green Gardens, Gurteengar, Killinure and Knock Manor.
At 9.30am Mass on Sunday it will be turn of Knock, Lehery and Lismacmanus.
The 11.30am Mass will see parishioners from Lisduff, Lisnacusha, Lisrevagh, Mahoraveen, Main Street and Mount Davis.
Eucharistic Adoration on Tuesdays in the church from 10.30am until 8pm. It is very important that there will be at least two people in the church for each hour of the Adoration.
Mass intentions will continue to be booked for weekdays for the present. People wishing to book masses can do so by contacting Fr Sergiy before or after mass during the week in the Sacristy. All that have booked masses are asked to rebook them for weekdays for the foreseeable future.
Exposition of the Blessed Sacrament has resumed on Friday evenings, starting this Friday evening and it will take place between 6pm and 6.45pm. Exposition will be followed Mass at 7pm. It is also an opportunity to avail of the opportunity for Confession.
Parish contacts
Fr. Sergiy can be contacted at the presbytery or by phoning 3321166 or 0833892362. For added support and assistance, you can also contact Fr. Merlyn Kenny, Newtowncashel 0860603433 and Fr. Turlough Baxter, Killashee 0879972259 who as you know are assisting in our parish.
Joe's Fruit &Vegetables
The Christmas trading times for Joe's Fruit & Vegetable's Thursday 23rd December 8.00am to 5pm and Friday 31st December from 9.00am until 4pm. Joe thanks everyone for their custom over the year and wishes everyone a very Happy Christmas.
Mary's Meals
Mary's Meals organisation, Longford Volunteer group, is holding a mega draw with the opportunity to win a VW Golf Life Car from Brady's Arva. Local businesses have also sponsored four further valuable prizes. Tickets can be got from Anne Carroll at the Sacristy after Mass each day. The draw will take place on Saturday 1st January. Tickets are priced at €20.
Shannon Gaels
The Shannon Gaels minor club would like to thank all parents and players for all their great work during the past year in the development of all our young players.
The club would like to wish all of you and all our club supporters a very special Christmas and a wonderful 2022.
Rathcline GAA
Annual club draw
Rathcline GAA would like to wish all our supporters, members, sponsors and players a very Happy Christmas and our very best wishes for the New Year. We hope that everyone has a safe and enjoyable holiday period. A lovely way to enhance someone's Christmas box or to spice up your own Christmas celebrations is to enter our Annual Christmas / New Year Draw that takes place on the 15th January with a prize fund of over €5,000. Tickets can be purchased online through the Rathcline GAA app, from club members / players or can be asked for in local shops and pubs. First prize is €3,000, second prize is €1,000 and the prizes also include Premium Stand tickets for Ed Sheeran at Croke Park in April as well as a range of other cash prizes. The new government restrictions have made the running of this important fundraiser a little more difficult so we hope that everyone who wants to be in the draw will be able to have a valuable ticket.