Lanesboro Ballyleague notes
Well deserved Awards
On Friday evening last two of the most dedicated people on our community were officially acknowledged and rewarded for many years of unstinted work.
The Roscommon Volunteers Awards is a special ceremony held in recognition of the volunteers and the voluntary groups that generously give their time and energy in making Roscommon a vibrant and thriving county.
This year's Roscommon Volunteer Awards were supported by the Department of Rural and Community Development, Roscommon PPN and the Roscommon Herald.
Maura McCormack gave a lifetime of energy and dedication to Community Games in Roscommon. Even when her late husband fell ill Maura found the time and energy to continue giving to Roscommon Community Games. All this was done as well as giving wonderful dedicated care and attention to Brian. Roscommon Community Games nominated Maura for the Active Aging Volunteer 2021 Award. Maura's energy levels are always greater than several people together and it is fitting that this was her award category. Maura is a very special lady and is very definitely well deserving of this award and accolade.
Jimmy Hudson, Ballyleague, was nominated by Ballyleague Tidy Towns committee in the ECO Champion category. Where can one start or even finish on the work that Jimmy Hudson does on a daily and weekly basis in and around Ballyleague. His work is incessant, neither weather nor time of year matters as Jimmy sees the work to be done and goes about it diligently. Jimmy is an environmentalist who makes the task of promotion of the environment and the changing of old bad habits a very easy such is his wonderful manner in encouraging and educating. Neither side of the bridge is more sacred than the other where he encourages a community.  Jimmy's award is well deserved and celebrated by us all.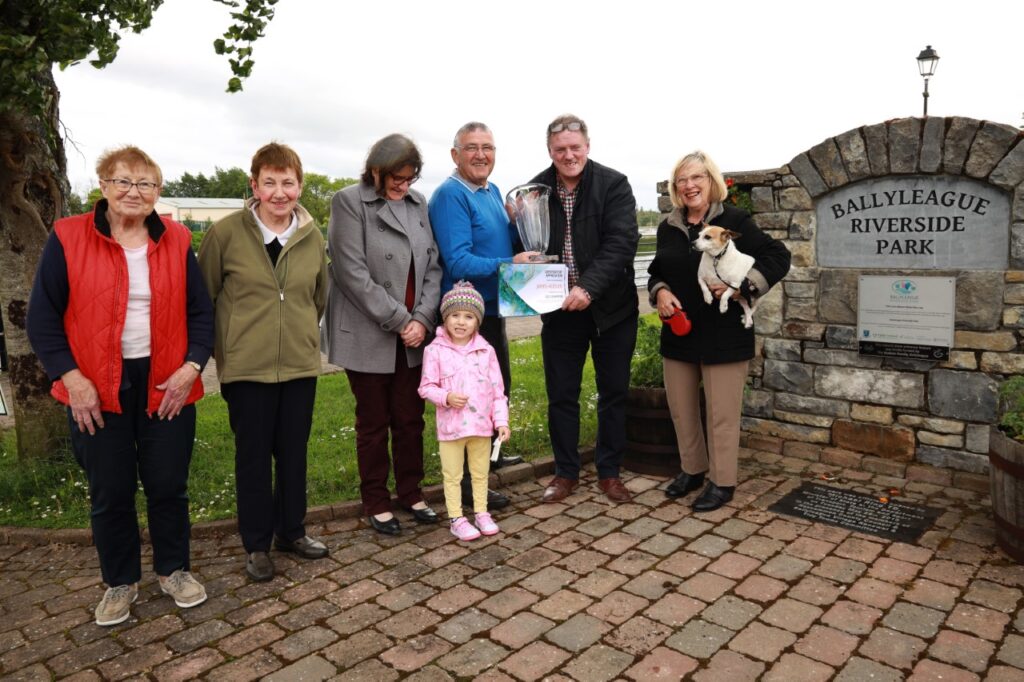 See attached photo by Lee Williamson
Picture L-R. Ballyleague Tidy Town (TT) colleagues Marie Burke, Mary Greally Jimmy's wife Maura, Ellie Williamson, Jimmy (James Hudson) Gerry Trimble Chair Ballyleague TT and Eileen Plested and her dog Tidy
Community Games
Lanesboro Community Games will take place on the track on Sunday next starting at 4pm. It is hoped that all parents in the parish will afford their young people to take part in the games. Lanesboro has a very proud tradition in the Community Games and we hope that there will be great local competition, all pushing each other to be the best in they can be in Lanesboro and later in Longford at the county finals.
Sympathy
We would like to extend our sincere sympathy to Brendan Farrell and Virginia Hogan Cloontuskert and his family on the death of Brendan's brother Peadar Farrell, Newtown, Rhode, Co. Offaly on Saturday 14th May.
Connacht Final
Sunday next 29th May will be another big day in the annals of Roscommon GAA when the Roscommon senior footballers and hoards of their supporters will invade Pearse Stadium with visions of another Connacht Final victory. The game has a throw in time of 1.45pm. Local St. Faithleach's bothers Ciarain and Diarmuid Murtagh continue to play leading roles and there is no doubt but they will once again be to the fore on Sunday. We wish the lads and their team mates and management the very best of luck and Sunday and we look forward to them entering the All-Ireland series as Connacht champions.
Day with the Stars
The Day with the Stars at Roscommon Racecourse will take place on Sunday 19th June for what promises to be a wonderful musical return filling the air around Roscommon with superb country music. Buses and tours are being organised from all over the country just to be in Roscommon so you should not miss what promises to be a fabulous day. This year the day will feature Nathan Carter, Mike Denver, Robert Mizzell, Jimmy Buckley, Philomena Begley, Patrick Feeney, Ray Lynam, Claudia Buckley to name but a few. This musical celebration promises to be one of the most fantastic days ever in Roscommon. Tickets can be booked and purchased in O'Brien's 043 33 21107. Tickets are priced at €30. Children U12, accompanied by an adult, will be admitted free of charge. The gates will open at 12 noon and the show will commence at 2pm.
Sympathy
We would like to extend our deepest sympathy to the extended Kennelly and Farrell families Rathcline Road and Tullyvrane on the death of Mrs Chris Kennelly's and the late Eileen Farrell's sister in law Rosaleen O'Connell, Valentia Island, Co. Kerry who died on Saturday 14th May.
Weekly Card Game
The weekly 25 (partners) game continues every Sunday night in the Parish Hall Lanesboro. Games start at 8.30pm.
The winners of last Sunday night's games were: 1st Tom Rooney & Pat Rock, 2nd Tom Skelly & Jack Bannon. The last game winners were Joe Dolan & Brendan Casey. The raffle prize winners were Bridie Glennon, Freda Connaughton, Tom Fox, and Pat Joe Fallon. As well as a great night of card paying light refreshments are also served.
Sympathy
We would like to extend our deepest sympathy to Anna and Brian O'Brien, Clonbonny and Dolores and Pat Hussey, Ballyleague and their extended families on the death of their aunt Margaret Staunton, Clontarf, Dublin who died on Wednesday last 18th May.
Triathlon Time
Following the break of a few years the Lough Ree Triathlon club members are currently in the process of organising the return to Lanesboro and Ballyleague the Two provinces Sprint Triathlon. With numbers always well above 600 it is with great excitement that we welcome the return of this nationally acclaimed race.
Currently Lanesboro Triathlon Club holds the title as National Triathlon Club of the Year, a well merited accolade and this year the Two Provinces Triathlon has again been awarded the honour once again as a National Series race.
The first events as is the norm for many years now are the hugely popular races that includes the Kidathon, the Two Province 12-13 Youth Series and also the Two Provinces 14-15 Youth Series all taking place on Friday evening 8th July. These races will start and finish in the race area at the marina behind the car park.
Saturday 9th will see the National Series Two Provinces Sprint Triathlon taking place. Along with the main race there will be a further four other races taking place within the event, namely the Two Provinces 16-17 Youth Series, Two Provinces Para Triathlon, Two Provinces Try-a-Tri and Two Provinces Aqua Bike. The Para triathlon offers a unique and inclusive opportunity for athletes with the recognised types of impairments to perform in the modern, exciting and sport of triathlon.
Your help required
To manage and maintain the high standard of the Two Provinces Triathlon the club is seeking the support of people from the local area to help with stewarding, marshalling and the running of the events on both the Friday and Saturday. If you can help please sign the sheet with your name and phone number that is in O'Brien's shop as soon as you can please.
Visit Corlea
Corlea Trackway is an inspiring relic of prehistory: a togher – an Iron Age road – built in 148 BC. Known locally as the Danes' Road, it is the largest of its kind to have been uncovered in Europe.
What is absolutely striking is the jewel we have in our midst is that it is a jewel we should be acclaiming and encouraging everyone far and wide to come along and visit. It is astonishing that this part of our history is right on our doorstep and is being quietly acclaimed rather than gaining the worldwide notoriety that it truly deserves.
The Corlea Trackway is run by the Office of Public Works and there is no doubt but a collaboration between themselves, Fáilte Ireland and Waterways Ireland (all 3 Government bodies) could see a bus service throughout the busy summer season on the Shannon to visit the centre. It is sad to think that so many tourists travel the Shannon, don't know nor have the opportunity to visit Corlea Trackway and discover a hugely important part of our history. Corlea Trackway and availability of a bus service should be advertised on every boat that is rented out and that has the potential to travel to Lanesboro.
For the 2022 season Corlea Trackway is open until 4th October daily from 10am until 6pm with the last tour commencing at 5pm. The average length of the tour is 1½ hrs long
Christmas Concert in June
With just five-weeks left until the Gala Christmas in June concert, Sunday 26th June, whose aim is to raise funds and create a critical awareness for Brain Tumour Ireland, Barbara Dowling is putting in a huge effort for this very unique Christmas in June Concert that will feature an exceptionally large choir and orchestra. The concert will be very distinctive playing such Christmas favourites like Polar Express and Jingle Bells with a twist and the majority of the arrangements are pieces that have never been performed here before and especially in the month of June.
The concert will take place in the Waterford Institute of Education Arena. The choir of 200+ will be accompanied by an orchestra of 200+ who will be travelling from all over Ireland, Europe, Great Britain and the USA in order to participate, all at their own expense and hail from RTÉ, BBC orchestras, Garda and Army bands and freelancers. The Orchestral and Choral aspects of the production will be spearheaded by Liam Daly, Dr. Kevin O'Carroll, Niall Crowley and Éimear Noone (of Oscar fame).The compѐre will be Evelyn Grant (Lyric FM)
All the monies raised through ticket sales are going directly to Brain Tumour Ireland (CHY20506). No funds will be going to cover expenses – all funds are for the charity. All instrumentalists and singers are contributing €25 in order to participate.
Tickets cost €25 and include complimentary glass of mulled wine or hot chocolate. Tickets can be bought on Eventbrite.ie just type in "Christmas in June in aid of Brain Tumour Ireland"
Barbara can be contacted on irishchristmasinjune@gmail.com
Your support will be greatly appreciated
Honda 50 Run
The Honda 50 Run returns to Lanesboro on Sunday 12th June all in aid of Longford Multiple Sclerosis. The Run will start from St. Mary's Hall at 12 noon. The regulation of no helmet no start will be strictly enforced. For all other details contact Jimmy 087 2289468.
If you would like to support you can buy tickets prices at €5 for the following prizes 1st Carraig Beag 8kw solid fuel free standing stove valued at over €1,000. 2nd prize 3 night cruise for 3 people in any one of the boats based in Ireland, on the Thames, Scotland, France, Netherlands, Belgium or Germany. 3rd prize is a Meal for Two in the Copperstill Restaurant in Dromod. 4th prize a bottle of Brandy and 5th prize 2 Bottles of Wine. Tickets are on sale in O'Brien's or from Jimmy Clancy. They will also be on sale on the day at the registration in St. Mary's Hall.
Please support Cloontuskert Grotto
The grotto at Cloontuskert was erected in 1987 to commemorate the Marian Year to honour Our Lady of the Rosary. Sadly on the 8th December 2021 during storm Barra, it was extensively damaged by a falling tree. A committee has now been formed to take on the task of rebuilding the Grotto. The total cost of the rebuild including replacing the statue is €3000. The new committee hope with your support and generosity to fully restore the Grotto and once again make it a focal point to honour Our Lady. They have set up an idonate page for anyone wishing to be associated with its rebuild or you can give directly to the following committee members where they will gratefully accept any donations treasurers Dympna Trautt, Áine Brady or Johnny Malone, and Sean Carty. You can obtain further information by contacting 086 3551103.
Please see Cloontuskert Grotto Facebook Page to see more information on how to donate through idonate.
Ballyleague Bingo continues
Ballyleague Bingo has returned to Ballyleague Hall on Thursday nights last and will continue every Thursday night. The first numbers will be called at 8.30pm.
25 Card Game
The game will continue next Sunday with play starting at 8 30 pm sharp. Refreshments serve. Thanks to all for the support.
Alzheimer Society
The Longford Branch of the Alzheimer Society is holding their Virtual Alzheimer Café on this Wednesday 25th June at 7.30pm. The guest speaker will be Tony Owens, LCRL and the topic he will speak on is"Social Prescribing". For further information phone Eileen 085 8724475
Brown Coins
Ballyleague National School Parents' Association are currently undertaking a fundraising initiative by collecting 'brown coins'(1c, 2c & 5c coins). Do you have a jar/container of these coins in your home and are willing to donate them to the school? If so, please contact Angela Mullooly (087-7955098), Noreen Hanley (087-6944775) or Claire Flynn (086-8814590) to arrange collection/delivery.
Tidy Towns Lottery
On Tuesday 17th May the jackpot for the Lanesboro Tidy Towns lottery stood at €8,200 and as it was not won the jackpot rose to €8,300 for the draw on Tuesday 24th May. The winning numbers drawn on the 17th May were 4, 9, 23 and 28. The winner of the €50 prize was Niall Donlon c/o the Yacht bar, and the three €20 prizes were won by Jay, Becky & Leah Hanley, Corrigeen, Mike Mullooly c/o Mags and Joan Daly c/o XLNTEE
The funds raised from the lottery is providing the financial support to do lots of planting around the town where the most recent is the shrubs planted on the recently renovated footpaths around the corner on the Longford Road.
Rathcline 50/50
The Rathcline GAA weekly 50/50 draw took place on Monday 16th May took place in the Clarke's Bar. The jackpot for the lucky winner stood at a remarkable and the very high figure of €608. Shane Nealon, Lanesboro was the very lucky winner of this record amount.
The jackpot pool is starting to break the €500 barrier on a continuous basis and this is totally down to your tremendous support. The Monday night draw 50/50 draw took place on Monday night 23rd May at 7.30 pm in the Yacht Bar. The club is extremely grateful for your amazing support.
The club would love to attract former residents, players and supporters living locally and away from home to play the Rathcline 50/50 online by downloading the Rathcline GAA club app and play the weekly 50/50. The cost of the yearly pink ticket is €100 giving two free draw entries and for 6 months the green ticket for €50 giving one free draw.
Your support can and will make a very positive difference to the club going forward.
Diocesan Pilgrimage to Lourdes
The annual Ardagh and Clonmacnoise Diocesan Pilgrimage to Lourdes will take place from 23rd to 27th May. The pilgrimage director is Msgr. Bernard Noonan PP Moate, Co. Westmeath, phone 090 64 81180. All bookings have to be made through Joe Walsh Tours, 143 Lr. Baggot St., Dublin who are the flight operators 01 2410812.
Longford GAA Draw
Following on the great success of last year's draw thanks to your wonderful support Longford Supporters club will again have another draw this summer with the draw taking place on Saturday 30th July.
The prizes for the draw are: 1st Prize: Volkswagen Golf 2.0l R-Line or €40,000, 2nd: €1,500 Center Parcs Voucher (Sponsored by M&N Nolan Motors), 3rd: 2 VIP Tickets to Garth Brooks in Croke Park + Accommodation, 4th: €1,000 (Sponsored by Nally's Forecourt Ltd. Ballymahon), 5th: €500 (Sponsored by Lir Analytical), 6th: Overnight Stay for 2 with Dinner at Viewmount House, 7th: €250, 8th: €250, 9th: €250 and 10th: €250
Tickets are priced at €50 each or what was the hugely popular option last year of 3 for €125
Tickets can be bought by contacting me at joeaobrien@outlook.com 0862460840, through PayPal or in the shop.
Coin Collection
St. Mary's Newtowncashel National School Parents Association is currently undertaking a fundraising initiative by collecting coins, specifically 'brown coins' (1c, 2c and 5c)but all coins greatly accepted. Do you have jars/containers of these coins in your home and are willing to donate them to the school?
If so, members of the committee will be at the school on Friday next 27th May at 9am to accept the coins or alternatively contact Laura Dermody 086 8222667 or Elaine Donnelly 086 8523942 to arrange collection/delivery.
GROW
Grow is a Community Mental Health Movement which meets every Monday at 11am in the Community Mental Health Centre, Dublin Rd., Longford. If you are feeling lonely, isolated or suffering from stress, please feel free to attend. You can call Assumpta for any further information on 086 8114135.
Support line for older people
ALONE manage a national support line and additional support for older people who have concerns or are facing difficulties relating to Covid-19. Professional staff is available to answer queries and give advice and reassurance where necessary. The support line is open seven days a week from 8am until 8pm. Text TALK to 50808 to begin.
Alcohol Anon Meetings
Relatives and friends of alcoholics are welcome to attend meetings in the Family Centre building at the back of St. Mel's Cathedral on St. Mel's Road, any Tuesday evening at 7pm.
Day Pilgrimage to Lough Derg
A one-day Pilgrimage to Lough Derg will take place on Saturday 20th August. The bus will leave Ballyleague hall at 7am. For all enquiries and bookings contact Mary 043 33 21969. Information on the pilgrimage can be got at www.loughderg.org
Lanesboro Library
The opening hours of Lanesboro are: Monday 2pm-8pm
Tuesday 2pm-6pm, Wednesday 10am-1pm & 2pm-5pm. The library will be closed all day on a Thursday. Friday 10am-1pm & 2pm-5pm and Saturday 10am-1pm
Knitting & Crochet Group
Knitting & Crochet group will revert to meeting every Monday 2pm-4pm
Poetry & Music Circle
Poetry & Music circle will revert to meeting on 2nd & 4th Monday of each month 4.15pm – 5.30pm from Monday 9th May.
EmployAbility Midlands
If you have a disability, illness or injury and would like help to find a job, contact Brenda on 086 3872 855 or email: longford@employabilitymidlands.com or Siobhan on 086 833 8027 or email: siobhan@employabilitymidlands.com, we will be happy to tell you more about how we can help you find employment.
EmployAbility Midlands is funded through the Department of Social Protection to support people with disabilities to find and maintain employment in the open labour market.
Kilgefin Parish
Priest – Fr Joseph Wenjeslaus 089 2733199
Adoration in Ballyleague Church every Friday morning 10.30am. – 11.30a.m. and every Friday night in Curraghroe Church 8.30p.m. – 9.30p.m.
Pilgrimage: One day pilgrimage to Lough Derg takes place on Saturday 20th August, 2022. Bus leaves Ballyleague Hall at 7am. Enquiries call Mary 043 3321969
Ballyleague Bingo in Ballyleague Hall every Thursday night at 8.30p.m. Please support.
Progressive 25 card game in St Faithleach's Clubhouse every Tuesday at 9pm. New players and beginners very welcome.
Diocesan Pilgrimage to Lourdes: Bishop Kevin will lead the diocesan pilgrimage to Lourdes from 24th – 29th August. To book, please contact Joe Walsh Tours on 01-241 0800 or download the booking form at www.joewalshtours.ie
St. Mary's Church
Day Pilgrimage to Lough Derg
A one-day Pilgrimage to Lough Derg will take place on Saturday 20th August. The bus will leave Ballyleague hall at 7am. For all enquiries and bookings contact Mary 043 33 21969. Information on the pilgrimage can be got at www.loughderg.org
Eucharistic Adoration on Tuesdays in the church from 10.30am until 8pm. It is very important that there will be at least two people in the church for each hour of the Adoration.
Exposition of the Blessed Sacrament has resumed on Friday evenings, starting this Friday evening and it will take place between 6pm and 6.45pm. Exposition will be followed Mass at 7pm. It is also an opportunity to avail of the opportunity for Confession.
Parish contacts
Fr. Sergiy can be contacted at the presbytery or by phoning 3321166 or 0833892362. For added support and assistance, you can also contact Fr. Merlyn Kenny, Newtowncashel 0860603433 and Fr. Turlough Baxter, Killashee 0879972259 who as you know are assisting in our parish.
Shannon Gaels
Absolutely Flying
The past week has been very successful for our U18 (minor) who qualified for their minor league final to be played against Ballymahon this Monday 23rd May in Pearse Park.
The Under 12 team have one game to go in their group but irrespective of the result they will have topped their league table and go to the final stages.
On Thursday our amalgamated Western Gaels U15 team will play their second last game in their league. A win on Thursday against St. Dominick's in Clonbonny at 7.30pm will see them through to the final stages.
If you do get a chance please keep an eye on the fixtures on the Longford GAA website and come along and support our growing and developing underage club.
Important Cúl Camp
The Lanesboro Cúl Camp for Clonbonny on 11th July has now reached its current capacity of 80 kids. Please see below the link to complete for anyone who wishes to join the waiting list for additional places, which hopefully we will be in a position to offer in the weeks ahead.
Those who complete the form 1st – will be offered the 1st places so please register your interest asap if hoping to have your children attend.
https://nam12.safelinks.protection.outlook.com/?url=https%3A%2F%2Fforms.office.com%2Fr%2FZqufra8mAJ&data=05%7C01%7C%7Cf1974f9806594246ed8408da36b979e8%7C84df9e7fe9f640afb435aaaaaaaaaaaa%7C1%7C0%7C637882467477041440%7CUnknown%7CTWFpbGZsb3d8eyJWIjoiMC4wLjAwMDAiLCJQIjoiV2luMzIiLCJBTiI6Ik1haWwiLCJXVCI6Mn0%3D%7C3000%7C%7C%7C&sdata=09YtKL7TAMM3jXriihxH7%2Fw12HJz3jdUnVlvJkCS1G8%3D&reserved=0
Rathcline GAA notes
Click on the attachment and see PRO Cathal Chapman's latest comprehensive update on the club is this week. Cathal's weekly reports are most definitely worth a read.
St. Faithleach's GAA
Congratulations
Congratulations to all our young members and children throughout the parish who made their communions at the weekend. Hope ye had fantastic celebrations.
Congratulations
Congrats to Maura McCormack, Gortgallon on receiving an award for her commitment to the community games. Thoroughly deserved Maura.
Junior Men
Best of luck to the Junior men as they take on Oran in Rockfield at 8pm in the Division 4 Quarter Final. Please support
Senior Men
Senior men were defeated by St. Dominic's on Saturday evening last. St. Dominic's 1-11 St. Faithleach's 0-10
Underage Training
Continues every Thursday evening at 6:30pm at the pitch. All levels and new members welcome. Looking forward to seeing you all.
Cúl Camps
Kellogg's Cúl Camps will run at St. Faithleach's GAA Complex from August 1st to 5th 2022 for Boys and Girls aged 6-13. To book your volunteers to help at the Underage trainings on Thursday evenings from 6:30pm to 7:30pm.
Lotto
Jackpot €12000. envelopes available at all local outlets. Thank you for your continued support.
place visit http://www.kelloggsculcamps.gaa.ie
Volunteers
The minor club are looking for volunteers to help at the Underage trainings on Thursday evenings from 6:30pm to 7:30pm. If you would like to help please contact David Harrison or any club committee member.