Lanesboro Ballyleague notes
Lanesboro/Ballyleague Town Twinning
Since Covid restrictions meant that the Lanesboro/Ballyleague Town Twinning (LBTT) committee could not have meetings things had to lapse. Now that restrictions are lifted, everything is beginning to get back to normal and the LBTT committee sees the opportunity to hold their A.G.M. in the near future. You are invited to become part of this exciting group, to bring up your ideas to discuss at the meeting. New blood is required and the outgoing committee is asking people to be part of this exciting committee.
Lanesborough has already been twinned with Lanesborough in Massachusetts, USA and have had representatives here in Lanesboro. In fact two of their Fire Department namely Butch Garrity and Max LaCasse carried the banner in the St. Patrick's Day Parade in 2015 and we look forward to future and exciting links and twinning.
It would be great to see a good number enthusing about this very exciting twinning project and committee. It is a wonderful opportunity for the 30/40/50 generation to involve themselves in the workings and visiting/hosting our twin towns. There are surely new and novel ideas to be had. The LBTT is busy seeking a suitable date for the AGM and hope to be able to announce the date very soon. It appears that late August early September looks the most likely time for the meeting.
Kayaking
Adult Kayaking takes place every Tuesday evening from the old harbour, Ballyleague. The Kayaking will take place from 7pm to 9pm and the cost is €20. Booking is, essential as demand is great, at 0872977769
Young people kayaking every Saturday morning from 11am to 1pm and covers young people from 10 to 17 years. The cost of the 2 hours is €20. Booking is essential at 0872977769.
Train in the use of a Defibrillator
We all know about and appreciate those that are trained in the use of the defibrillator. You too can avail of the training and become vital cogs in your community for anyone that may be in need of someone with the skills of the defibrillator use.
The local defibrillator group is actively seeking new people in the Kilgefin, Ballyleague, Cashel, Killashee and Rathcline Lanesboro areas to become competent in the use of the Defibrillator. The group are also looking to retrain and refresh those that have already completed the course.
If you are interested, please leave your name and phone number with Martina O'Brien personally in the shop or by phoning 086 3858934 or martinaclyne1@gmail.com
A Lone Furrow
Roscommon Drama Group is once again putting on the play written by former local resident Tommy Murray in Roscommon Arts Centre. Tommy has been deeply involved in the Arts for his lifetime and this play is back due to popular demand.
The play tells the story of Aleen Cust, a famous Athleague vet and her far seeing and determined mentor William Byrne.
The play will be part of the Aleen Cust Celebration that is remembering this fabulous woman.
The play will run in Roscommon Arts Centre on Thursday 18th, Friday 19th and Saturday 20th August. Booking is essential and tickets are priced at €14/€12
Boglands Greenway
When you go along the Bogland Greenway you cannot but be in awe of the remarkable change in the landscape since the new walkway was completed. There is almost a complete bed of greenery and growth along with some very small amount of natural flooding. To walk the walk is so refreshing to see the changing landscape and the initial projections are exactly what we now see even at this early stage. It is great to see so many continuing to avail of the greenway.
However, with all the positive feedback the area is receiving there has been some wanton vandalism taking place a few weeks ago. After you cross the bridge and make your way up the hill to the opening of the bog there is an old Bord na Mona cabin that the workers used as a place for their breaks on the right hand side. Walkers began to use it for a break to chat and indeed shelter from the rain on the rainy days.
As you can see some hooligans decided to use the windows as cock shots and pelted them with stones hence breaking the windows. This is a most heinous deed that now deprives those that have to use it from time to time on their walks.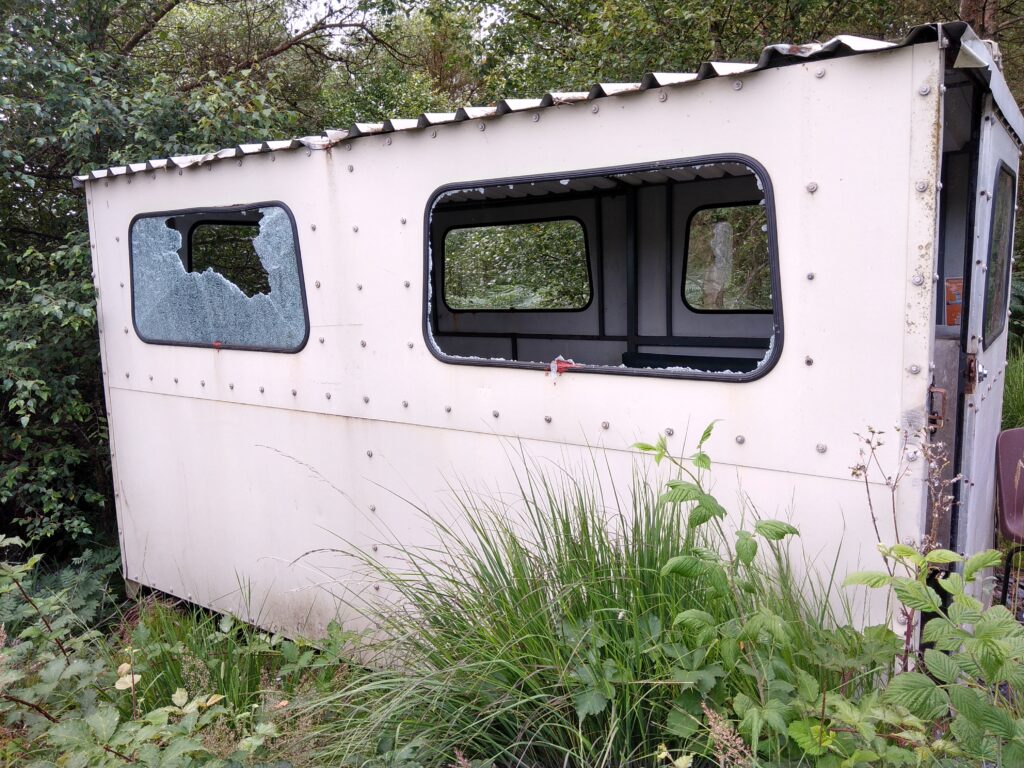 We have an area of beauty and should not have it desecrated as it now is. There is nothing but shame on those that did this dastardly deed.
If you have any information on this please bring it to the local Gardaí.
Your contributions urgently required
The importance of defibrillators in the general area cannot be overstated. The lives it can save and has done in recent weeks are well documented. Over the time of the Covid restrictions the opportunity to raise funds for the replacement of batteries and pads as well as funding needed to replace and upgrade defibrillators could not take place.
Now an appeal for essential funding is being made and the group is appealing to your generosity to ensure all the upgrades and replacements can take place.
If you wish to contribute we ask that you donate by leaving money in an envelope marked with your name into Martina O'Brien at the Corner Shop.
New CD released
On the road for over 30 years the very popular Frank Nelson has just released a new CD called 'I'll Put the Kettle On'. Surviving over 30 years goes to show the great popularity and support Frank has gained over the years. He is prolific when it comes to releasing high quality CD's.
This time he has really hit the high times with the quality and songs included. It is a must for anyone's playlist wherever you choose to listen to it.
CD's cost €15 and can be bought in O'Brien's.
Championship News
Rathcline were narrowly beaten by a much fancied Abbeylara on Friday night last following a tremendous struggle. Their next game will take place in Monaduff (Drumlish) on Saturday evening week 20th August at 8pm.
It was not a great evening for St. Faithleach's either on Friday last. Despite having put in a tremendous performance they too came out on the wrong side of the result against Clann na Gael. On Saturday evening 20th August at 5pm in Ballyleague the second round game will place with Boyle the opposition.
Go along and support our teams when you can.
Ballyleague Tidy Towns Unveils signs
On Sunday evening last Ballyleague Tidy Towns unveiled (officially) a new tourism sign by the marina at Ballyleague. The sign is part of a suite of new signage which includes a number of directional finger post signs, guiding visitors to amenities and places of interest in the locality.
The new information sign contains information on Lough Ree and images of Biodiversity associated with the lake and its environs, in addition to maps and visitor information of places of interest in Ballyleague and Lanesboro in addition to visitor attractions in both Counties Longford and Roscommon. EG: Mid Shannon wilderness Park near and Corlea visitor centre near Kenagh, Co Longford and Rathcroghan and Strokestown House in Co Roscommon.
The sign was designed in collaboration with Rusty Lemon Design Company and Ballyleague Tidy Towns. The new signage was funded with the assistance of Roscommon Leader Partnership and Roscommon Co. Co. Municipal District funding, in addition to local fundraising efforts.
Fr. Daniel Udofia MSP, Ballyleague and Kilgefin at the unveiling at the Marina firstly blessed the sign and then along with Ballyleague Tidy Towns Chairman Gerry Trimble unveiled the very impressive sign.
Pictured below Fr. Dan, Gerry Trimble, chairman of Tidy Towns, committee members and elected representatives.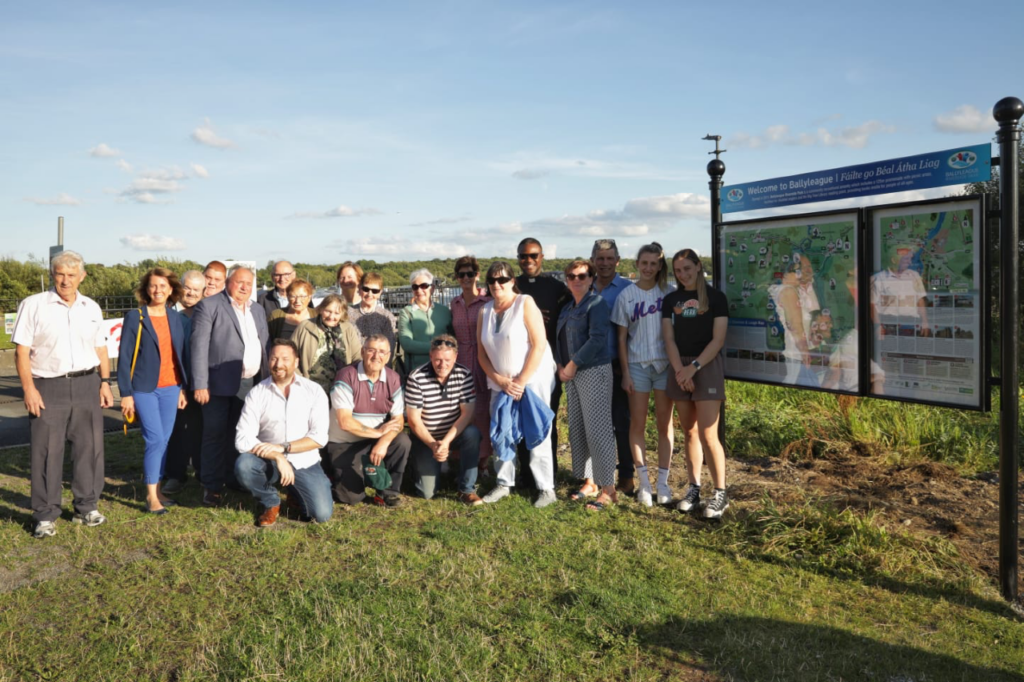 Tidy Towns Raffle
The result of the Ballyleague Tidy Towns draw held in conjunction with the official unveiling are 1st Gerry Lane, Moher Galmont Hotel voucher, 2nd @Marie Nolan ( formerly Rosie's) Keane's Supervalu voucher, 3rd Tony Hunt Lough Ree Distillery voucher, 4th Kevin Collins. Ballyleague: Purple onion voucher, 5th Tom Bermingham. (Millmont, Co Galway) Snámh Film print, 6th Gerry McDermott, Roscommon. Bottle Bart's whiskey voucher. Lough Ree Distillery, 7th Tom Gill. Moon River family Boat Trip. 8th Chloe Gannon, Mooneen, Co Roscommon, Bottle Sling Shot Gin Voucher. Lough Ree Distillery, 10th James Nolan (formerly Rosie's) wins the 2nd Moon River Carrick on Shannon, Boat Trip.
Special Offer
Lough Ree Access for all boat is a boat built for you is offering a special 1-hour summer promotion. Subject to the demand the trip will cost €20 and the sailing will take place at 4pm. For information and booking call 089 2625505 or www.loughreeboattrips.com Early booking is advisable
Sunday night Card Game
The Sunday night card game continued on Sunday night last. The results from last Sunday night 7th August are joint 1st were Tom Nohilly & Pat Joe Fallon and Noel McDermott & Michael Finnan. Last game winners were Mick and Kate Maguire. Raffle winners were Freda Connerton, Martin McDermott, Johnno and Tom Skelly. The game continues every Sunday night where the first cards are dealt at 8.30pm sharp. Light refreshments served.
Roscommon Group of Parishes
Upcoming Church Services
Sunday 14th August – Morning Prayer in St. John's Lanesboro at 11.30am.
Sunday 21st August – Holy Communion with Gerald Field in St. Coman's Roscommon at 11.30am.
Sunday 28th August – Service of Holy Communion in St. John's Lanesboro at 11.30am.
Cloontuskert Cemetery Mass:
The annual Mass for all the deceased who are laid to rest in Cloontuskert cemetery will be celebrated at 6p.m. on Sunday next 14th August and all are welcome to attend. May they rest in God's eternal peace.
Cloontuskert Grotto Unveiling
The unveiling and blessing of the reconstructed Grotto in Cloontuskert will take place at 7pm on Monday next 15th August, Our Lady's Day. All are welcome.
Are you interested?
The ladies section of Ballyboro FC is seeking ladies to go along and join in the formation of a ladies soccer team. If you are aged 16 and upwards and interested in being a part of a historic team then you are invited to express your interest to Graham Taaffe 087 2636701
Ballyleague Bingo
Ballyleague Bingo continues in Ballyleague Hall every Thursday night. The first numbers will be called at 8.30pm.
Volunteers needed
Ballyleague Bingo urgently needs more volunteers to join them in the Bingo/Hall Committee. If you are interested contact Patricia Manning for more details
Smart Recovery
SMART recovery is an evidence based addiction recovery support group where participants learn self-empowering techniques to aid their recovery by overcoming addictive behaviour.
There is a meeting every Friday evening from 7pm to 8.30pm in Vita House, Roscommon. For information you should phone Conor 086 1702912 or info@smartrecovery.ie
50/50
Congratulations to Emily McKenna, Barnacor, who was last week's winner of the Rathcline 50/50. Emily won the top prize of a remarkable €705.
Living Well Programme
Living Well is a free online group programme delivered over six workshops (2.5 hrs x 6). It is delivered by trained leaders, most of whom are also living with a long-term health condition. You will develop self-management skills and confidence to live well with your health conditions. Monday, 5th, Tues 20th of September, 10.30am to 1pm, and Wed 26th Oct 10.30am to 1pm
To Book Your Place please contact Olga Maguire on 086 0142688 or email omaguire@southmayo.com
You can find more details about the programme on www.hse.ie/LivingWell
Tidy Towns Lottery
On Tuesday 2nd August the jackpot for the Lanesboro Tidy Towns lottery stood at €9,300 and as it was not won the jackpot rose to €9,400 for the draw on Tuesday 9th August. The winning numbers drawn on the 2nd August were 8, 12, 28 and 29. The winner of the €50 prize was Ann Feeney, Rathcline and the three €20 winners were Freda, Ciara & Aoife c/o Post Office, Shane Moran, Colehill and Patsy c/o Mags..
The funds raised from the lottery is providing the financial support to do lots of planting around the town where the most recent is the ongoing creation of the orchard and the shrubs and roses planted on the recently renovated footpaths around the corner on the Longford Road and the flowers on the Ballymahon Road. Your continued support is enabling all the ongoing work and we encourage greater support for funding of these and other upcoming projects.
GROW
Grow is a Community Mental Health Movement which meets every Monday at 11am in the Community Mental Health Centre, Dublin Rd., Longford. If you are feeling lonely, isolated or suffering from stress, please feel free to attend. You can call Assumpta for any further information on 086 8114135.
Ballyboro FC
Alfie Murphy, Tim Kenny, and Oisín Dillon certainly enjoyed the experience of being part of the Longford League squad that participated in the prestigious Galway Cup last week. Over the four days of the tournament Oisín was the top goal scorer for the Longford team while captain Alfie and Tim also acquitted themselves very well.
Preparations are ongoing for the big day, Saturday week 20th August, when the official opening of the outstanding club facilities at Lanesboro Community College will take place. On this Saturday 13th we will stage a massive clean up and put up our flags and bunting for the big opening. We will also do some strimming and remove weeds and clean our dugouts. The club is appealing to all players, parents, coaches, officials, friends and neighbours to come along between 11am and 4pm to help out and bring a strimmer, brush or whatever you can.
Support line for older people
ALONE manage a national support line and additional support for older people who have concerns or are facing difficulties relating to Covid-19. Professional staff is available to answer queries and give advice and reassurance where necessary. The support line is open seven days a week from 8am until 8pm. Text TALK to 50808 to begin.
Alcohol Anon Meetings
Relatives and friends of alcoholics are welcome to attend meetings in the Family Centre building at the back of St. Mel's Cathedral on St. Mel's Road, any Tuesday evening at 7pm.
Day Pilgrimage to Lough Derg
A one-day Pilgrimage to Lough Derg will take place on Saturday week 20th August. The bus will leave Ballyleague hall at 7am. For all enquiries and bookings contact Mary 043 33 21969. Information on the pilgrimage can be got at www.loughderg.org
Lanesboro Library
The opening hours of Lanesboro are: Monday 2pm-8pm, Tuesday 2pm-6pm, Wednesday 10am-1pm & 2pm-5pm. The library will be closed all day on a Thursday. Friday 10am-1pm & 2pm-5pm and Saturday 10am-1pm
Knitting & Crochet Group
Knitting & Crochet group will meet every Monday 2pm-4pm
Poetry & Music Circle
Poetry & Music circle will revert to meeting on 2nd & 4th Monday of each month 4.15pm – 5.30pm.
Photocopying, printing and scanning services are available at the library. Enquiries: lanesborolibrary@longfordcoco.ie
Kilgefin Parish
Parish Priest: Fr Dan (089 2706060)
Adoration in Ballyleague Church every Friday morning 10.30am. – 11.30a.m. and every Friday night in Curraghroe Church 8.30p.m. – 9.30p.m.
Pilgrimage: One day pilgrimage to Lough Derg takes place on Saturday week 20th August, 2022. Bus leaves Ballyleague Hall at 7am. Enquiries call Mary 043 3321969
Cloontuskert Cemetery Mass:
The annual Mass for all the deceased who are laid to rest in Cloontuskert cemetery will be celebrated at 6p.m. on Sunday 14th August and all are welcome to attend. May they rest in God's eternal peace.
Volunteers Wanted
Ballyleague Bingo and Hall committee need more volunteers to join them in the Bingo/Hall Committee. If you are interested you are asked to contact Patricia Manning for more details.
Cloontuskert Grotto Unveiling
The unveiling and blessing of the reconstructed Grotto in Cloontuskert will take place at 7pm on 15th August Our Lady's Day. All are welcome.
Diocesan Pilgrimage to Lourdes: Bishop Kevin will lead the diocesan pilgrimage to Lourdes from 24th – 29th August. To book, please contact Joe Walsh Tours on 01-241 0800 or download the booking form at www.joewalshtours.ie
Ballyleague Church: We urgently need volunteers to take up the basket collection in Ballyleague Church at mass on Saturday and Sunday. If you would like to volunteer, please contact Fr. Dan.
Kilgefin Cemetery Mass: Mass will be celebrated in Kilgefin Cemetery on Sunday 21st. August at 6pm. There will be a collection on the evening towards the upkeep of the cemetery.
Dinner 4 is a service available to deliver hot and chilled food to your door. It is available Monday to Friday cooked in the Melting Pot in Roscommon by our wonderful chef Philip. Why not give us a try see us on Facebook and call Monica on 083 8072959
Newsletter
Any articles for the newsletter must be in by Wednesday nights at the latest. Details to be emailed to Kilgefinparish21@gmail.com contact number 0862626639
St. Mary's Church
Diocesan Pilgrimage to Knock
The annual Diocesan Pilgrimage to Knock Shrine will take place on Sunday 4th September with ceremonies beginning at 2.30pm. A bus will depart from St. Mary's Church at 11.15am. To ensure your seat it is essential that you book your seat by phoning 3346466. The return fare is €15.
Knock Novena
'A Journey in Hope' is a nine day of reflection and prayer. The Novena will take place at Knock Shrine from 14th to the 22nd August at 3pm and 8pm daily. You can take part online at www.knockshrine.ie/novena-speakers-22.
Day Pilgrimage to Lough Derg
A one-day Pilgrimage to Lough Derg will take place on Saturday 20th August. The bus will leave Ballyleague hall at 7am. For all enquiries and bookings contact Mary 043 33 21969. Information on the pilgrimage can be got at www.loughderg.org
Eucharistic Adoration on Tuesdays in the church from 10.30am until 8pm. It is very important that there will be at least two people in the church for each hour of the Adoration.
Exposition of the Blessed Sacrament has resumed on Friday evenings, starting this Friday evening and it will take place between 6pm and 6.45pm. Exposition will be followed Mass at 7pm. It is also an opportunity to avail of the opportunity for Confession.
Parish contacts
Fr. Merlyn Kenny, Newtowncashel 0860603433 and Fr. Turlough Baxter, Killashee 0879972259 who as you know are assisting in our parish.
Shannon Gaels
Final Time: Our U13 team will travel to Leo Casey Park on Tuesday next where they will play Mostrim Óg in the Under 13 A Plate Final at 7.30pm. Please support.
Qualifying Time: The Under 15 amalgamated team with Grattan Óg will travel to Keenan Park, Ardagh, to play St. Pats Óg. The game is on this coming Thursday 11th August with a throw in time of 7.30pm. A victory in this game will see us top the table and reach the knockout stages.
Rathcline GAA
See Rathcline GAA website for the comprehensive weekly update of Rathcline GAA news from Cathal Chapman