Lanesboro Ballyleague notes
Prayers in Remembrance
On Sunday last St. Mary's Church was filled to almost capacity for Payers of Remembrance of all those that died in our parish and community since the onset of Covid right up to the most recent death in the parish. Sadly this also included the death of babies.
It was quite a moving and emotional Service as most people named brought back memories to not only the families but also the congregation.
Following the Service, light refreshments were served in the Parish Hall. A special word of thanks to everyone that gave of their time and helped to create such a warm and welcoming remembrance.
Tractor Run on Saturday
A Tractor Run in memory of Donal Chapman who lost his battle with MS just over one year ago will take place on Saturday 25th November.
We can all remember Donal's heart of gold and dedication to Longford MS and we urge everyone that has a tractor or encourage tractors drivers to make this one of the biggest Tractor Runs ever in this area.
Donal was a great advocate of the MS Society (Longford) and with a great strength of character and enthusiasm he took part in many daring fundraising events such as a Skydive, Bungee Jump, and the Christmas Day Swim to mention a few. He could not stress enough the support and good that the MS Society does for those suffering with Multiple Sclerosis hence he has left us with a lasting memory.
The Tractor Run is organised by neighbours and friends, along with remembering Donal Chapman, it will raise badly needed funds for Longford Multiple Sclerosis.
The 'Tractor Run' will start at 'The Local' Newtowncashel with registration from 1pm. The Run will start at 2.30pm and route will go from the local to Derryhaun down, through Lanesboro and over to St. Faithleach's club grounds. It will return via the Rathcline Road, across Bullockstown and up through Killinure to finish at the Pier Inn, Lisnacusha.
There will be a Kids Tractor Run in Lisnacusha and there will also be an early visit from the magical man Santa where all youngsters can give their list to the great man.
The very popular Acting the Maggot will finish off the day's proceeding with another fabulous music night in the Pier Inn.
Sympathy
The death took place in America on Saturday last 18th November of Mrs Mary Greene. Mary married her late husband Eamon Greene formerly of Curraghroe and they spent their life in the USA. Mary formerly Murray was a sister of the late Nancy Kelly, Cloontuskert and Bessie Lavin, Ballyleague while her husband Eamon was predeceased by his brothers Paddy, Seamus and Kevin and his sister Mrs Maureen Conway Killashee. Mary is survived by her son Eamon, daughters Mary, Patricia, Eileen and Kathleen, the Kelly family Cloontuskert, the Lavin and Greene families to whom we extend our deepest sympathy.
Death
It is with great sadness we learned of the death on Friday 10th November at the Regional Hospital, Mullingar of Michael Feeney Nevin, Ballymahon Road. Michael who came to live amongst us in Lanesboro a number of years ago was a very quiet and reserved man. He spent his time working locally and in Longford. He was instantly recognisable especially when he was going for a walk with Josh and their two dogs. He had a warm and welcoming smile and a cheery hello when you met him. Michael was family orientated and along with Marian they dedicated themselves to their family. His remains reposed at his residence on Monday last. On Tuesday his remains were removed to St. Mary's church for Mass of the Resurrection followed by cremation at Lakelands Crematorium, Cavan.
To his family, Marian, Grace, Josh, Pat, Joe, and Mike, his mother Kitty, relatives and many friends we extend our sincere sympathy.
League Final
Fermoyle National School Mixed Division 1 team played a storming game when they overcame a very strong and tough St. Teresa's N.S., Killoe in their Division 1 Mixed final in Drumlish GAA pitch last week. Congratulations to all the panel and their mentors who have put so much into the players development.
Deaths
Over the past week there has been two deaths in Newtowncashel, Mary Murtagh, Clonmee who dies on Friday 17th November and John Gilmore, Carrodger, who also died on Friday 17th November. Both families have many close relatives in our community and we would like to extend our deepest sympathy to each and every one of them.
AGM
The well attended Shannon Gaels Minor AGM took place on Friday last in Clonbonny. The report of the meeting will be published next week. The club thanks everyone for their attendance and looks forward to another year of greater success.
Fermoyle NS Enrolment
Fermoyle NS Enrolment is now open. Parents of prospective students are invited to go to the school website fermoylens.ie to download an Enrolment Form. You can email to fermoylens@gmail.com or post application form to Fermoyle NS, Fermoyle, Lanesborough, Co. Longford.
Christmas Fair
Lanesborough Parish Hall and Tidy Towns groups are hosting a Christmas Fair and Market on Sunday 10th December in the Parish Hall from 11 am to 1 pm. Santa and Mrs Claus will be attending. Enquiries for stalls can be made to Mags on 0863600419 or Mike Greene.
Rathcline AGM
The Rathcline AGM will take place on Saturday next 25th November in Clonbonny clubhouse at 8pm. You are invited to attend the review of the club's activities during 2023 and to elect a new executive for the upcoming year.
Birth
Many congratulations to Emma and Stephen Ormsby, Lough Ree Park, on the birth last week of a baby boy.
Craft Fair on Saturday
A fundraising Craft Fair in aid of County Longford Hospice Home Care will take place on this coming Saturday 25th November in the Pig Market Lane, Ballymahon Street from 10am to 4pm. Items on sale will include ideal gifts hand made by local Longford ladies all supporting a brilliant cause.
Tidy Town's Lotto stands at €15,000
The Lanesboro Tidy Towns Lottery for Tuesday 21st November stands at an exciting €15,000. This is a wonderful opportunity to win the €15,000 for just €2 or 3 envelopes for €5.
The draw took place in O'Brien's Shop and the numbers drawn on Tuesday 14th November for the jackpot of €15.000 were 6, 10, 20 and 24. There was no winner of the jackpot. The winner of the €50 prize was Antoinette Skelly, Newtowncashel, c/o O'Brien's, and the three €20 prizes went to Mags & Peter, c/o Mags, Mike Greene c/o C.E. Scheme and Mary Tiernan, Ferefad, Longford.
The draw takes place every Tuesday morning in O'Brien's Shop.
Without your continued generosity and support the excellent results in the Tidy Towns completion would not have been so good. Your tremendous is ensuring that Lanesboro continues to look beautiful. Thank you very much.
When Stones Speak
Longford Historical Society are pleased to announce the forthcoming launch of "WHEN STONES SPEAK"- Headstone inscriptions and local history from the cemeteries of Killashee, Clondra and Ballinakill – a magnificent book of 180 A4 pages and over 630 headstone inscriptions and photographs, that has taken many years to complete. While the majority of the headstones are associated with Killashee parish, there are quite a few with Lanesboro addresses and across the Shannon in Erra, Derryhaney and the Tarmonbarry areas. The book will be launched by a guest personality and will take place in Longford Library on Tue 12th December at 7.00pm. Everybody is welcome to attend.
All queries Luke Baxter 086 3344878
Sympathy
We would like to extend our deepest sympathy to Sean and Tony sisters Mary Kelly and Bríd Hanrahan and friends of the late Tommy Dolan, Shannon Grove and late of Kiltoom who passed away at University Hospital Galway on Wednesday 15th November. Tommy who was a relatively short time living amongst us was recognised as a leading administrator with Gaelic football and ladies' football at both club and county level and he was the current Vice President of the St. Brigid's club. His remains reposed at St Brigid's GAA Club, Kiltoom on Friday last and following Mass of the Resurrection at the Church of The Risen Christ, Kiltoom he was laid to rest in the local cemetery.
Graduated
Congratulations to Emily Morris who recently graduated with a Bachelor of Science, Honours Degree. She is currently studying for her Masters of Chemistry.
Emily is pictured below with her grandparents Tom and Kathleen Morris and proud daughter of Sandra and Emily, Curraghrua.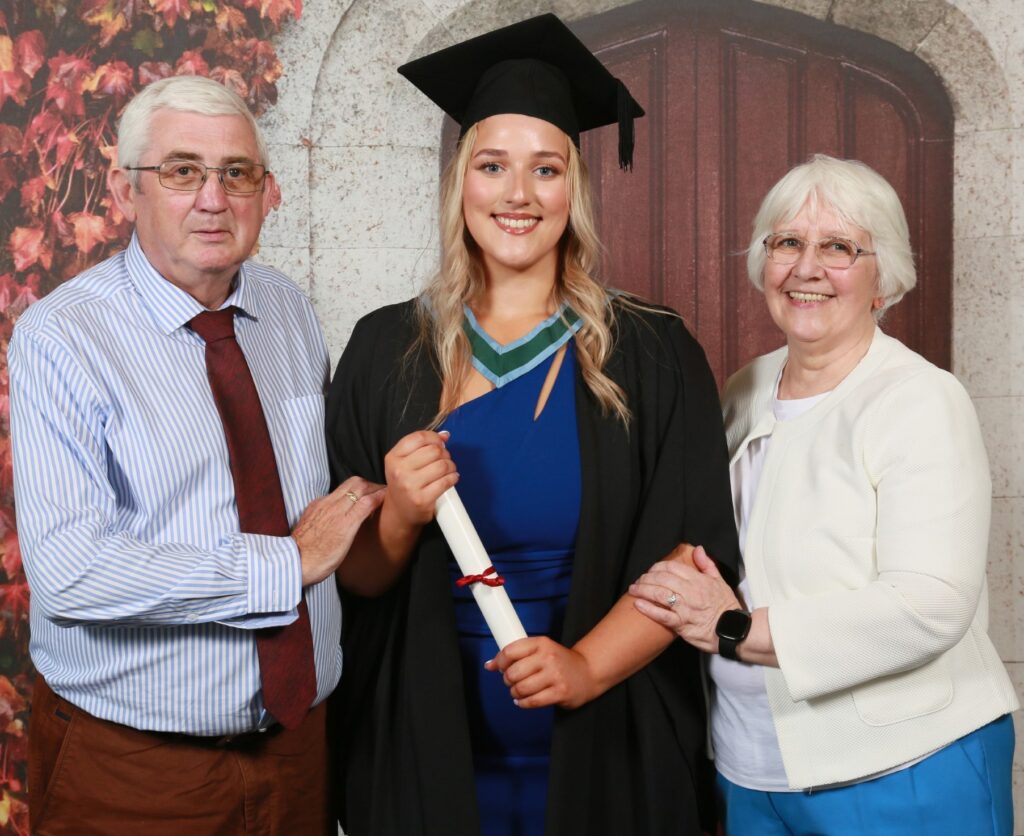 Christmas Draw
The local Mid Roscommon Vintage Club is, this year, holding a Christmas to help enhance the great work it does throughout the year. The draw will take place on Saturday 23rd December in Compton's bar, Strokestown. Tickets priced at €5 each are on sale in O'Brien's Shop and your full support will be most appreciated.
The prizes are 1st €500 cash, 2nd €100 Abbey Hotel Roscommon voucher, 3rd €100 Essential Workwear voucher and 4th €50 Fuel voucher. The club would like to thank The Abbey Hotel Roscommon, Ivor Trimble and Stewart's Oil for their sponsorship.
Tracing your Roots
The Killian Homeplace Research Team would like to welcome you to our Genealogy Consultation Clinic at the Longford Roots Centre in Fermoyle on Saturday next 25th November from 10am to 3pm. To book your consultation send an email to longfordroots@thekillianhomeplace.com Give them a call 086 395 2557. You can visit their website at www.thekillianhomeplace.com Consultations are by appointment only. Please see below! The Eircode for the Fermoyle centre is N39 RY93.
Pictured below is the Family History Centre that is an essential starting point for the search for your family roots. The expert team will guide you through all their searches and you never know what may turn up as you are guided back through your family history. Even if you are not suited to the Saturday date you should retain the website address and phone number to begin your exploration.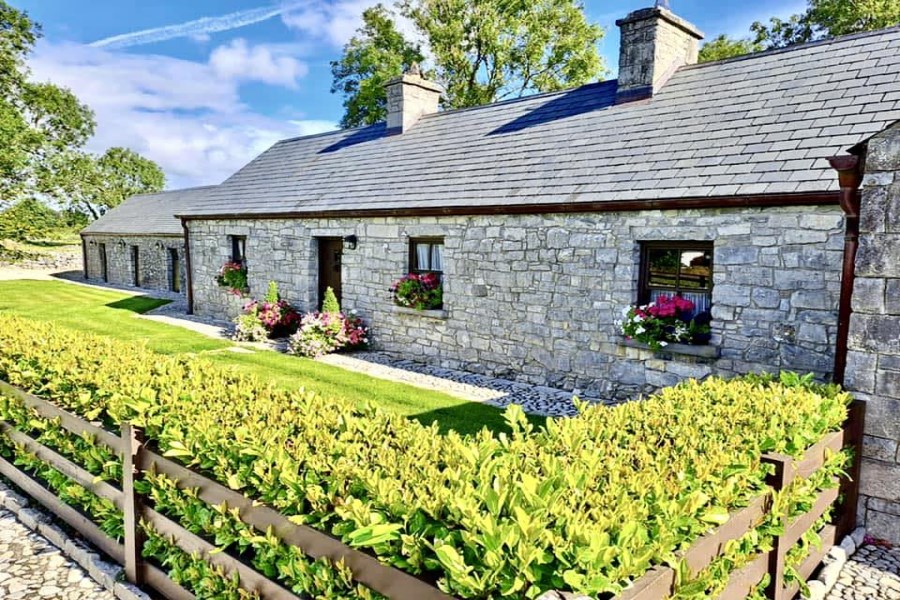 Local notes inclusion
Anybody that wants items included in the local notes is advised that they have their note with me on a Sunday night at the very latest. This is to ensure inclusion in the coming weeks notes.
Thank You
The recent church gate collection for the Midland Simon Community at St. Mary's Church, Lanesboro, raised a total of €454.71c. Thank you for your contribution that will bring comfort for those in need.
Short Breaks Scheme
Would you be interested in providing home from home short breaks for children and adults who have an intellectual disability? Brothers of Charity Services Ireland, Homeshare Roscommon are recruiting host carers. Training and support will be provided. There will be a tax exempt allowance paid. For further information email Homeshareroscommon@gmail.com or phone Catherine 09066 28500 or 087 2126607.
Used clothes collection
Cloontuskert National School is holding a used clothes collection on Wednesday 29th November. The funds generated from this initiative will directly benefit the school. Everyone in the community is encouraged to participate in the collection by clearing out unwanted clothes from your wardrobe and contributing clothing, shoes, accessories, and household textiles. Bags can be dropped to the school any day until 29th November. Your support will be greatly appreciated.
Access for All boat
The Access for All boat is for everybody. The boat can cater for three large wheelchairs but you don't have to be a wheelchair user to avail of the excellent trips. Guided fishing excursions can also be organised. Advanced booking is recommended. You can contact by email www.loughreeboattrips.com or phone 089 2625505 or 043 33 84175.
Weekly Card Game
The results of the weekly card game held in St. Mary's Hall Lanesboro on Sunday night last are: Joint 1st Peggy & Noreen and Jim & Kitty. Last game winners were Pat & Mick. The raffle winners were Geraldine Greene, Pat Joe Fallon, Noel McDermott and Brian Mulvihill. As usual light refreshments are served at the game. No partner needed.
Rathcline 50/50
On Monday 13th November the Rathcline GAA 50/50 weekly draw took place in Clarke's bar. The winning envelope drawn out was in the name of Dessie Mc Dermott and he won the jackpot of €529. Well done Dessie on your great win.
As always, the winning cheques can always be collected in O'Brien's.
The Rathcline 50/50 draw takes place every Monday night at 7.30pm. Your continued generous support is greatly appreciated and it is highlighted by the large pool each week.
Co. Longford Citizens Advice Centre
Co. Longford Citizens Information Service has recently been restructured and is currently under new management.
They continue to provide free, impartial, and confidential information, advice, and advocacy services to the public on social services, rights, and entitlements. The range of areas covered by the citizens information centre are extremely wide including social welfare rights and entitlements and other social issues such as employment, health services, housing, education, family matters and consumer rights, all where people need access to information.
The way people access the services changed during Covid and now they currently deal with a large number of queries over the telephone, however, they continue to provide our drop-in times and welcome people to their face-to-face service five mornings a week from the Longford office. The services are provided by experienced trained Information Officers who are here to help
The centre is located on level 1 within Longford Shopping Centre and direction can be obtained at the reception desk from Monday to Friday from 9.30am until 5.00pm. The office closes for lunch from 1pm until 2pm.
The Employability Service
is an Employment and Recruitment Service to assist people with a disability or health issue to pursue and maintain employment in the open labour market. If you are over 18, have a disability or health issue and would consider working part-time then you should contact Employment Services Roscommon support to help find you a job in your area. This is a confidential and free individualised service funded by the Department of Social Protection.
Are you managing mental health issues? There is the opportunity for Individual Placement and Support (IPS) that is funded by the HSE and offers a range of tailored personalised supports to people using mental health services who wish to work. For further information you should phone 090 66 28608 or call/text 087 3745307. They can also be contacted via email at info@rosemp.ie
Line Dancing
Line Dancing classes take place every Friday morning 11am at the Quad Centre Roscommon Town.
Line Dancing classes every Sunday at the Quad Centre Roscommon Town for beginners from 6pm to 7pm and Improvers from 7pm to 8pm
Dance classes takes place in Kilbride, Four Mile House every Tuesday 7pm followed by:
Jive & Waltz classes 8 45pm.
Alcohol Anon Meetings
Relatives and friends of those addicted to alcohol are welcome to attend meetings in the Family Centre at the back of St. Mel's Cathedral. The meetings take place every Tuesday evening at 7pm.
Ballyleague Bingo
Ballyleague Bingo continues in Ballyleague Hall every Thursday night. The first numbers will be called at 8.30pm.
The club is extremely grateful for your continued tremendous support.
ALONE
ALONE is a national organisation that enables older people to age at home.
Our work is for all older people and aims to improve physical, emotional and mental wellbeing. We have a National network of staff and volunteers who provide an integrated system of Support Coordination, Practical Supports, Befriending, a variety of Phone Services, Social Prescribing, Housing with Support and Assistive Technology.
We use individualised support plans, to address health, financial benefits and supports, social care, housing, transport and other arising needs using technology and through harnessing other services.
We work to empower the whole sector of community support for older people through our Community Impact Network that provides Training, IT support and resources to other organisations.
Support line for older people
ALONE manage a national support line and additional support for older people who have concerns or are facing difficulties relating to Covid-19. Professional staff is available to answer queries and give advice and reassurance where necessary. The support line is open seven days a week from 8am until 8pm. Text TALK to 50808 to begin.
Alcohol Anon Meetings
Relatives and friends of alcoholics are welcome to attend meetings in the Family Centre building at the back of St. Mel's Cathedral on St. Mel's Road, any Tuesday evening at 7pm.
Local Health Service
The health service is here for us all, from routine to urgent calls. HSELive is here 7 days a week to answer questions. The number to ring is Freephone 1800 700700.
Roscommon University Hospital Injury Unit is available from 8am to 8pm seven days, a week and the contact number is 09066 32212.
Emergency Department deals with serious injuries and life-threatening emergencies if you need urgent medical help. They are open 24 hours a day and can be contacted by phoning 999 or 112.
Smart Recovery
SMART recovery is an evidence based addiction recovery support group where participants learn self-empowering techniques to aid their recovery by overcoming addictive behaviour.
There is a meeting every Friday evening from 7pm to 8.30pm in Vita House, Roscommon. For information you should phone Conor 086 1702912 or info@smartrecovery.ie
GROW
Grow is a Community Mental Health Movement which meets every Monday at 11am in the Community Mental Health Centre, Dublin Rd., Longford. If you are feeling lonely, isolated or suffering from stress, please feel free to attend. You can call Assumpta for any further information on 086 8114135.
Shannon Gaels Minor Club
Underage sporting clubs are always essential in the development and the Shannon Gael Minor club is no different with its offering of football to the young people of the parish of Rathcline. The club has been very active in the development of its youth over many years and getting more and more progressive as each year passes.
Now is the time for the annual AGM and it will take place on Friday 17th November in the clubhouse at the club grounds in Clonbonny at 8pm. It would be wonderful to see more and more parents and club supporters attend the meeting to show their support and appreciating for those that have been running the club.
St. Mary's Church
Offertory Envelopes
The start time for the usage of the new offertory envelopes for the coming Church Year is the 6th January 2024. The boxes of envelopes are available in the church. Your unstinted and continued generous support to the church collections yearly is truly appreciated. Thank you.
Eucharist: If you would like to receive Holy Communion call from a Minister of the Eucharist you are invited to let Maireád in the parish office know. Call in or phone 3321166.
Longford Citizen Information: The centre is located on level 1 within Longford Shopping Centre and it provides free, impartial and confidential information, advice and advocacy services, rights and entitlements. Information at the reception desk from Monday to Friday from 9.30am until 5.00pm. The office closes for lunch from 1pm until 2pm. There is a free information booklet available and you can pick it up at the office.
Alcohol Anon Meeting: Relatives and friends of those addicted to alcoholare welcome to attend this meeting in the Family Centre at the back of St. Mel's Cathedral on any Tuesday evenings at 7pm
Communion for Coeliacs: Gluten free hosts are available for all those who need them. Just make it known to the priest that you wish to receive a gluten free host at Holy Communion.
The Parish Hub: Maireád, the Parish Secretary is in her office on Tuesday to Thursday, 10.30am to 2.30pm. She can be contacted on the phone at 3321166. She will help you with any questions or booking related matters.
Speak with a Priest: if you wish to talk with any of the priests you can call into the sacristy after any Mass.
Talk to the Samaritans: Are you struggling to cope with life? Do you think it would help to talk about your problem in confidence? It does not matter who you are, how you feel or what happened to you. If things are getting you down you can turn to the Samaritans for help. The Samaritans are available on Freephone 116123, 24 hours a day and 365 days a year.
Alone Volunteers: Would you be willing to provide companionship or make calls to older people once a week? Alone is seeking volunteers in the area. Full training and support will be provided. If you are interest you are asked to sign up at the following address https://alone.ie/volunteers.
For more information you are invited to contact Helena at Helena.madden@alone.ie or phone 086 0145 829
Parish contacts
Fr. Merlyn Kenny, Newtowncashel 0860603433 and Fr. Turlough Baxter, Killashee 0879972259 who as you know are assisting in our parish.
Kilgefin Parish
Cloontuskert used clothes collection:
The Cloontuskert National School is holding a used clothes collection on Wednesday 29th November. The funds generated from this initiative will directly benefit the school. Everyone in the community is encouraged to participate in the collection by clearing out unwanted clothes from your wardrobe and contributing clothing, shoes, accessories, and household textiles. Bags can be dropped to the school any day until 29th November. Your support will be greatly appreciated.
Catholic Magazines:
New subscribers are very welcome to subscribe to the following religious magazines.
Annual subscription to the sacred Heart Messenger is €24; Africa – Kiltegan Missions €15; Far East – Colombian Missions €15, St. Martin €21.40.
Eucharistic Adoration:
There is always an hour of adoration before the Blessed Sacrament every Friday in Ballyleague Church from 10.30am to 11.30am and in Curraghroe Church from 8pm to 9pm. You are invited to go along to spend some quiet time of prayer with God.
Envelopes for 2023/24:
Church offering envelopes in boxes are available in the church for distribution. A special word of thanks to the distributors for all their on-going work.
Parish Contact:
You can contact Fr Dan at 089 2706060
Short Break Scheme: Would you be interested in providing home from home short breaks for children and adults who have an intellectual disability? Brothers of Charity Services Ireland, Homeshare Roscommon are recruiting host carers. Training and support will be provided. There will be a tax exempt allowance paid. For further information email Homeshareroscommon@gmail.com or phone Catherine 09066 28500 or 087 2126607.
Tap-Machine in Porch: All parishioners and visitors to the Church of the Holy Rosary Church, Ballyleague are reminded that a 'Tap Machine' has now been installed in the porch of the church and it will be in operation from now on. This is an initiative of the Diocese of Elphin to help ease the hassle of availability of cash and a response to the cashless policy. Parishioners are asked to continue to use weekly pink envelopes as this new system is to encourage support for aid in the maintenance and welfare of the parish.
St. Faithleach's GAA
AGM's
Our Annual General Meetings for the Club take place at St. Faithleachs Clubhouse on 20th November at 8pm (Minor) and 30th November (Senior) at 8pm respectively. All welcome to attend to voice opinions and share ideas. New volunteers and coaches always welcome.
Christmas Draw
Our annual Christmas Draw is back with a very desirable €5,000 first prize. Tickets will soon be available from all local outlets and committee members. Best of luck to all and your continued support is very appreciated by us.
Bingo Night
On Saturday night last we hosted a Bingo with a Twist Night. It was a wonderful night and thank you to everyone who attended. Thank you to our social committee for their great work to make the night such a success. Also to our many sponsors who supported us by donating prizes. A list of the sponsors has been posted on our social media pages.
Lotto
This week's Lotto Draw. Congratulations to Florence Sweeney, Gertie Clarke and Tony Mullen our €40 winners. Thank you for your continued support. The next draw is November 28th with the jackpot heading for €5200. That jackpot would sort the Christmas. Envelopes available at all local outlets or from any committee member.
Congratulations
Big congratulations to Stephen and Emma Ormsby on the arrival of their son, Tommy. One for the future.
Thank You
Thank you to all the volunteers, parents, kids and Ballyleague Tidy Towns for gathering last week to plant daffodils at the club grounds. We can't wait to see the place in bloom.
Best Of Luck
The very best of luck to Ciaráin Murtagh who this week will travel to Kenya as part of the Warriors of Humanity group with the Gaelic Players Association. Funds are being raised by purchasing jerseys. Each jersey costs €45. Proceeds from the jerseys sold is donated to Warriors of Humanity which helps plant 25 trees which will help numerous families in Kenya. Well done to Ciaráin in undertaking this task and we wish him every success in his travels to Kenya.
Wedding Bells
The very best of good wishes to Ciaráin Murtagh and his fiancée, Mary Lou Buckley who will tie the knot next weekend. The club wishes you both health and happiness for the future. Enjoy the celebrations.
Well Done
Congratulations to Enda Smith of Boyle GAA Club who was named in this season's GAA team of the year. A fantastic achievement.